From cooking gourmet dishes, baking cakes and pastries to creating tasty gravies, we can't deny that flour has become a staple ingredient in our kitchens. But does flour pose any kind of risk? Is flour flammable and does flour explode? Here's what you need to know.
Flour is a very versatile ingredient. This fine dust is used in several cooking and baking methods. We use flour to make pancakes, bake cookies and pastries, thicken slurries, and more.
Although most of us use flour on a regular basis, we still can't help but wonder if flour catches fire.
To tell you the truth, flour, in its powdered form, is indeed flammable. Flours contain sugar molecules that are highly flammable. Flour powders tend to form dust clouds when it is suspended in the air, at which point, flour becomes combustible dust and there's a risk of dust explosion. These flour dust explosions are risky to human lives and property.
What is Flour?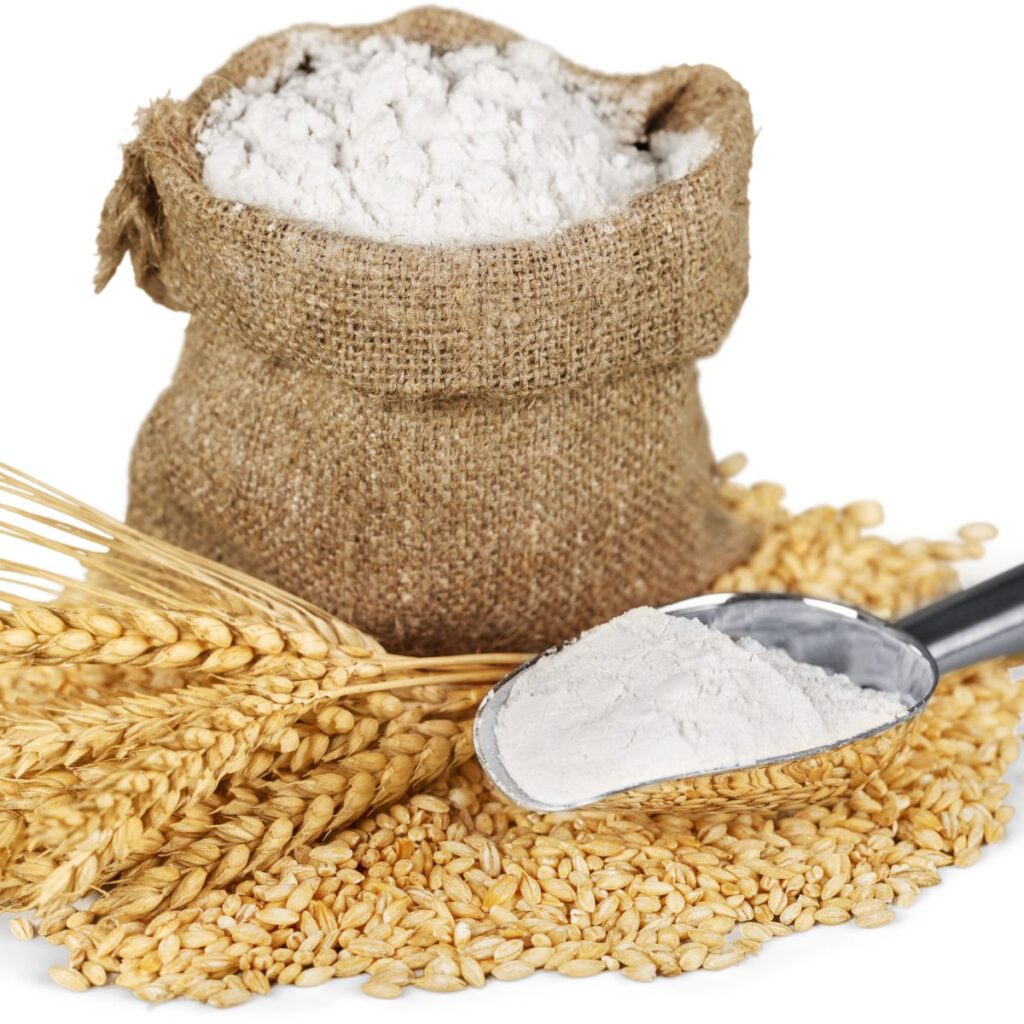 Flour is a ground product made of starch molecules from plants, typically wheat. Wheat goes through a milling process to separate the endosperm, germ, and bran.
Whole wheat flour is produced by grinding the entire wheat, while white flour or refined flour only makes use of seed or endosperm.
Flour is a type of carbohydrate dust in that it is made mostly of glucose starch. These sugars are highly flammable. So when flour comes into contact with a heat source or is dispersed in the air and forms a dust cloud, flour could catch fire, and even cause grain dust explosions.
This post contains affiliate links. I may earn a small commission at NO extra cost to you for purchases made through these links. Disclosure.
What are the Different Types of Flour?
There are different types of flour, and they have different purposes.
Whole Wheat Flour
This flour makes use of all components of the wheat, making it denser but packed with more proteins. Whole wheat flour is best for making denser types of cakes, scones and cookies.
Corn Flour
Corn flour is made with grinding corn kernels. It is naturally gluten-free, making it a great option for gluten-free baked goodies. This flour is also used for breading and in making some types of pies.
All-Purpose Flour
This is a more shelf-stable type of flour that you can use for almost anything, from making pizza dough to baking breads and cookies.
Whole Wheat White Flour
This flour is made from a whiter variety of whole wheat. It has a milder taste, sweeter taste than whole wheat flour, perfect for lighter cakes, breads and muffins.
Cake Flour
This has a more softer and airy texture, making it ideal for baking cakes.
Self-Rising Flour
The self-rising flour comes with a pre-mixed leavening agent, so you can save more time when using it. This flour is best for making biscuits.
Pastry Flour
The pastry flour is like a cross of the all-purpose flour and wheat flour. While it is not ideal for baking breads, the pastry flour does make it excellent cakes, muffins and biscuits.
Gluten-Free Flour
The gluten-free flour is not made with wheat flour, as it typically contains gluten. Alternative sources for gluten-free flour include flax meal, corn, rice, potatoes and more. This type of flour is ideal for people with specific dietary restrictions or have celiac disease.
Is Flour Highly Flammable?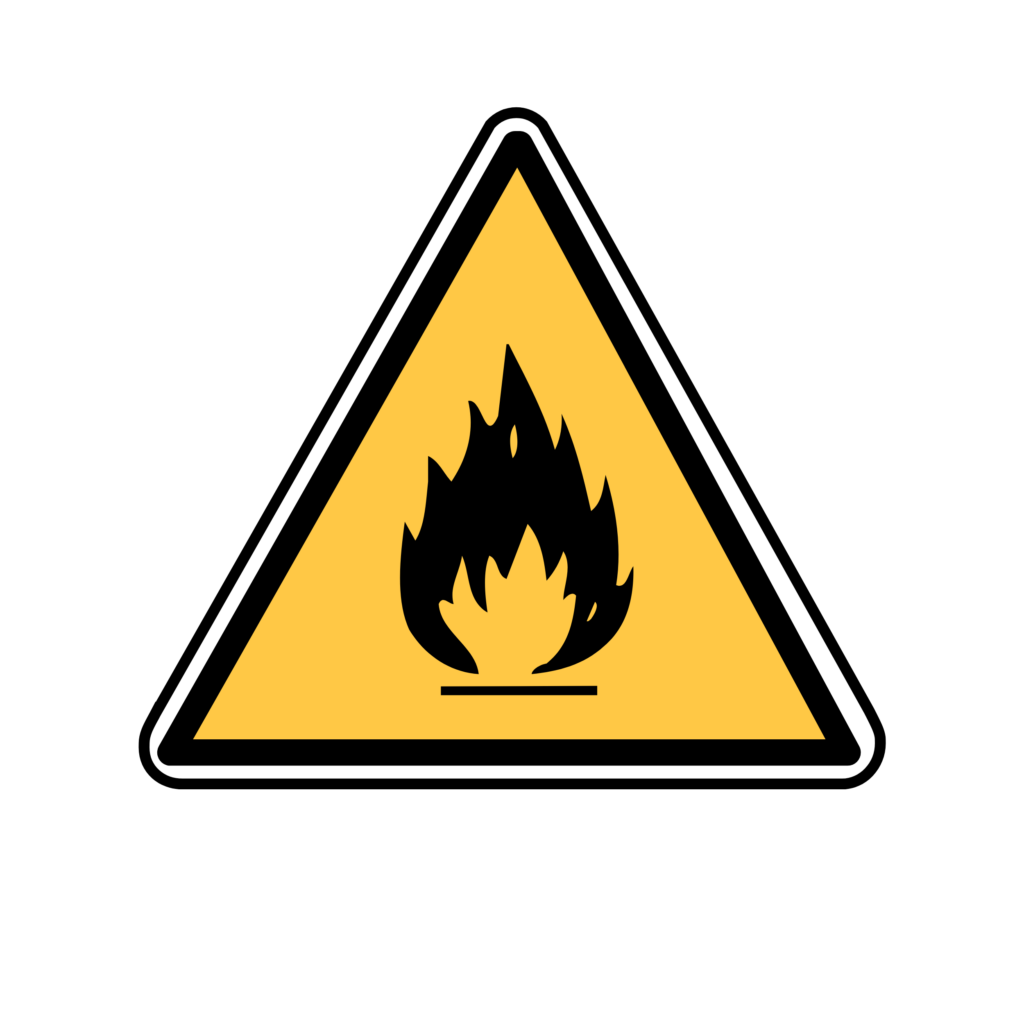 Indeed, flour is flammable.
Flour is a type of carbohydrate dust, and it's main component is sugar molecules, which are inherently flammable. When flour particles are suspended in the air, and are exposed to a flame or ignition source, they catch fire quite instantly.
When flour particles are dispersed in the air, they typically require a smaller surface area. This leads to the surface area exposed to more heat and oxygen, two of the the three elements required in starting and sustaining a fire. Thus, flour, in its powdered form, is highly flammable.
But not only is flour flammable. It is also explosive. When one flour particle burns, the heat transfers to the next particle, creating a chain reaction. This event releases incredible energy through the dust cloud with an explosive force.
RELATED POSTS
What Happens if You Throw Flour on Fire?
It is risky to throw flour on fire. Throwing flour into the fire can lead to flour dust accumulation in the air. Those dust particles can catch fire and burn instantly in the presence of an ignition source, and the possibility of a flour explosion is imminent.
Does Flour Catch Fire While You Are Cooking?
You don't usually use flour on its own when cooking or baking. You typically mix it with your dishes or other wet ingredients. Since flour dust particles would get wet when you bake or cook, it will not catch fire or pose a risk of dust explosion when you cook with it.
Other types of carbohydrate dust, such as pudding mix and powdered milk can create a dust cloud, just as flour would when dispersed in the air and comes into contact with heat or an ignition source. So in similar manner, these combustible materials may also cause dust explosions.
Is Flour Combustible Dust?
According to the US Occupational Safety and Health Administration or OSHA, a combustible dust is a solid material in a powdered form that poses an explosion hazard when suspended in the air in the right amount or concentration.
Yes, flour is combustible dust. Apart from flour, other types of combustible dust that you'd find in your home are powdered sugar and milk, cocoa powder, and potato starch.
Coal dust, metal, chemical and pharmaceutical dusts are also at risk of grain dust explosion.
What Causes a Flour Dust Explosion?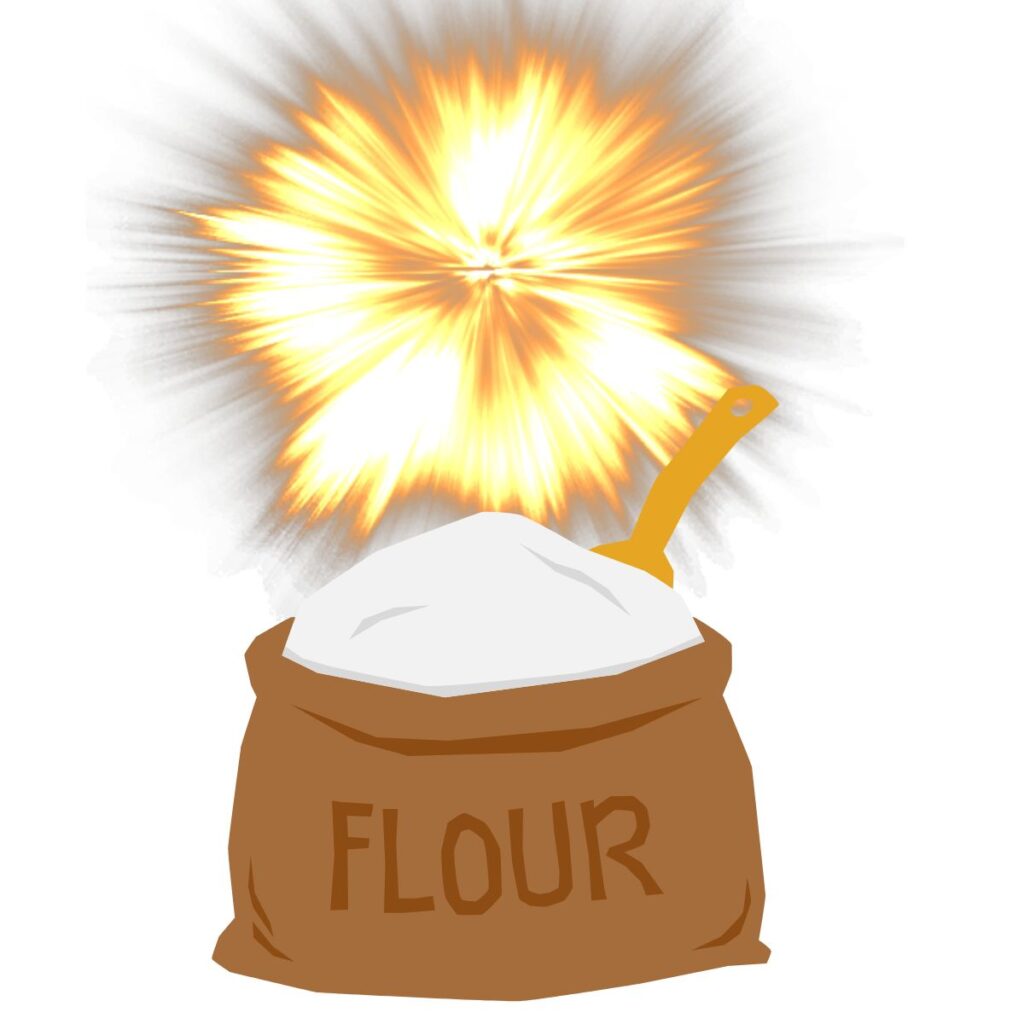 A flour explosion can happen when the fine particles of flour are floating in the air get exposed with an ignition source. These flour particles catch fire quickly. The grains transfer heat to one another like a domino effect, creating powerful flour dust explosion.
Flour dust explosions only happen when flour particles are floating in the air. When they are packed as bulk materials, there is lesser surface area for the particles, hence limiting their access to oxygen. So, flour explosions only tend to happen when a good amount of flour particles are floating in the air, enough to create dust clouds.
Is Flour Explosion Dangerous?
Yes, flour dust explosions are dangerous. They are known to kill and injure people as well damage properties.
The odds of flour explosions are higher in flour mills and processing plant. In a flour mill, flour is produced in a confined space. There is also the presence of oxygen and heat and ignition source, which are the basic recipes for starting a fire.
One of the most devastating flour mill explosion was that of in Washburn in 1878 that killed 18 people. In 2017, a corn mill explosion also killed 5 people and injured 15 more, despite the warnings of regularly cleaning the mill of combustible dust deposits.
Not only does a flour dust explosion kill and injure people, it can also damage property. A secondary explosion can occur, which is more devastating than the primary one.
The milling industry has worked hard to mitigate grain dust explosions, but the risks are always there.
Can Flour Extinguish Grease Fire?
So, you're cooking in the kitchen and suddenly your pan catches fire. You remember that throwing fine white particles into the burning pan can smolder the flames. You reached for a container of flour and promptly sprinkled it into the fire.
But instead of extinguishing the fire, flour can make it a lot worse.
You should never use flour to kill a grease fire. Flour is flammable and combustible, so it will only fuel the flames.
Instead, what you should use is baking soda, which releases carbon dioxide when heated. In small grease fires, baking soda could very well act like a fire extinguisher.
Is There a Risk of a Flour Explosion at Home?
Don't worry, your home is not about to explode just because you have a bag of flour in your pantry. Unlike in flour mills, flour explosions is less likely to happen in your home, even when you have fun flour fights with your kids.
As long as you keep your flour tightly packed, keep it in a sealed container and store it away from fire, then you have nothing to worry about.
Looking for a Fireproof Document Holder?
Check out our own fireproof envelopes for documents and cash, available at our shop!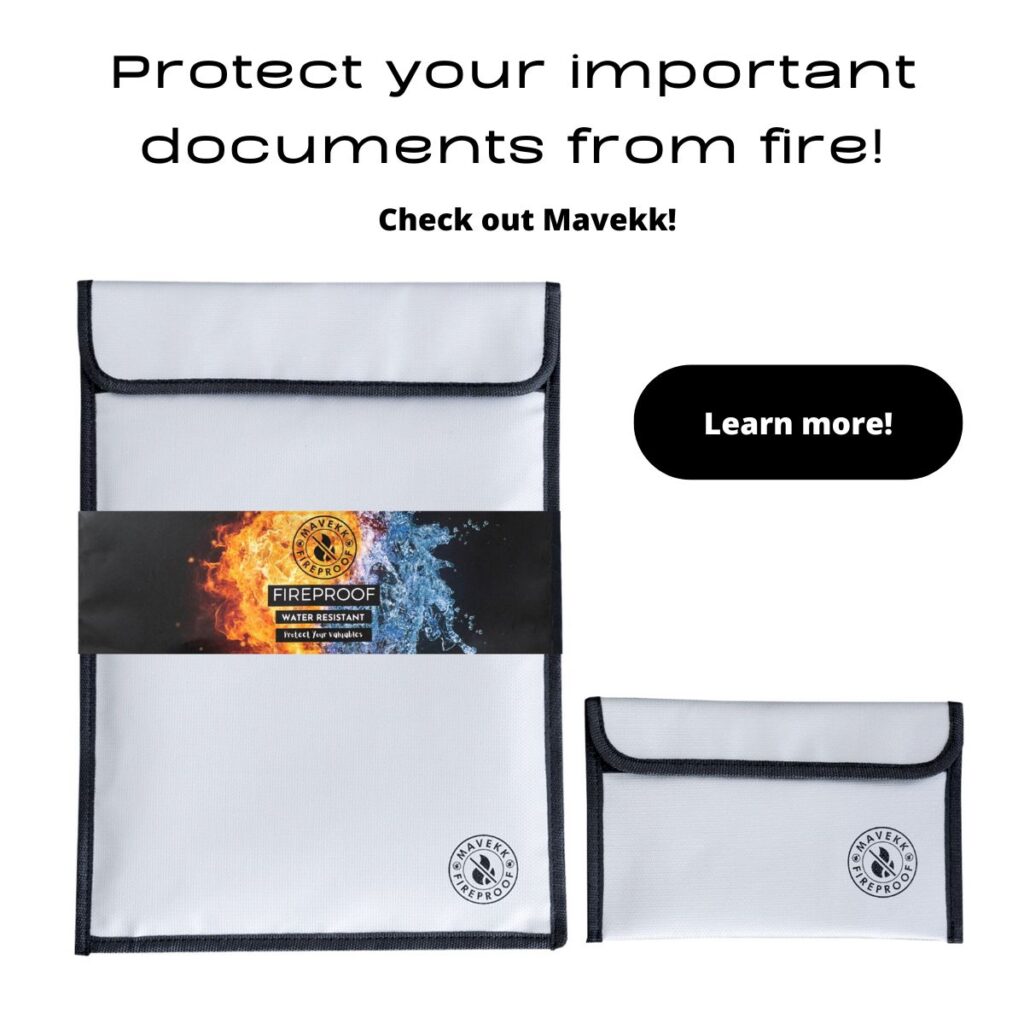 Conclusion
We use flour as an ingredient quite regularly, so it's best to know if it is flammable.
Fortunately, we mix flour with other ingredients when we cook or bake, so flour becomes less flammable. Flour is unlikely to catch fire when you are cooking. Still, you should be keeping flour in airtight containers and keep it away from flames or heat source.
However, flour is flammable as well as explosive in industrial settings like flour mills and food processing plants. That is because flour is kept in a confined space, there is access to oxygen and heat. When flour particles float in the air in massive quantities, large clouds of dust forms and may explode when ignited.