Humankind has been using fire since the time began. As one of the four elements, fire has been interpreted in so many different ways in various contexts. To help you understand this amazing element, let us learn about fire as a symbol.
What Does Fire Symbolize?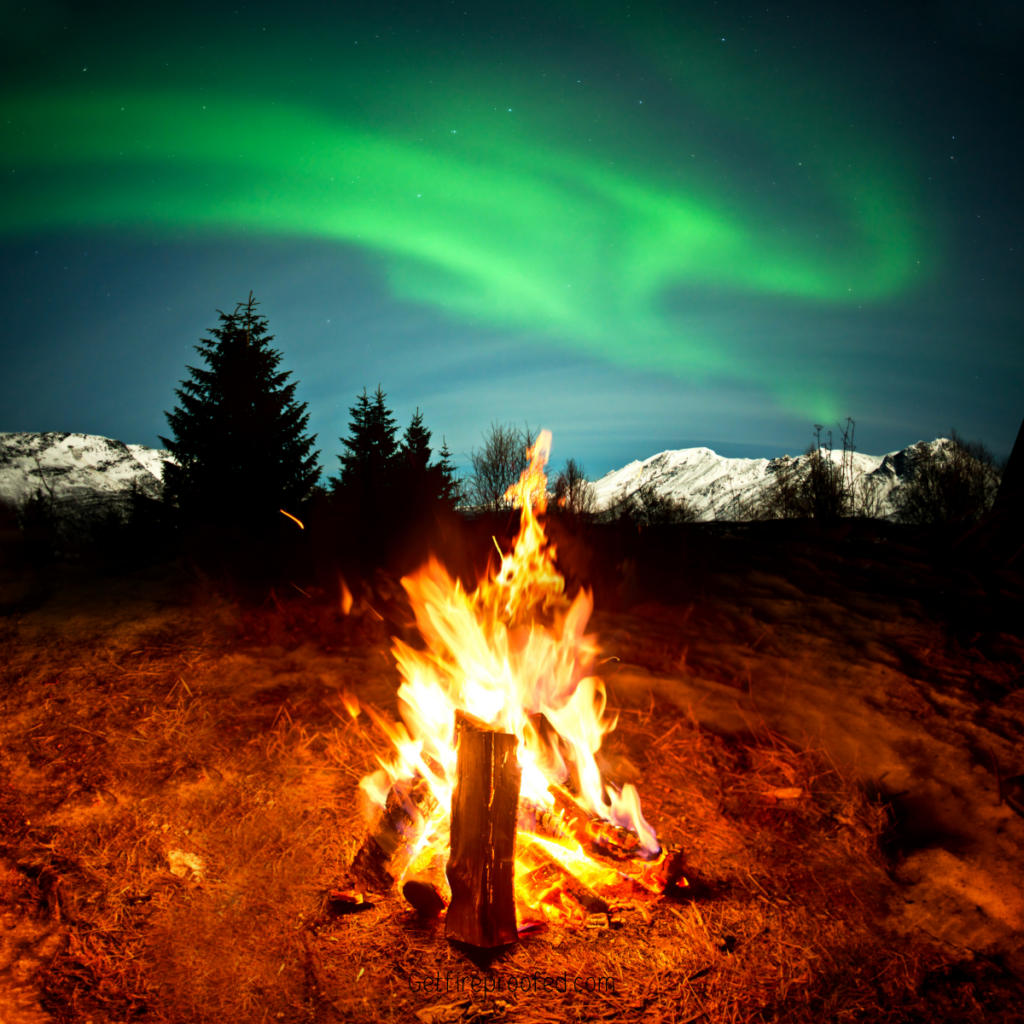 The symbolism of fire can have several interpretations. On one hand, it can mean rebirth, but on the other, death and destruction. In religion, fire is often related to the concept of Hell, while in literature, fire is a metaphor for love and passion.
Our relationship with fire is truly complex yet amazing. Understanding fire symbolism allows us to appreciate fire as part of our lives and culture.
Fire in Religion
Fire is an important symbol for many religions across the world. It is used to symbolize various things, from purification, and divinity to eternal punishment.
Christianity
Among Christian believers, fire is a manifestation of the Holy Spirit. It is also symbolic of the sanctification, or the process of us trying to attain the likeness of God.
With the use of fire, we purge of our sins, which is also commonly referred to as purification. Spiritual purification is likened to the process of passing precious metals through fire to remove their impurities.
Christians also believe that fire represents eternal punishment, often implying that when one passes and is judged, he could go to heaven or hell. Many of us already know that Hell paint's a picture of a fiery pit of fire where one meets eternal damnation.
Buddhism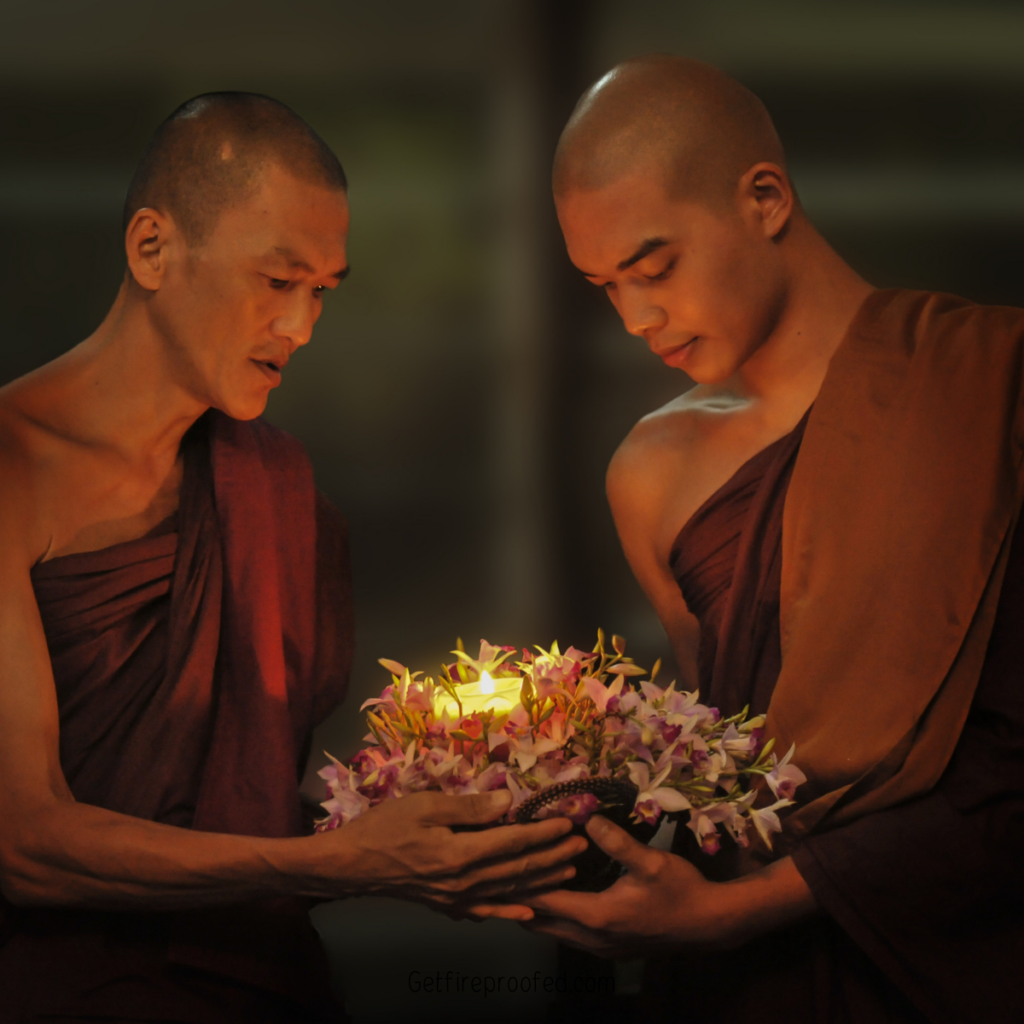 Fire is also an important metaphoric symbol in Buddhism.
Fire is closely related to the concept of Nirvana. The term Nirvana translates to "blowing out" or "extinguishing," as one would put out a flame. In this case, what must be extinguished are these three fires: greed, delusion, and hatred. Once these three fires are blown out, one can attain Nirvana or the state of enlightenment.
Fire in the Vedic Religion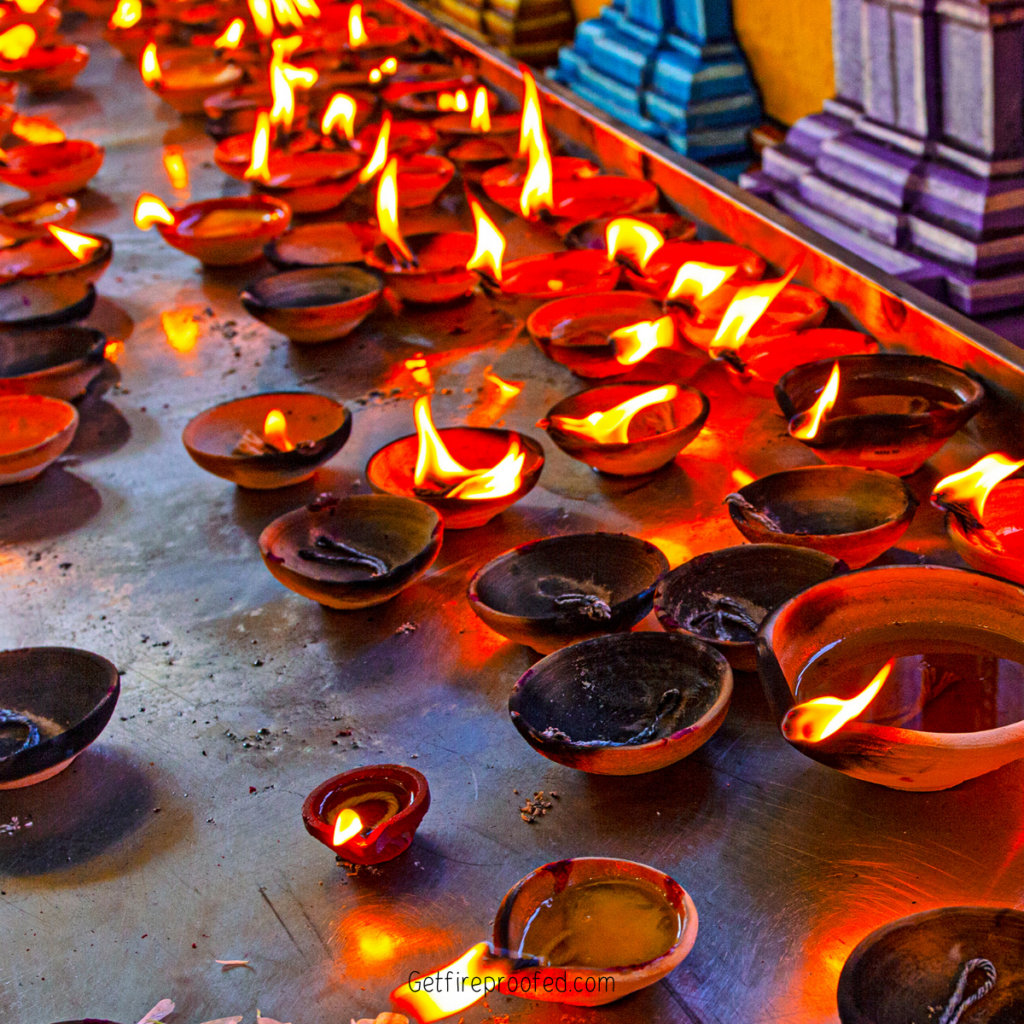 Fire is also an important symbol in Vedism, an ancient religion in India.
The Vedic religion believes in Agni, the God of Fire. It is believed that Agni has two faces, three to seven tongues, and the strands of his hair stand up like flames. He is accompanied by a ram, which symbolizes a sacrificial offering.
Agni is both feared and revered by the people for he is the God of Fire, a very potent and powerful energy. He is known for his ability to bring destruction, as his symbolic flame can burn the forest.
Agni also works as a messenger between heaven and earth. He maintains communications between man and the gods. He is also responsible for making sure that human offerings are satisfactory to the gods.
According to old hymns, Agni lives in two blocks of wood that produce fire when they are rubbed against each other.
Fire in Zoroastrianism
In Zoroastrianism, fire represents purity. According to this religion, Ahura Mazda, or the "Wise Lord" is often equated to the sun, for he brings light into the world and pushes away the darkness.
Zoroastrianism also believes in purification through fire. The Zoroastrians believe that fire purifies the soul by ridding it of wickedness to conquer evil. Those with corrupt souls will burn while those who are good are unharmed.
As a central symbol in this religion, Zoroastrians always have fire in their temples. Prayers are always offered before the sun or another light source, such as fire, to invoke God's light and energy. That is why fire is sacred in their temples, and they take all measures to keep it burning and free from contamination.
Some people believe that the Zoroastrians are fire-worshippers, but this is not the case. Fire represents Ahura Mazda and his divine power, but they do not believe that fire is their God himself.
Symbolism of Fire in Witchcraft and Paganism
Fire is a dominant symbol in folktales around the world, especially in the realms of magic, witchcraft, and paganism. This paradoxical element can both be a destroyer and creator. It represents both protection and destruction, death and rebirth.
Fire is one of the classical elements among the pagan and Wiccan believers. Fire is represented by the sun, stars, and volcanoes. They believe that fire brings not only illumination but also strength, health, and energy.
Fire brings so much force and power that it demands respect, otherwise, you get burnt, both literally and figuratively. Wiccan believers connect with fire in different ways. On a smaller scale, burning a candle allows them to see visions through the smoke fire creates.
The sun also invokes heat, so Wiccans also dance under the sun to honor the Fire.
But perhaps the most popular use of fire is bonfires which they use for their rituals.
Speaking of bonfires and rituals, many of us have seen in movies and read in books of witches being burned in bonfires. This belief dates back to many centuries ago in Europe when they believed that bonfires could scare away evil spirits and witches.
This tradition later evolved into a yearly festival when people would set up massive bonfires and burn witch dolls stuffed with firecrackers.
A similar witch-burning festival also happens in the Czech capital, Prague, to drive away the cold winter and welcome the warmth of the upcoming spring.
Fire in Mythology
Fire is also very symbolic in numerous myths around the world. There are mesmerizing accounts of how we humans are able to
Greek Mythology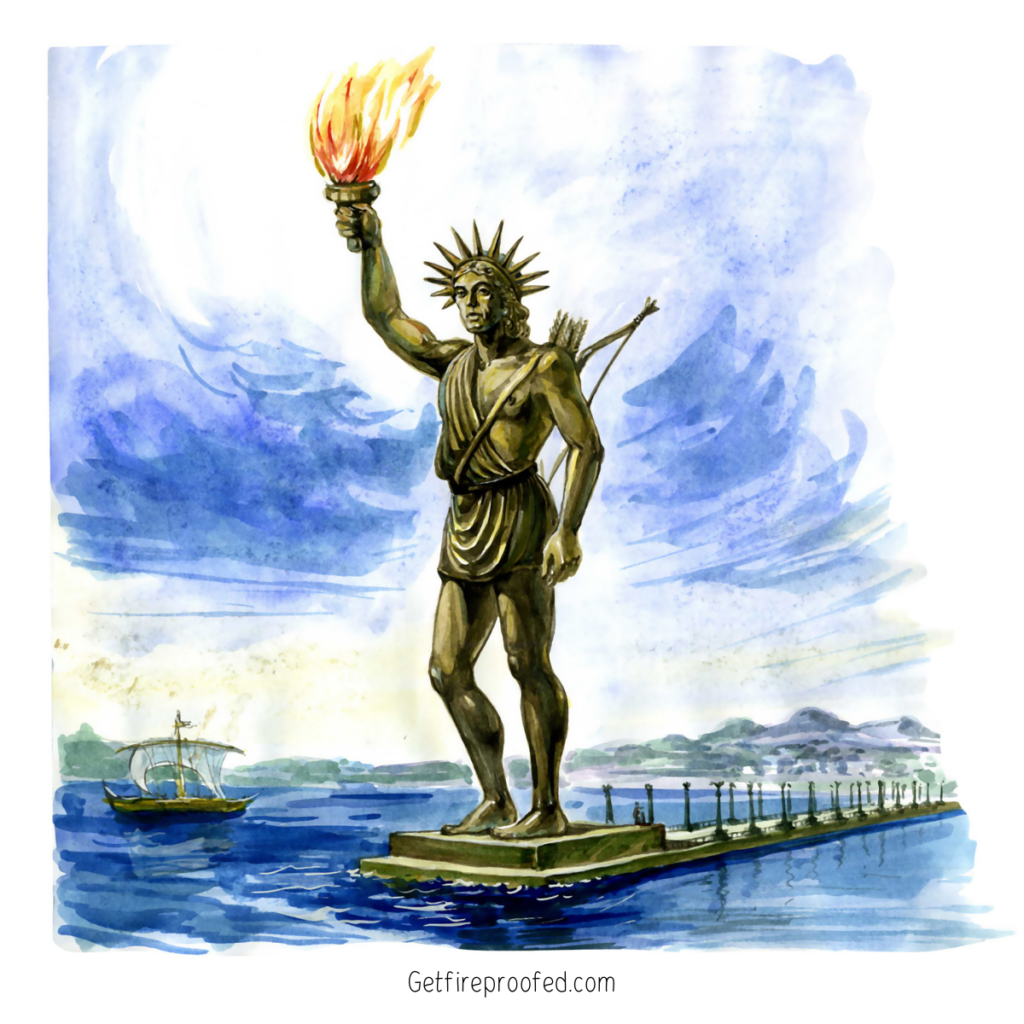 In Greek mythology, for example, Prometheus is called the God of Fire. He is known to have stolen fire from Zeus and given it to humans, so is also famous for the nickname "The Thief Of Fire."
According to myth, Prometheus is intelligent and witty, and he devised a plan to steal one of Zeus' special powers — fire. He created a diversion plan to keep the other gods and goddesses busy while sneaking into Hephaestus's workshop to steal the fire. Zeus was naturally enraged, so he sent Prometheus to Mount Caucasus, chained him, and allowed the eagles to eat his liver every day.
Apart from Prometheus, Hephaestus is also known as the God of Fire. His parents are Zeus and Hera. Unfortunately, Hephaestus didn't look as appealing as the other gods and goddesses, so his mother, Hera, hated him.
Despite Hephaestus' looks, he was extremely talented at fashioning things using fire. He made astonishing works, such as the golden mansions where the Olympian gods reside. He also made the famous shield that Achilles used in the Trojan war. Because of his extraordinary ability to work with fire, Hephaestus is often associated with the blacksmiths, metal workers, and carpenters.
Rebirth of the Phoenix
One of the most notable symbolism of fire in Greek mythology is the rebirth of the Phoenix. You see, it is believed that this magnificent bird would live for a thousand years. After that time, the Phoenix would die in flames, only to be reborn as yet again, another Phoenix.
This example shows us that fire is used as a symbol for the cycle of life and death. This mythical bird represents rebirth and destruction simultaneously.
According to some accounts, the bird dies by setting itself on fire and rises again from the ashes. But in other stories, it is believed that it catches a spark from the heavens, burns, and rises again after three days. Later on, Christian believers used the same concept to symbolize resurrection, pointing out that Jesus rose from the dead after three days.
The story of the rebirth of the phoenix became a famous one, and it's been adopted and interpreted into different versions. The novel, Harry Potter, even used the very symbolism of the Phoenix burning into ashes and then rising up again, showing us that there is always hope and a chance for renewal after destruction.
What remains true is that this myth or story is symbolic of the important role fire plays in our life.
Fire in Literature
Fire is a very prominent element and symbol in literature. From desire, passion, and destruction to eternity, fire symbolism is a technique that many authors use to convey their message.
Desire and Passion
It is so often written how flames represent "burning desire or passion," which means that one is feeling these intense emotions.
For example, William Shakespeare used fire as a symbol of passion, desire, and lust. Even the famous Romeo and Juliet had the symbolic use of fire, written as "a fire sparkling in lovers' eyes."
In his poem, Sonnet 45, Shakespeare also speaks of two elements, fire, and air. In this context, Shakespeare likens fire as a symbol for purging of purification, expressing his desire to return to his youth.
Fire is such a powerful force that it can invoke strong feelings of desire and passion, and this symbol is used so popularly in literature.
Symbol of Destruction and Pain
Fire is also used as a symbol of destruction, and this symbolism is so perfectly used in the novel Fahrenheit 451 by Ray Bradbury. In this novel, the author uses fire to depict its destructive power, quite literally.
The novel revolves around the main character, Montag, who makes money by burning books. He says that he finds such great pleasure to burn. This is quite ironic, for he is a fireman, and he should be the one putting out the flames.
This futuristic novel touches on the oppression of the government. So to keep people from attaining more knowledge, firemen like Montag resort to burning books. They even wear hats with 451 written on them, indicating the temperature at which paper burns.
So, the symbol for fire here is one of destruction. Fire ruined knowledge (as presented by the books being burned), so the lack of awareness and the presence of confusion can lead to society's downfall.
In the novel, Frankenstein, the symbol of fire was two ways: light and pain. When the monster saw fire for the first time, he was mesmerized by the light and comfort it gave. But when he drew his hand nearer the flame, he got burned and realized that the very same source that gives him warmth can also cause him pain.
Fire as a Symbol of Eternity
One common symbolism of fire is the concept of eternity. Fire is so often used to symbolize eternal flame or flame that keeps burning forever.
The concept of eternal flame is both spiritual and personal. For example, it could refer to having hope. As long as that flame burns, we will always have hope to live in this world.
In the personal context, the concept of eternal flame is used to denote that one's memories will forever remain even if one has already departed the Earth. That's why eternal flame is written in memorials, to show that person that his life is remembered and appreciated for eternity.
The Symbolism of Fire: Frequently Asked Questions
What is the symbol for fire?
Fire has different meanings, depending on the context, religion, and culture. In several religious contexts, fire is used to symbolize hell and purification.
Spiritual pagan believers also use fire to drive away evil. In other settings, fire is used to denote destruction and rebirth.
What emotion does fire symbolize?
Fire is often associated with various intense emotions, such as love, lust, anger, and pain.
What is fire associated with?
Fire is associated with different concepts, such as resurrection, purification, destruction, hope, eternity, passion, and desire.
What does fire represent in literature?
Fire symbolizes different things in literature. Ray Bradbury, for example, uses fire as a destructive force by burning books. Meanwhile, Shakespeare uses fire to represent passion and desire.
Related Posts:
At What Temperature Does Paper Burn?
Conclusion
Fire has multiple meanings and symbols and is always open to interpretation. One thing remains true, though: fire is a very powerful element. It stands for several different things at different ends — life and death, warmth and pain, rebirth and destruction. Fire is more than just the heat or flames it gives out, and with that, it is best that we respect fire and all the things that it can do.