Locating the nearest fire hydrant may seem unimportant for ordinary citizens, but this knowledge could be handy in emergencies. Depending on where you are, there are different ways to find the nearest fire hydrant location. This article will show you how!
If you are not a firefighter or do not work in the fire department, chances are, you aren't interested in finding the nearest fire hydrants. But for the sake of fire safety, you and I should know how to find the nearest fire hydrant.
First, every second counts in the case of a fire. Fires grow quickly, and they can engulf homes and property flames with a few blinks of an eye. If you could point to firefighters where the nearest fire hydrant locations are, they could quickly tap the local water supply and fight the fire as quickly as possible.
Additionally, maintaining fire hydrants is an essential aspect of community safety. Citizens like you and I can report to the local fire department if there are obstructed or damaged fire hydrants in the area.
Therefore, knowing where the nearest hydrant is can be helpful in so many ways. But locating a nearby fire hydrant isn't as straightforward as it seems. Different countries have various fire hydrant signs. If you know what these signs are, then you're close to locating quickly locating a fire hydrant near you.
What Do Fire Hydrants Look Like?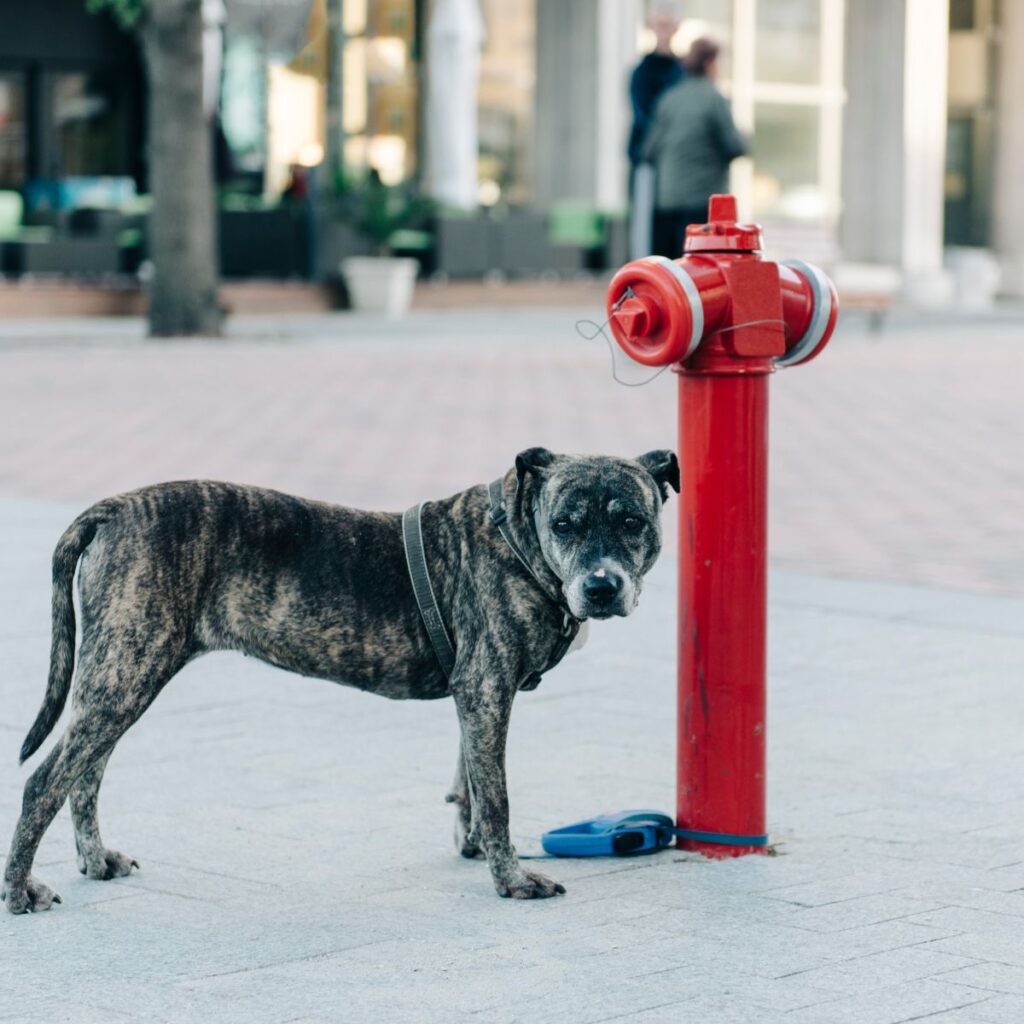 To locate the nearest fire hydrant, you must know what they look like. The quirky thing is that fire hydrants do not look the same worldwide.
In the US, fire hydrants are brightly-painted pillars that stand upright and are fixated on the ground. They are painted a bright yellow or red color, so it's almost impossible to miss them!
But did you know that a water hydrant's specific color also indicates crucial hydrant information?
According to the National Fire Protection Association, the hydrant's color indicates its flow capacity. Public water hydrants are in yellow. Fire hydrants also adopt the following color coding scheme. This is to let firefighters know the water flow capacity of the nearest hydrant and whether it best serve their needs.
Red – flow capacity of fewer than 500 gallons per minute
Orange – flow capacity of more than 500 gallons but less than 999 per minute
Green – flow capacity of more than 1000 gallons but less than 1499 per minute
Blue – flow capacity of more than 1500 gallons per minute
This is not the mandated law but only a guideline. And not all fire hydrants follow this color coding scheme. Instead, firefighters rely on the markings on the hydrant to obtain relevant information, such as water supply flow, date installed or manufactured, and location.
Fire hydrants in the UK look different than those in the US. In the UK, water hydrants are installed underground with a yellow-colored cast and a huge "H" sign.
Fire hydrants in Germany are typically painted bright yellow or red. Similar to those in the UK, fire hydrants in Germany are also located underground. People can locate the nearest hydrant by looking for the white markers with a red border.
Fire hydrants in Australia are almost similar to those in the US in that the hydrants stand upright and are easily visible on the ground.
One of the most helpful features in Australian fire hydrants is the cat's eyes or reflective street reflectors. This helps people and firefighters find the nearest fire hydrant locations.
How Do Fire Hydrants Work?
Linked to underground pipes and connected to the local water supply, fire hydrants provide access to water for firefighters to use in the event of a fire.
A fire hydrant comes with valves where firemen attach their hoses to gain access to the water supply. Once they open the valves, water flows into the hose with a much stronger pressure than you would expect from a garden hose. The pressurized water is pumped into the fire truck and divided into multiple streams allowing firemen to use several hoses to fight the fire.
Thanks to fire hydrants, firemen can combat fires with a strong and steady stream of water. While they also carry water in their fire trucks, most of their success is attributed largely to their ability to find the nearest hydrant to the affected property.
Fire protection services and ISO Public Protection Classifications
If you're looking for a property to buy or want to know how equipped your area is for fire protection, then it is also good to look at the ISO Public Protection Classifications.
The rating goes from 1 to 10, with 1 being superior and 10, not being to meet the minimum criteria set by the Insurance Service Office. This data aims to evaluate whether an area or property has adequate emergency communications ability of the fire department and water supply system, including fire hydrants.
So a community with excellent ISO Public Protection Classifications is likely equipped with a great fire protection system, including working fire hydrants, trained fire department personnel, working fire fighting tools and equipment, and so on.
Can anyone use a hydrant?
Fire hydrants are essential to the community's safety; hence unauthorized use of hydrants is illegal.
Firefighters and employees of the local water district are permitted to use the water hydrant, which is often for emergencies. If an unauthorized person tries to use the hydrant, there are risks of damaging the hydrant itself, water supply lines, and the property where the hydrant is located. Also, fire hydrants release an incredibly strong water supply, and you may hurt yourself if you access it without the right tools and knowledge.
And in this case, damaged hydrants stop being useful and become more of a hindrance during firefighting.
How do I find the closest fire hydrant?
Whether you're an ordinary citizen or a firefighter, knowing where the exact location of fire hydrants in your area is crucial to your community's safety. There are literally millions of fire hydrants in the United States, so knowing this crucial fire hydrant information can indeed be a life-saver.
There are now numerous efforts to compile information on the location of hydrants all over the country.
HazardHub is a database for comprehensive property-level risks. The company provides information on the levels of risks that could potentially destroy a community or property and allows people to make the right assessments.
HazardHubs HydrantHubTM provides fire hydrant locations all over the country. The data is accessible through HazardHubs API, as well as on their website, using the "Find My Closest Hydrant."
ArcGIS also has a hydrant location map where you can enter your address or location, and the map generates the exact location of hydrants near you.
Moreover, there's hydrants.online, a platform that maps out all the water hydrants in your location. This is an online directory that lets you find nearby water supply lines, distances, and routes to water hydrants. You can zoom and pan locations on the map, allowing you to pinpoint the best locations of hydrants and instantly extract necessary information.
How do I find fire hydrants on Google Maps?
Of course, the easiest way to find fire hydrants is to Google them. Firemen who are unfamiliar with the town or area could really use some help locating water hydrants.
With internet service or mobile data, you could search for the nearest hydrant on your phone and point it to the firemen. All you have to do is type in your location on Google Maps, and the app will generate information on the exact location of hydrants in your area.
Alternatively, you could also use Google Earth, an app that helps you find the nearest fire hydrant in your location. With Google Earth, you can find both working and non-working hydrants.
Using Google Earth is just as easy as using Google Maps since all you have to do is type in your location on the search bar. Apart from the location, you'll also get information on the date of the last inspection, directions towards the hydrant, and report problematic hydrants in your area.
Related:
Inquire With Your Fire Department
I know we have been much dependent on technology over the years, but the easiest way to locate information on hydrants in your area is to ask your local fire department. Whether you want to ensure that your property is equipped with a working hydrant and that firefighters can respond quickly in case of fires.
Additionally, building codes and property insurance discounts are available if your property is within a specific distance from fire hydrants. If you'd like to avail of such a discount or ensure that you comply with the code, then a quick inquiry with your fire department is a good idea!
Conclusion
If you're unsure where the nearest hydrant is on your property, it's good to look it up now. Also, try to familiarize yourself with the other nearest hydrants in your community. Report damaged or obstructed hydrants to the fire department to ensure that those hydrants are repaired, maintained, and unblocked.