Paint is almost everywhere around us. From that graffiti on the streets, mural at a museum to that entire building that's painted blue, we can say that paint has a dominant presence in our lives.
But have you ever wondered if spray paint is flammable?
Well, the answer is yes, spray paint is flammable. It is combustible too. Spray paint is an oil based paint that's contained in a highly pressurized can. These aerosol cans contains propellant gases, such as propane and butane, that can ignite when sprayed at mixed with the air. You have to work in a well ventilated area to prevent the risk of starting a fire.
Paints are not created equal. So while spray paint is flammable, there are other types of paint that are non flammable. It is important to know which paint is not flammable and which can catch fire or ignite, so you know exactly what you are dealing with.
This post contains affiliate links. I may earn a small commission at NO extra cost to you for purchases made through these links. Disclosure.
Is Paint Flammable?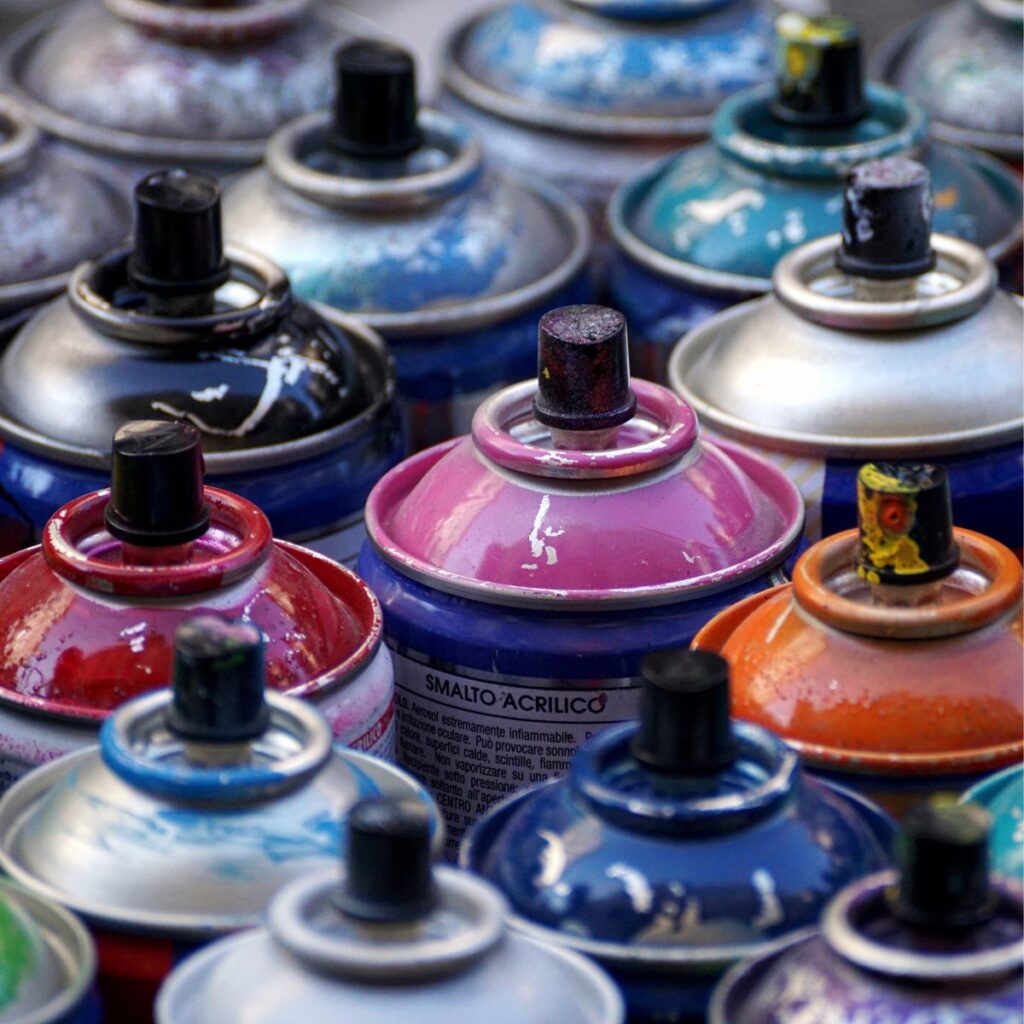 It depends on the type of paint that you are referring to. Basically, a paint can either be water based or oil based.
Water based paint is not flammable. Its solvent is water. Water based paints like acrylic paint and latex paint are used for almost all types of applications, from painting the roof, walls, wood, metal surfaces etc. Since water based paints are more eco-friendly, they have become the paint of choice among do-it-yourselfers.
Oil based paints, on the other hand, use solvents to create a more durable finish. Often, oil based paints need turpentine or mineral spirits to act as paint thinner. Additionally, oil based paints use volatile binders, which often come in the form of resin, oil or pigment, making oil based paints flammable.
Another thing to note about oil based paints is that they give off volatile organic compounds and strong odor that may cause difficulty in breathing. Because of these properties, oil based paints are more suitable for exterior application.
Is Paint Considered Combustible?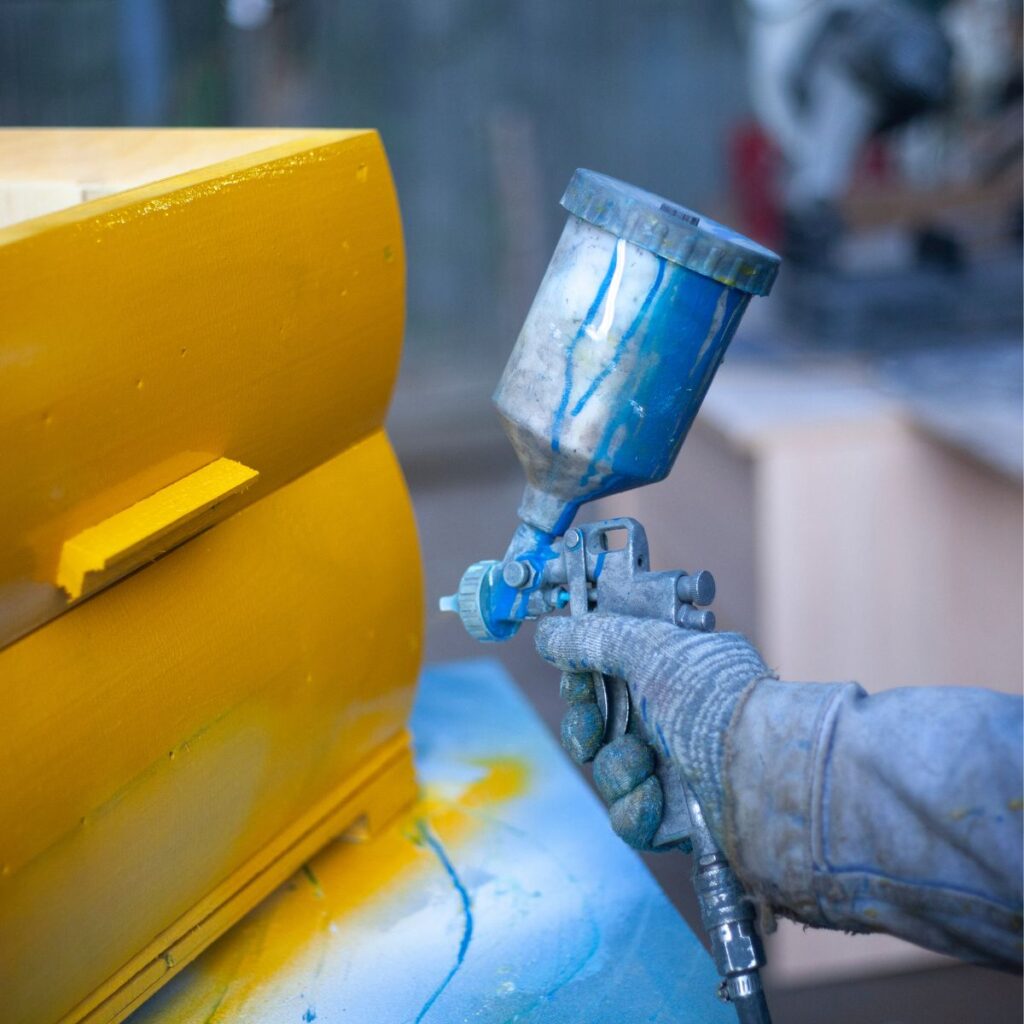 Not all flammable liquids are combustible, but often combustible liquids are also flammable.
Flammability is measured by a substance's flash point. Flammable liquids have a flashpoint of less than 100 degrees Fahrenheit. The lower the flashpoint, the more flammable a substance is.
A combustible liquid has a higher flashpoint, so it will take more heat before they could ignite.
As we've already discussed, water based paints are non flammable, so they are not combustible as well.
However, some oil based paints are both flammable and combustible. Spray paint, for example, is both extremely flammable and combustible, especially when the aerosol can is punctured or exposed to an extreme heat source.
Are Paint Fumes Flammable?
You might not see them, but most paints have generate fumes, especially the oil based paint.
And yes, paint fumes are flammable. Spray paint fumes are particularly flammable because they've been released into the air using gas fuels.
Is Spray Paint Flammable and Combustible?
Yes, spray paint is both flammable and combustible.
Spray paint is contained in aerosol cans which use volatile gases to push the paint out. These gases are often butane or propane, both of which are highly flammable.
The solvents in spray paints are also flammable such as toluene and xylene. Additionally, spray paints contain a combustible liquid called ethylene glycol. With that, spray paint is both combustible and flammable.
So as you can see, spray paint is a fire hazard. It is important to never use spray paint near a heat source or store spray paints in an area with high temperatures to prevent them from igniting or spontaneously combusting.
At What Temperature Does Spray Paint Catch Fire?
Spray paints can withstand temperatures of up to 200 degrees Fahrenheit. But there are types of spray paints that can withstand even higher temperatures, such as Rustoleum, which can tolerate up to 300 degrees Fahrenheit of heat.
How Long Are Spray Paint Fumes Flammable?
Spray paint fumes are flammable as long as there are fumes in the air. Depending on the size of the area, the fumes can linger in the room for around 2-3 days. Do not smoke within the area or bring anything that can start a fire.
Is Spray Paint Flammable When Dry?
Spray paint is flammable when wet. But once the spray paint has dried, the solvent evaporates along with other flammable ingredients, making dried spray paint non flammable. But remember, spray paint is still combustible even after drying, so exercise safety precautions to avoid any accidents.
Can Spray Paint Spontaneously Combust?
Yes, spray paint is combustible. It could spontaneously combust when placed in an environment that's ideal for combustion. For example, placing the spray paint in a hot area or in direct sunlight could cause a pressure build-up within the can. It will come to a point when the spray paint could no longer hold the pressure and combusts spontaneously and potentially start a fire.
Is Rust-Oleum spray paint flammable?
Rust-Oleum spray paint is a very versatile type of spray paint that can be used on various surfaces — wood, metal, plastic, laminate, glass, etc.
But it is one of the highly flammable paints, so you should exercise proper caution when dealing with this spray paint. According to the product's data safety sheet, the Rust-Oleum Spray paint is contained in a pressurized aerosol can. The product contain flammable liquid and vapors which could cause an explosion or flash fire.
Apart from being a fire hazard, this spray paint is also very toxic to the human body.
Are Oil-Based Paints Flammable?
Yes, oil based paint is flammable. Oil based paints have resins or pigment that act as paint thinner. These substances are often flammable, so a wet oil based paint certainly catches fire. But once the solvent evaporates, and the paint has dried and cured, then oil based paints are no longer flammable.
Are Water Based Paints Flammable?
Water based paints are great option because they hold colors very well and does not release toxic fumes. Two of the most popular types of water based paint is acrylic paint and latex paint.
But are water based paints flammable?
Water based paint is non flammable. It uses water as its solvent, giving the paint zero to little risks of catching fires. It is important to remember, though, that water based paint has some additives, such as volatile organic compounds, which can be toxic when it comes into contact with skin or if ingested.
Is Acrylic Paint Flammable?
Acrylic paint is a type of water based paint, and hence, it is not flammable. Acrylic paints typically use some sort of a binder or pigment, often in the form of acrylic resin or polymer, while the solvent is water.
So is acrylic paint flammable?
Due to the presence of water, while acrylic paint in its liquid form, it is considered not flammable. But the properties of acrylic paint change when it dries, forming a plastic polymer, which is combustible. Thankfully, acrylic paints do not combust or burn unless exposed to extremely high temperatures.
What About Dried Acrylic Paint?
Acrylic paint is flammable in its liquid state, and flammable and combustible when dry. However, it takes extremely high temperatures for acrylic paint to burn. As a precaution, do not expose acrylic paint to a fire source.
Is Latex Paint Flammable?
Latex paint is one of the water based paints, and it is not flammable unless exposed to temperatures exceeding 200 degrees Fahrenheit or 93 degrees celsius.
But is latex paint flammable when dry?
Unlike acrylic paint, latex paint is not flammable whether dry or in its liquid form.
Conclusion
There are different types of paint and we cannot say that all of them are flammable and combustible.
Spray paint, though, is both highly flammable and combustible, so it's essential to follow the manufacturer's guidelines in using and storing them. You can prevent any untoward incident involving spray paint when you follow the safety tips laid out on the product's package.
Water based paints are non flammable, but they could burn when exposed to a high temperature. Dried acrylic paint, for instance, is flammable because it becomes a plastic polymer that burns at extreme heat.
The best thing to do when it comes to flammable paints is to follow the safety precautions when using, storing or disposing them. Apart from being flammable, some type of paint are also toxic, so make sure to be aware of these risks before working with them.