We are in the presence of ethanol more than we think. Ethanol production has become more important now that it is used as fuel to run cars, as well as in fermenting alcoholic drinks. But is ethanol flammable? Is it safe to use and consume? Let's find out.
We may not realize it, but we're in the presence of ethanol more than we realize. Ethanol or ethyl alcohol is found in alcoholic drinks and is the main compound that causes intoxication.
In fuel economy, ethanol fuel is also mixed with gasoline to produce decrease harmful emissions and prevents freezing up in the gas pipe.
Ethanol is also used in other industries, and we're practically exposed to it every day of our lives. But is ethanol flammable? Is it safe as a liquid fuel? Does it catch fire?
Here's the answer: yes, ethanol is a flammable liquid. According to the CDC, ethanol has a flash point of 55 degrees Celcius. This makes ethanol a very flammable liquid and may catch fire when exposed to naked flames, even at room temperature.
This post contains affiliate links. I may earn a small commission at NO extra cost to you for purchases made through these links. Disclosure.
What is ethanol?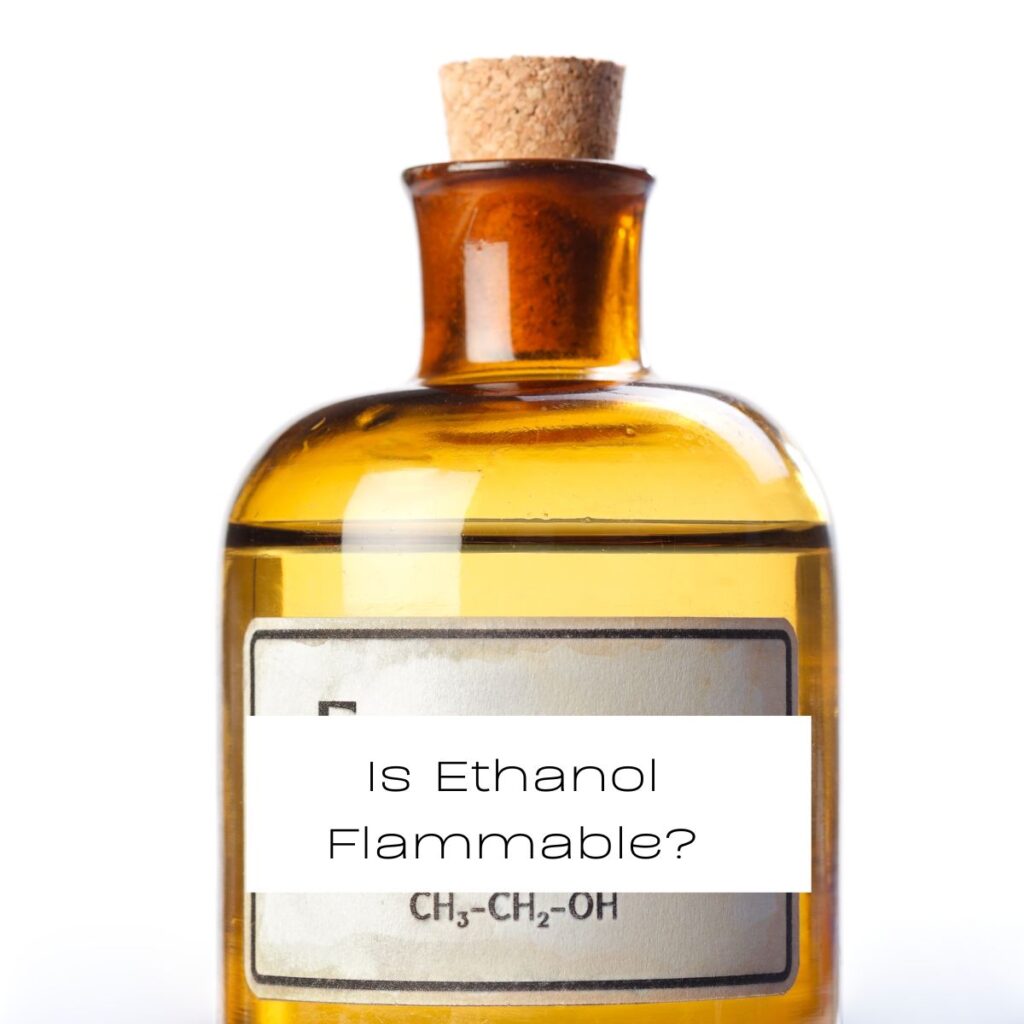 Ethanol is a colorless and volatile chemical compound. It is made by fermenting sugars from plants like wheat, corn, and barley. Ethanol is also known as ethyl alcohol, and it is the same organic compound found in intoxicating drinks such as wine, beer, and vodka.
Apart from alcoholic drinks, ethanol is also mixed with fuel. Ethanol fuel, when used as an additive to gasoline, helps reduce damaging emissions and increase the octane rating. It is blended with gasoline to produce various fuel types. Pure ethanol is rarely used as fuel. Instead, around 10-15% of ethanol is mixed with pure gasoline to produce efficient ethanol fuel.
Uses of Ethanol in Everday Life
Ethanol is a useful compound, and we use it every day, whether we are aware of it or not. Some of the most important uses of ethanol in our daily lives include:
Ethanol fuel or biofuel – ethanol production is important to fuel economy. Ethanol mixed with pure gasoline helps improve performance and reduce emissions. Pure ethanol is also used in specially-designed engines.
Beverages – most alcoholic drinks are made of ethanol.
Healthcare – ethanol is also used as a disinfectant in healthcare and medical settings.
Personal care products – ethyl alcohol is also a common ingredient in several personal care products, such as colognes and cosmetics.
Household products – ethyl alcohol is also used as a solvent mixed with household products like paints and varnishes.
Is ethanol flammable?
Considering that we are in the presence of ethanol every day, it's good to know whether ethanol is flammable or not.
Yes, ethanol is flammable. It has a low flash point of 55 degrees Celcius, which means it can be easily ignited and catch fire.
According to OSHA's standards for flammable liquids, a substance is considered flammable if it has a flash point of 93 degrees Celcius, which indeed makes ethanol highly flammable.
What about pure ethanol?
Pure ethanol is rarely used. However, when you look at disinfectants, alcoholic beverages, and fuel, ethanol is often indicated in percentages. For instance, there's 70% ethyl alcohol; most vodkas are 40% proof, and 10% ethanol fuel is the most common.
Ethanol is flammable, but it is often blended with other substances, which affects its flammability. The more ethanol content in the mixture, the more explosive it is. Therefore, pure ethanol is even more than ethanol blends, making it one of the most dangerous fire hazards.
Ethanol as fuel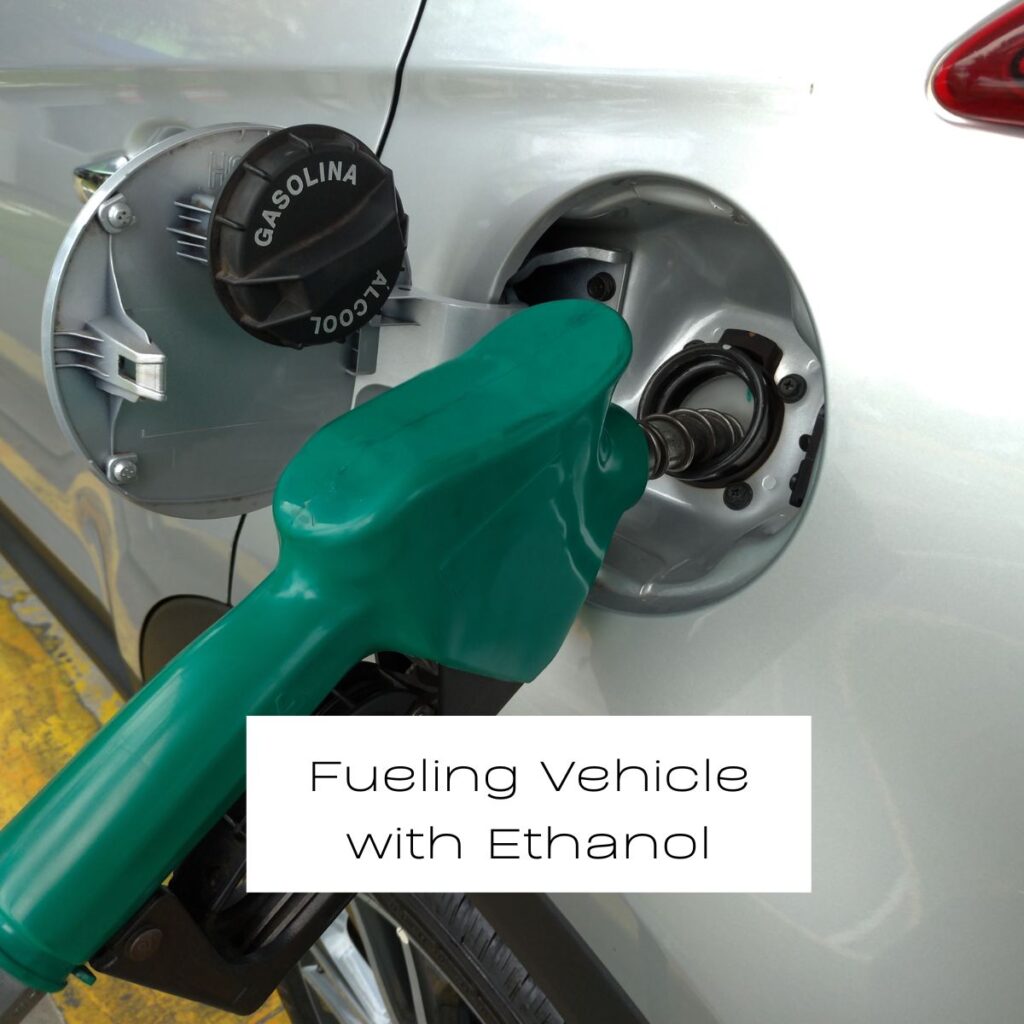 One of the most critical applications of ethanol today and in the future is as fuel.
Ethanol fuel is renewable energy which is also called "biomass." Ethanol production picked up over the last couple of years. Today, 98% of vehicles in the US run on ethanol fuel, with a mixture of 10% ethanol and 90% gasoline. This innovation helps reduce the impact on gasoline consumption while reducing emissions and improving efficiency.
You'll likely find a selection of ethanol-blend fuels when you go to the nearest pump. This is because pure gasoline has become harder to find these days. Also, the government places more emphasis on its aim for energy independence, and ethanol production may be just one of the best ways to do it.
Ethanol production typically relies on food crops like corn, sugarcane, wheat, and barley. But another type of ethanol fuel, cellulosic ethanol, is also used to produce ethanol. Cellulosic ethanol uses non-food sources, forestry, and agricultural residues. It involves breaking down the cellulose into simple sugars and then fermenting them with yeast and bacteria to produce ethanol molecule.
Compared to fossil fuels, biodiesel, like ethanol, yields lesser greenhouse gas emissions and lesser air pollutants. It is less likely to contribute to global warming.
Although ethanol fuels, whether they come from corn ethanol or cellulosic ethanol, are promising renewable sources of energy, the involvement of carbon dioxide has many experts concerned about the impacts of ethanol fuel economy on the atmosphere. However, we are hoping that more studies
Can an engine run on pure ethanol?
In theory, engines should be able to run on pure ethanol fuel. However, this is not the most practical idea and is not economically viable.
Most cars run on ethanol-blend fuels. The most common blend is E85, which contains 85% ethanol and 15% gasoline.
The reason why engines can't run on pure ethanol are the following:
Older cars are not equipped to handle ethanol in their systems, more so pure ethanol. It could lead to engine damage, rust, and corrosion.
Newer cars are more ready to accept ethanol blends in their system. However, only a few can handle pure ethanol. Even flexible fuel vehicles can only take up to E85 blends. Some specially designed racing cars may be able to do so.
Pure ethanol is rare. Even in the process of distillation, the purest form of ethanol is only 95%.
People who want to save money on gasoline consumption look at other alternatives. Electric vehicles, for instance, are more cost-effective and produce lesser carbon dioxide. The use of methanol and hydrogen is also being explored as alternative fuel sources.
Could ethanol produce electricity?
With oil prices constantly on the rise, many people have wondered if ethanol can also create electricity. After all, it's been proven that ethanol can be used to run cars, but can it also be used to produce power as well?
It turns out that corn ethanol can indeed produce electricity. Through this innovation, fuel derived from plant material is converted into biomass. In turn, biomass can be used to power electric vehicles.
What happens when you burn ethanol?
Burning ethanol yields water and carbon dioxide gas. Ethanol is highly flammable and easily ignited, so it is important to take proper precautions whenever fire and ethanol are involved.
Ethanol is a clean-burning fuel. Unlike other fuel sources like fossil fuels and coal, burning ethanol produces lesser greenhouse gas that contributes to climate change.
For instance, an ethanol fireplace burns "clean air," which means there's no need for a vent or fireplace. Given proper measures and ventilation, burning ethanol is relatively safe. It is a popular option for home heating.
What about ethanol fires?
Compared to gasoline, ethanol blends like E85 are more flammable. They burn an almost invisible flame but are detectable during the day.
Water spray will not extinguish ethanol fires. Instead, firefighters must use alcohol-resistant foam to kill ethanol fires.
Is ethanol hazardous?
We've learned that ethanol is flammable and easy to ignite. But what are the health hazards caused by ethanol?
Exposure to ethanol does have health repercussions, particularly through skin contact, inhalation, and ingestion. Ethanol can cause irritation to the lungs and may induce vomiting, loss of coordination, dizziness, and unconscioounesness.
If you suspect to have inhaled ethanol, get out right away and find a place with fresh air or good ventilation. Those who are pregnant are also advised against consuming ethanol as it may also harm the unborn baby.
Conclusion
Ethanol is a marvelous compound. Ethanol in alcohol can cause drunkenness, although people still like to drink it whether they are sad or happy. Despite its pungent taste, consuming ethanol has become part of our lives.
Ethanol fuel used in vehicles helps mitigate the impact of oil prices and is believed to be more environment-friendly. It has less impact on global warming and may contribute to energy independence.
But ethanol is not perfect. It is one of the fire hazards we all should look out for. Never forget that ethanol is flammable and could easily catch fire in the presence of ignition sources even at ambient temperature. Also, ethanol fires should be dealt with proper methods, considering that the chemical formula makes it less responsive to water.