Anybody who owns a refrigerator or an air conditioning unit has probably come across freon. Are you concerned about freon and whether it is a flammable refrigerant or not? Then you ought to know right now.
Freon is one of the most well-known refrigerant gases. But there are several concerns surrounding freon. Is freon flammable refrigerant? Are refrigerant leaks dangerous, and does freon affect the Earth's ozone layer?
So, is freon flammable? The short answer is no, it is non-flammable. Freon's job is to absorb and release heat in air conditioning applications, and heat pumps refrigerant systems. You could say that a refrigerant like Freon is the reason why your refrigerator and HVAC system is working as they should.
But that's not to say that freon is completely harmless. If you didn't know yet, freon explodes, especially when the freon gases in a pressurized tank are exposed to heat or fire. This causes more pressure inside the container, leading to an extremely dangerous explosion.
What is a Refrigerant?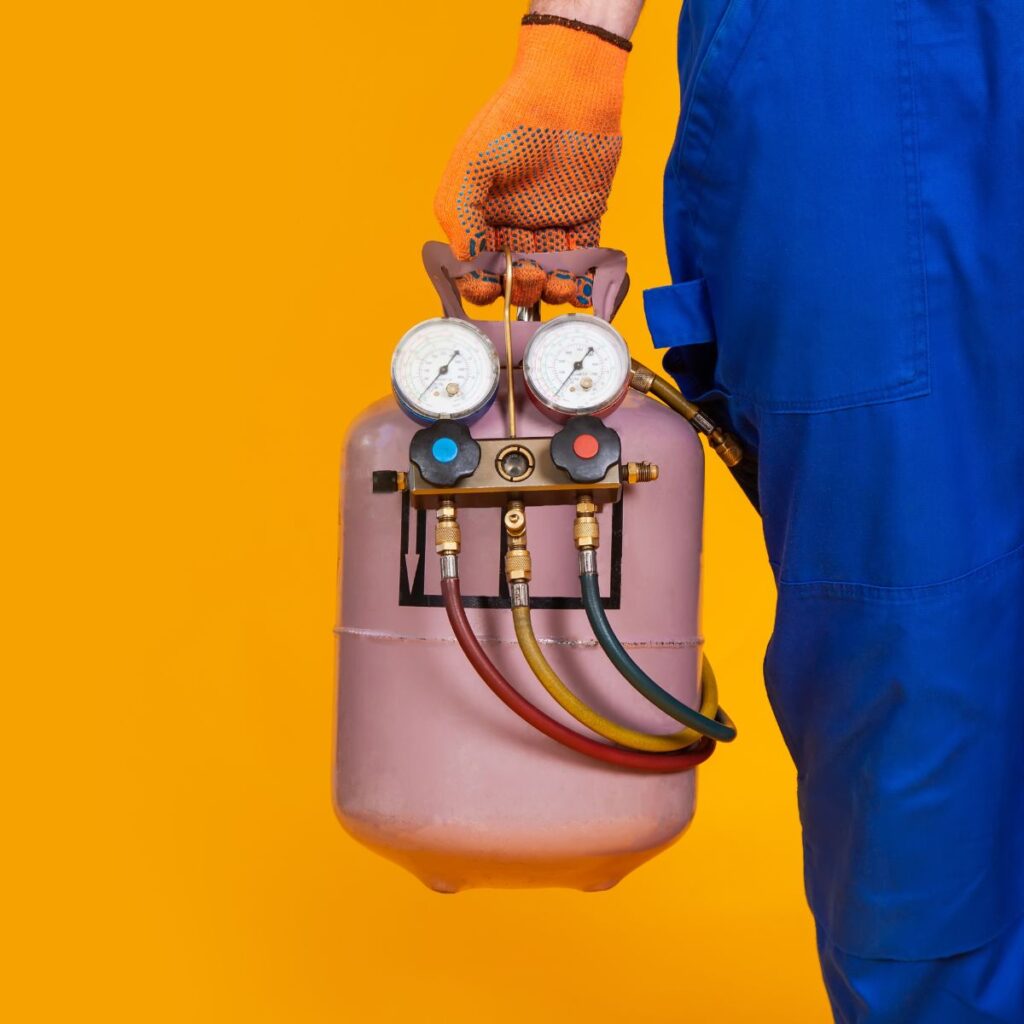 A refrigerant is a liquid used in the refrigerant system in air conditioning applications and HVAC systems.
Numerous types of refrigerants have been discovered and created over the years. When the modern air conditioning systems were first invented, scientists used methyl chloride, carbon dioxide, ammonia, and sulfur dioxide as refrigerants.
However, since these were highly toxic and flammable refrigerants, new types of refrigerants were in introduced in the 1920s, such as chlorofluorocarbons, hydrofluorocarbons, and hydrochlorofluorocarbons.
The advantage of these new chemicals is that they were less toxic and non-flammable refrigerants. However, they posed severe risks to our planet as they had global warming potential GWP. It meant that using these chemicals is harmful to the Earth's ozone layer.
What is Freon?
Freon, also known as R22 or HCFC 22 refrigerant, is a refrigerant gas used in air conditioning devices and applications. It goes through a cycle of evaporation to produce cool air that travels throughout the air conditioning system.
Freon is a colorless, odorless, non-flammable chlorofluorocarbons. While Freon has demonstrated its impeccable ability as a refrigerant, the Environmental Protection Agency or EPA banned the use of Freon in 2010 due to its high global warming potential. In 2020, the EPA has prohibited the production and importation of Freon into the US.
American Society of Heating, Refrigerating and Air-conditioning Engineers set up the ASHRAE standard 34, which seeks to establish safety classification of high pressure refrigerant R 410A. This refrigerant replaced Freon as it is non-toxic and has a lower flammability limit.
How Does Freon Work?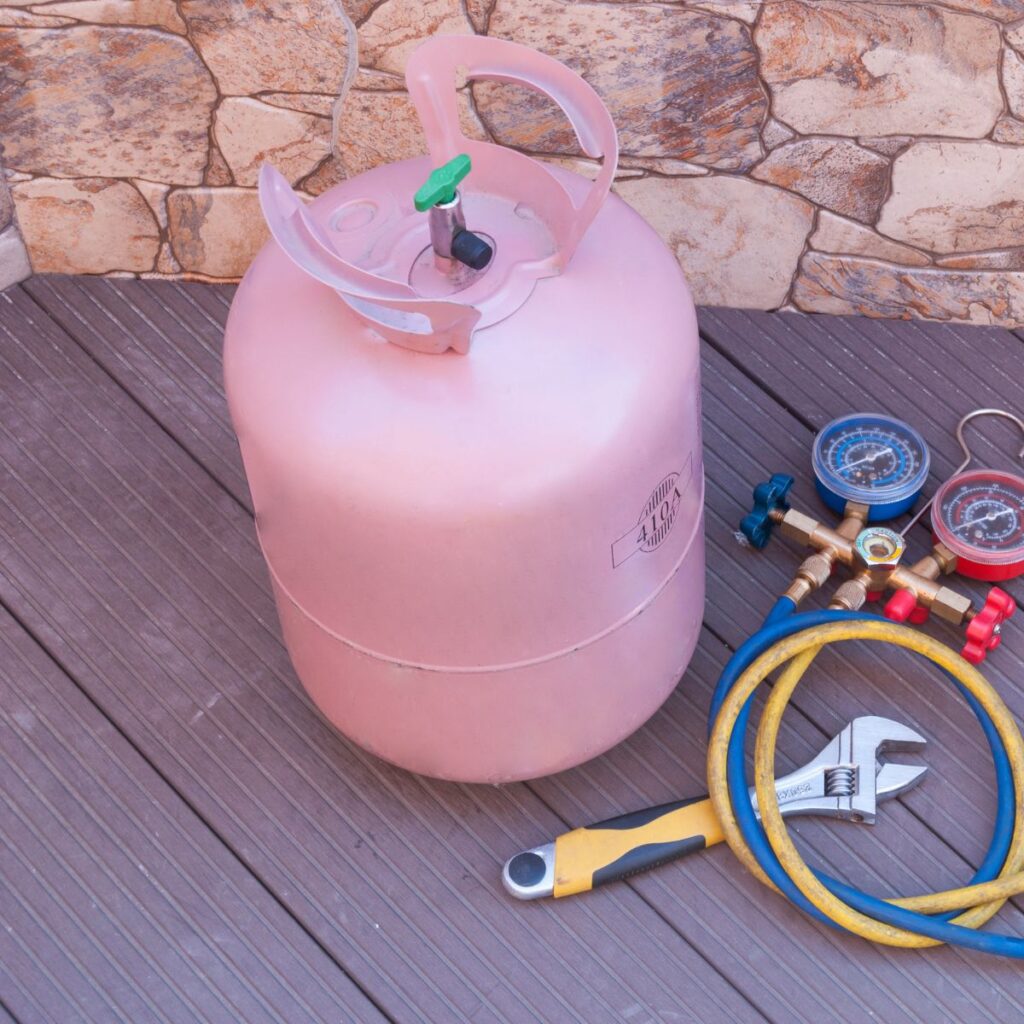 Have you ever wondered how Freon works in your refrigerator and air conditioner?
Well, Freon goes through repeated cycles of evaporation within the refrigerant system. Freon gas is compressed within the compressor, increasing temperature and making Freon hot.
The compressed Freon gas moves through the coils, where its temperature decreases. Freon gas moves through cooling mediums where it turns into liquid.
Freon keeps your air conditioner and HVAC system cool with this cycle.
How Does Freon Contribute to Global Warming?
Since Freon was banned, experts have sought alternative refrigerants with low global warming potential.
But have you ever wondered why Freon causes the Earth to warm up?
Air conditioning systems and refrigerators use refrigerants to keep them cool. However, refrigerants use chemicals that "escape" into the atmosphere.
These chemicals can potentially warm the Earth's atmosphere thousands more than carbon dioxide.
Freon gas reacts with the sun's rays and, in the process, releases chlorine. Chlorine can destroy ozone molecules, resulting in the depletion of the ozone layer. A severely damaged ozone layer means losing our protection against the harmful UV radiation from the sun.
As we know, the older type of refrigerants were chlorofluorocarbons or CFCs. But when experts discovered that CFCs cause depletion of the ozone layer, they tried to find better replacements, and in came hydrofluorocarbons (HFCs) and hydrochlorofluorocarbons (HCFCs).
HFCs and HCFCs aren't exactly environmentally friendly. While they don't cause as much damage to the atmosphere as CFCs do, HFCs and HCFCs release greenhouse gases that cause global warming.
The refrigeration and HVAC industry are two of the biggest contributors to this event, largely because we use our refrigerators and HVAC systems daily. Because of this, the US Clean Air Act aimed to regulate the emission of refrigerants into the atmosphere.
The EPA also sought to transition to low GWP refrigerant alternatives. According to this report, refrigerants with ammonia, carbon dioxide, and propane have the lowest global warming potential.
What are Flammable Refrigerants?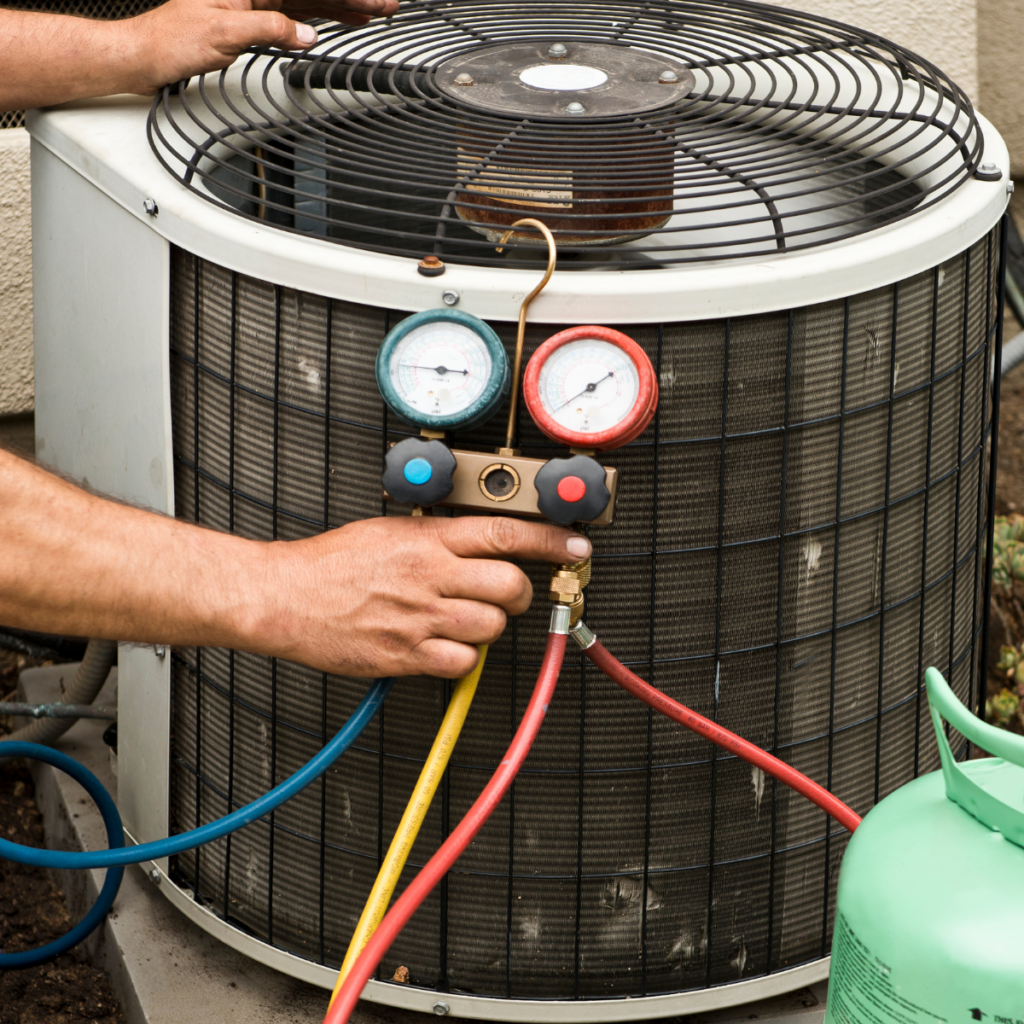 Refrigerants are classified according to toxicity and flammability class.
There are three flammability classes for refrigerants.
Flammability class 1 is non-combustible and non-flammable, considered the safest refrigerants.
Flammability class 2 refrigerants have a low flammability limit.
Flammability class 3 are highly flammable refrigerants.
Is Freon Flammable?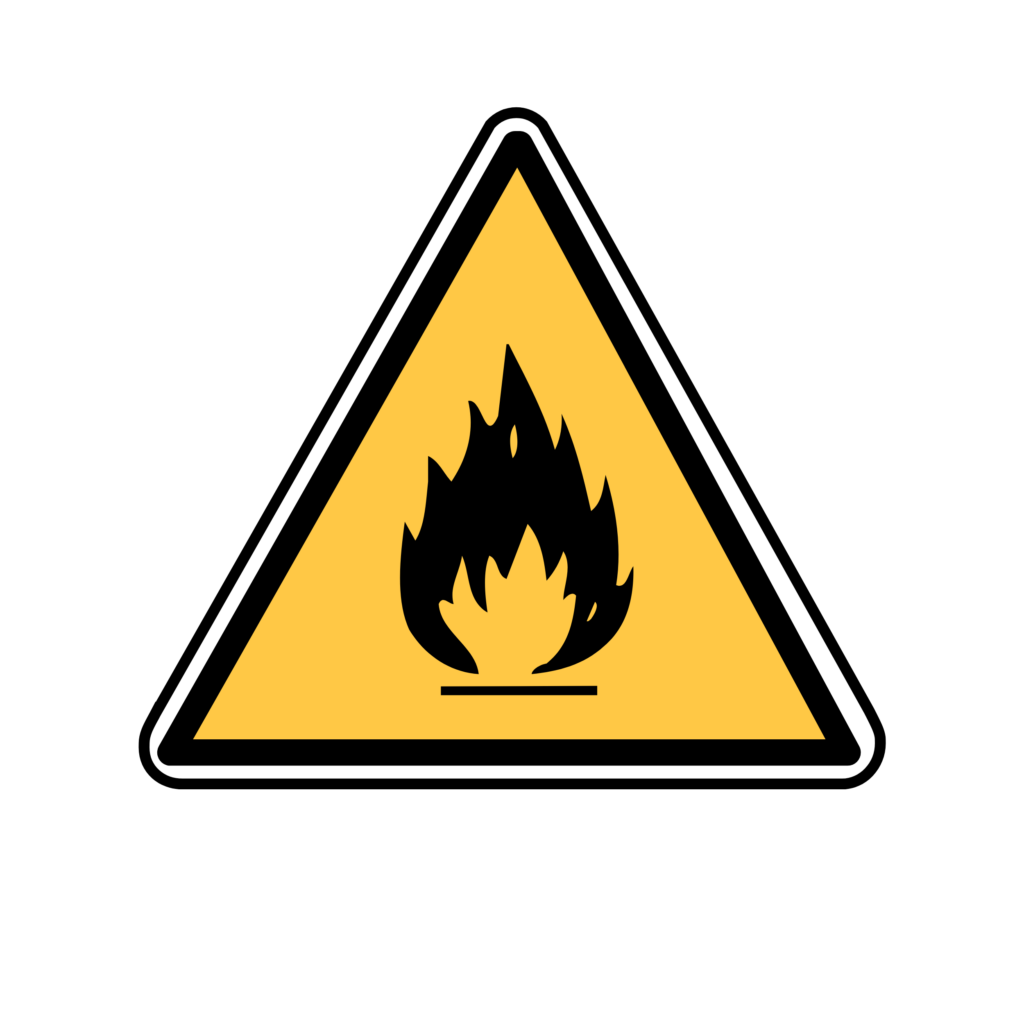 According to the safety classification, Freon is a non-flammable, low toxicity refrigerant. It won't even catch fire under normal conditions. Freon is also non-combustible as it can resist burning.
Related Posts:
Does Freon Explode?
Knowing that Freon is nonflammable and non-combustible, is there a chance for Freon to explode?
Certainly, there is.
Freon can explode. Freon gases contained in canisters and tanks are at risk of explosion. When these are exposed to an ignition source such as fire or flame, the air pressure inside builds up inside. When the container can no longer deal with the high pressure, it may explode.
Freon explosions are dangerous. Phosgene, a toxic gas, is released during the explosion. According to the CDC, exposure to phosgene gas can result in chest pains, difficulty breathing, nose, eyes, and throat irritation, and vomiting.
How Do You Manage Fire Safety Using Freon?
You should always be mindful of your safety if using refrigerant-based devices or equipment. Here are the safety considerations to keep in mind:
Equip your home with a fire extinguisher.
Keep equipment or devices that use refrigerants away from open flame or excess heat.
Get your equipment or devices checked regularly to ensure that there are no leaks.
Call your fire service right away in case of a fire accident.
Place HVAC and air-conditioning equipment in a well-ventilated area.
What About Refrigerant Leaks?
Freon is generally safe as it is non-toxic. But is there any harm if you suspect the refrigerant leaked in your home?
If you are using appliances that use Freon as a refrigerant, then you should be wary of leaks. These leaks are uncommon, but when they do occur, can pose health risks to you and your family.
A Freon leak can happen when you accidentally damage the device or equipment, causing the Freon gas to escape. If you are a good distance away from the leak or if the leak is minor, the risks of getting refrigerant poisoning are slim.
Risks of Refrigerant Poisoning
However, you may experience refrigerant poisoning if it's a large-scale leak. You may experience dizziness, shortness of breath, nausea, and irritation of the eyes, nose, and throat.
If left unattended, the patient may experience seizures, too, even death. It is important to evacuate the area and bring your kids and pets outside as they can also be vulnerable to the poisoning.
Next, ventilate the area by opening the doors and windows and turning on the fans. This should help blow away contaminated air.
Call your technician to stop the leak and repair the damages. Also, make sure to get the patient medical attention.
Sometimes, Freon leaks happen without you knowing it. Your equipment could get damaged after an earthquake, for instance, and you might not notice that there's a leak somewhere. So it's good to inspect your units regularly to prevent the worst.
Signs of Refrigerant Leaks
Do you suspect a refrigerant leak? Here are the top signs you should look at:
Higher power bills. Refrigerant leaks cause inefficient cooling, forcing the system to work double time. If the leak goes undetected for some time, the damage could reflect in your higher electricity bill.
Inefficient cooling. Your unit cannot keep up with heat as it used to.
Hissing sound. If the coils of your unit are damaged or punctured, the refrigerant leak will most likely produce a hissing, even gurgling, sound.
Conclusion
Freon is not classified as one of the flammable refrigerants, hence, there is zero to little chance of it burning or catching fire under normal circumstances.
But that doesn't mean that Freon is entirely harmless. When a Freon tank or cylinder is exposed to a heat or ignition source, high pressure builds up inside and causes an explosion. Such an explosion can put your safety at risk.
Importantly, the use of Freon was found to cause global warming and depletion of the ozone layer. All the equipment and applications that use CFCs and HCFCs are mandated to halt production and importation.