Many parents use baby powder on their babies and toddlers. But is baby powder flammable or not? Are there risks of using baby powder?
Baby powder is a product many parents use on their little ones. Baby powder is supposed to help prevent diaper rash and chafing. Using scented baby powder also keeps kids fresh-smelling for longer.
Since baby powder is made of fine dust with particle sizes similar to that of corn starch and powdered sugar, it makes us wonder whether baby powder is flammable or not. Are there other risks or hazards associated with using baby powder?
Here's the truth: baby powder can be flammable, given the right circumstances. When the fine particles of baby powder are dispersed in the air, they gain more access to oxygen and change their surface area ratio. An explosion may occur when those tiny particles are exposed to an ignition source like heat or spark.
What is Baby Powder?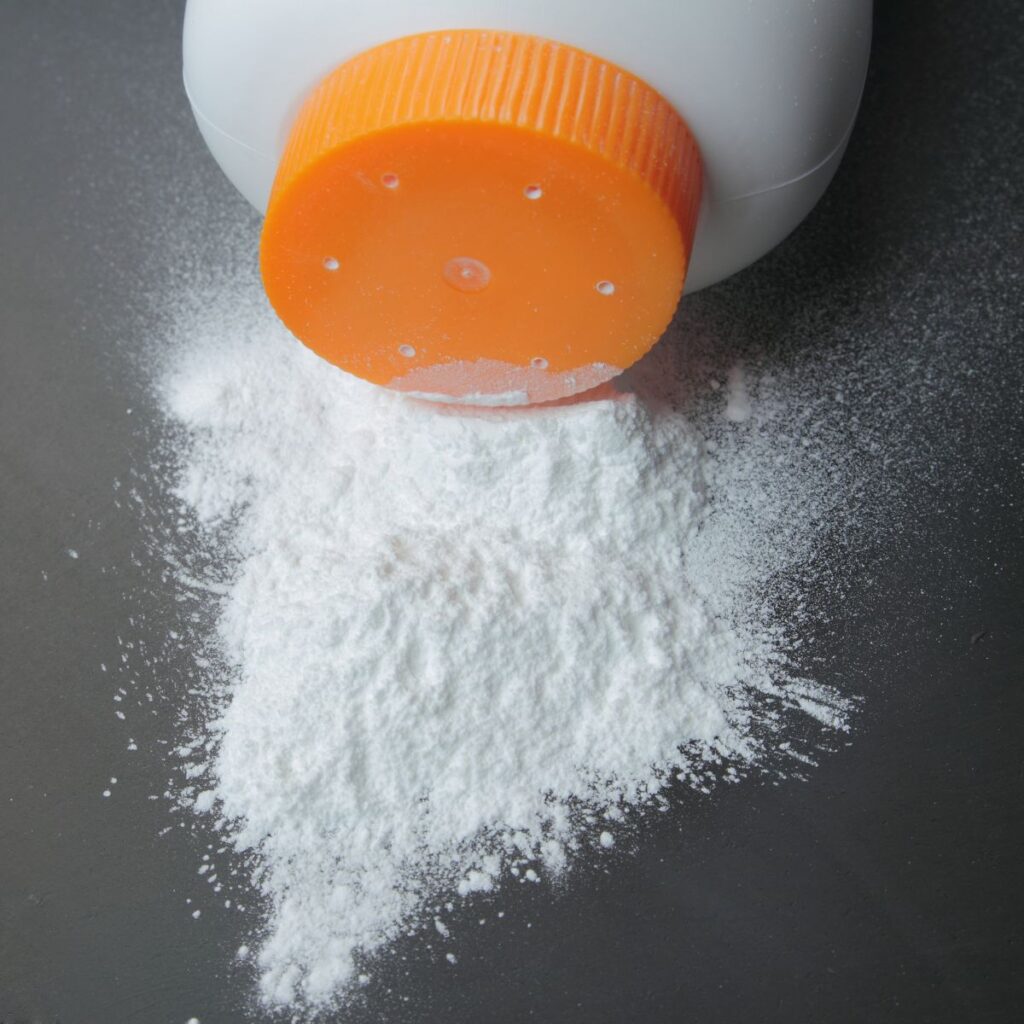 Baby powder is a product consisting of fine dust that aims to smooth and dry a baby's skin. You've probably heard of Johnson & Johnson, one of the most popular brands in the market.
Baby powder absorbs moisture from the skin, therefore reducing friction and helping to reduce rashes and skin irritation. Moms usually put baby powder on their babies' bottoms to prevent diaper rash.
Also, baby powders also contain fragrances that make them smell wonderful. They make kids smell good even after sweating during their playtime.
Some adults also use baby powder as a cosmetic product which reduces oiliness in the face.
What is Baby Powder Made Of?
Baby powder is made of different materials, but the most common are talc and cornstarch. Before, baby powder was generally regarded as talcum powder until mineral talc was banned, and manufacturers switched to corn starch as the main ingredient in baby powder.
What is talcum powder, then?
Talcum powder contains mineral talc that is primarily made up of silicon, magnesium, and oxygen. Talc is also known to be the softest mineral in the world.
According to Cancer.org, talc also contains asbestos which is known to cause cancer.
Because of this, leading manufacturer Johnson & Johnson decided to discontinue talcum powder production after being forced to pay millions in fines.
Such controversy led manufacturers to create baby powder that's made of cornstarch. Cornstarch is an excellent alternative to talc as it also absorbs moisture from the skin and prevents and soothes irritations.
Is Baby Powder Flammable?
Whether or not baby powder is flammable does not entirely depend on what it's made up of (cornstarch or talcum powder) but more on how those very fine dust can ignite and catch fire.
Baby powder, in its sealed container, is considered a lump of material and is not flammable in this state. However, if you let those fine particles of baby powder loose in the air, the dust can ignite when it comes in contact with a flame or spark and start to burn.
How Flammable is Baby Powder?
Baby powder is only flammable in its powder or dust form and under certain circumstances. Using baby powder in your home does not necessarily mean that it will catch fire so easily. But you should still be careful because this product is flammable.
So in what instance does baby powder become flammable?
When you disperse baby powder in the air in an enclosed area and near an open flame, it is indeed very flammable and dangerous, and you even run the risk of an explosion.
You see, baby powder can turn into combustible dust in that scenario. Each dust gains a greater surface area ratio compared to its volume. It is also more exposed to oxygen. It now only takes an ignition source for the particles to ignite. Once one particle is ignited, it ignites the next particle, and so on. It doesn't take long for this cloud of baby powder to burst into flames and explode.
In fact, severe powder explosions have occurred in the past. One of the grimmest dust explosions in history was the Imperial Sugar Refinery Explosion in Georgia in 2008.
Imperial Sugar is a massive processing facility of powdered sugar. Those tiny particles of powdered sugar gather in the air and given enough concentrations, powdered sugar dust clouds could form. Given that there was an open flame or a spark from the machinery, clouds of sugar dust exploded, turning the Imperial Sugar Plant into a fiery inferno.
And that's exactly what happened on February 7, 2008, in Georgia. The explosion resulted in 14 deaths and 38 injuries, plus massive damage to property.
Following this same concept, we can now see how the baby powder is flammable and its potential hazard to your loved ones. Hence, it is important to never use baby powder near an open flame for the sake of everyone's safety.
Is Talcum Powder Flammable?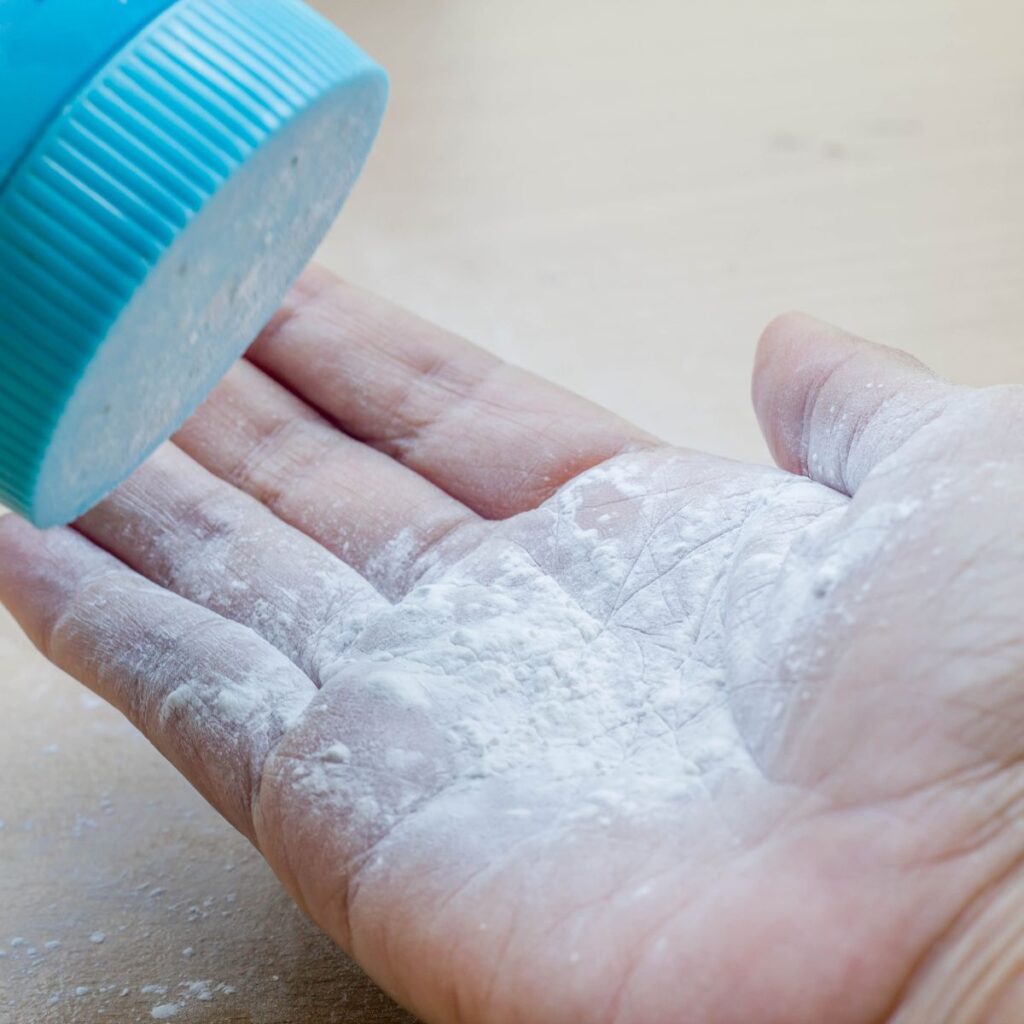 Talc, as a mineral, is not flammable. It can even tolerate high temperatures. It has very little chemical reactivity.
However, talc is processed into talcum powder, and this is when it becomes flammable. We must remember that almost anything that's in very fine powder form can be flammable.
Is Cornstarch Baby Powder Flammable?
The cornstarch used in baby powder is the same cornstarch we use in the kitchen. And yes, cornstarch baby powder is also flammable.
Looking back at the Imperial Sugar refinery incident, you can see how and why corn starch is flammable. Like sugar dust, corn starch is also made of very fine dust. An explosion could potentially happen when those dust clouds are suspended in the air and exposed to high heat or temperatures.
Related Posts
Can Baby Powder Explode?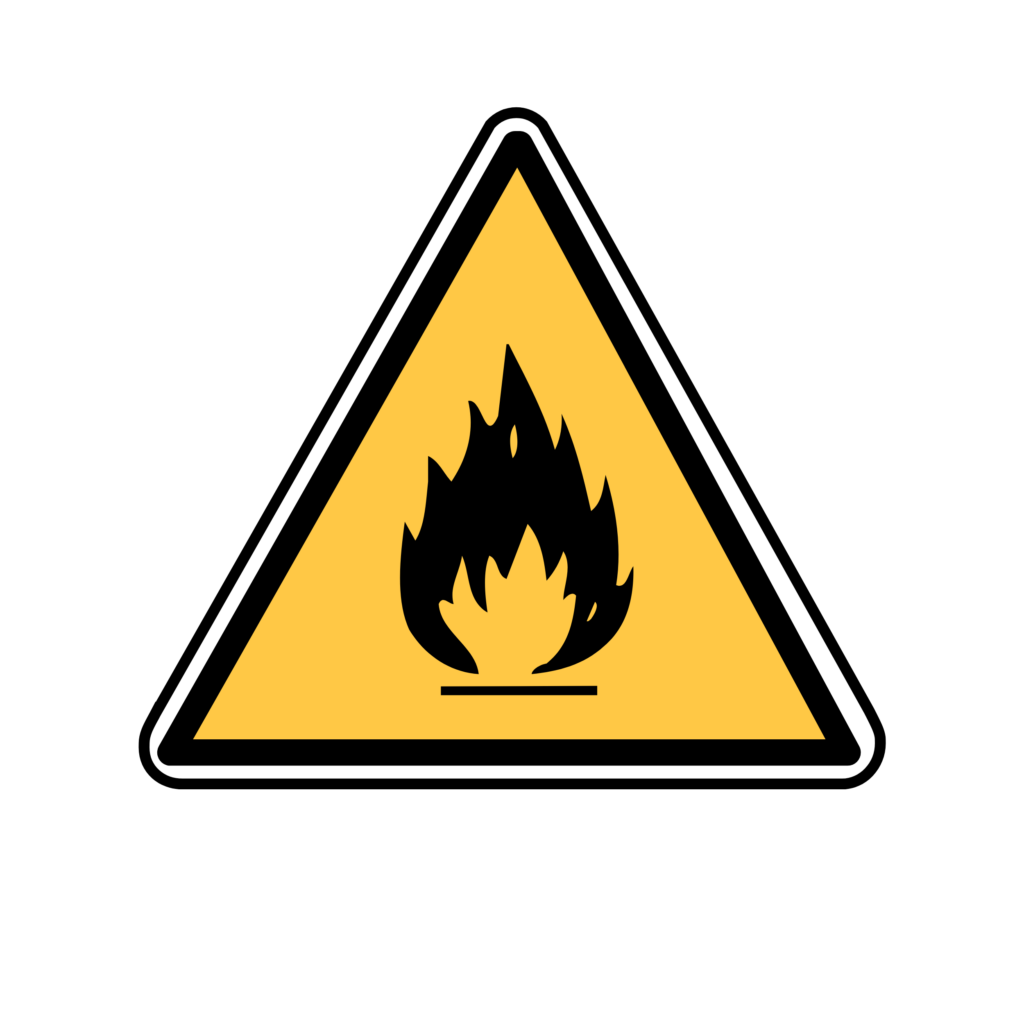 Given the right conditions, baby powder can be explosive. Baby powder comprises cornstarch or talcum powder, which are very fine particles that take up a greater surface area. These particles could be ignited with a flame or heat source, they start to burn, and dust explosions become a real risk. Always remember that almost all types of powders are combustible when they are airborne.
Is Baby Powder Hazardous?
Apart from baby powder being flammable, there are more reasons why experts do not recommend using this product on babies.
According to Drug Watch, inhaling fine dust from baby powder can result in coughing, wheezing, and difficulty breathing. Although rare, inhaling talc can be deadly. For this reason, manufacturers warn users never to use baby powder near a baby's face.
Additionally, the use of talc powder has been linked to cancer. Although this is still up for debate, World Health Organization says that it could possibly be carcinogenic.
Additionally, the American Academy of Pediatrics is convinced that baby powder is not a necessary product, particularly for infants, since they already have delicate skin and using powder may only lead to irritation.
Baby powder has been free of asbestos for decades, but these points are worth considering should you consider using baby powder on your little kids.
Safety Precautions When Using Baby Powder
If you are still sold to using baby powder on your kids despite its numerous hazards, then it's best to practice these safety precautions to mitigate the risks.
Do not store and use baby powder near a flame or heat source. Specks of dust that go airborne could potentially catch fire.
Do not transfer baby powder into another container. Keep it in its original packaging so that people around you know what it is.
Do not sprinkle baby powder liberally, and keep it away from babies' faces or noses. Inhaling powders can put kids at risk of respiratory problems.
Some babies are allergic to corn, so using a cornstarch-based baby powder can also be hazardous.
Wash the baby's skin between diaper changes to remove the excess powder you've applied.
Do not use too much baby powder. Babies might inhale the excess powders that go into their clothes or skin.
Conclusion
Is baby powder flammable? Yes, it can be.
Baby powder is either made of cornstarch or talcum powder, both of which are composed of very fine dust. A dust explosion happens when specks of dust float in the air and form into a dust cloud.
If you're still not convinced about the hazard of dust explosions, then we suggest looking up the incident at the Imperial Sugar Refinery. It is the best example of how explosive combustible dust could be.
If you are using baby powder, it is best to be careful and ensure that your baby does not inhale those tiny particles. Follow the tips mentioned above for your safety.