Mineral spirits are solvents that are commonly used in paint thinner as well as in cleaning and degreasing different objects. But is it really safe to use mineral spirits? Are mineral spirits flammable? Find out now.
Mineral spirits are some of the most flexible and useful solvents. While this liquid is commonly used as a thinning agent for oil based paint, many people also use mineral spirits to remove paint stains and in cleaning brushes and tools.
But here is the thing that you'd like to know: is mineral spirits flammable?
Yes, mineral spirits are flammable. It has a flashpoint of around 100 F, which means mineral spirits can easily catch fire. Apart from mineral spirits being flammable, they are also combustible.
With that said, it is important to use mineral spirits in a well ventilated area and away from open flames for your own safety.
This post contains affiliate links. I may earn a small commission at NO extra cost to you for purchases made through these links. Disclosure.
What is Mineral Spirit?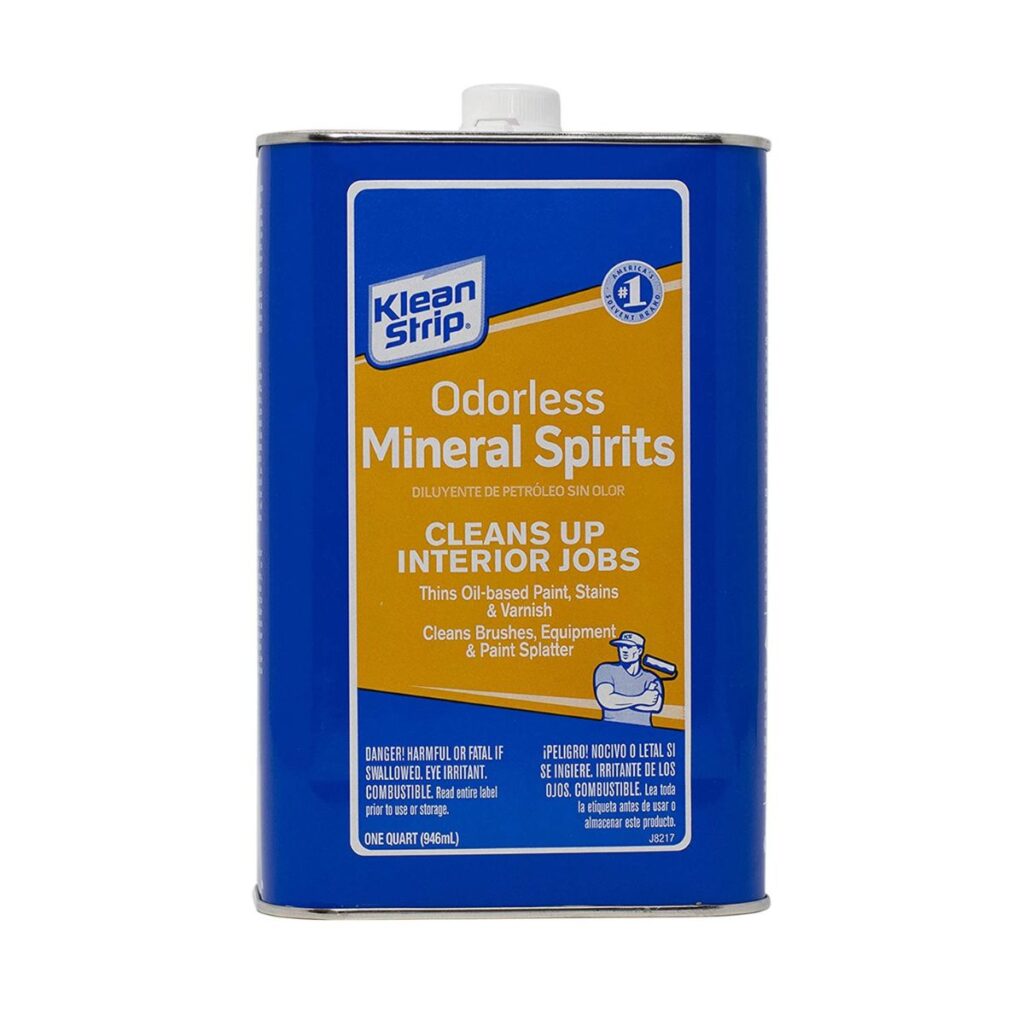 Mineral spirits are also known as white spirits and petroleum spirits, a colorless liquid that is used to substitute turpentine. It is a petroleum-based substance that is also used to thin oil based paint.
There are different kinds of mineral spirits. The odorless mineral spirits are refined to filter out their aromatic compounds, making them less toxic and ideal for oil painting.
The Stoddard solvent has a chemical number 8052 41 3 is an organic solvent made from the distillation of petroleum mixture, and is typically used as a paint thinner, and in printer inks and toners, as well as a cleaning and degreasing agent.
Naphtha solvents are made of volatile hydrocarbons which are often used in laundry soaps, varnishes, and cleaning fluids and as paint diluents.
Mineral Spirits vs. Paint Thinner vs. Turpentine
Some people use mineral spirits, paint thinner, and turpentine interchangeably. While these solvents are related to each other and perform almost similar uses, they have quite a few differences.
Mineral spirits are more refined, have a lesser odor, and are less volatile than paint thinner. Both products can be used to thin oil based paint.
Some paint thinner products use mineral spirits and some additives. The main function of paint thinner, is well, to thin paints. It is also essential to remember that paint thinner is cheaper than mineral spirits.
Turpentine, on the other hand, is a water-based solvent that's made from pine trees. Turpentine also does the same job as the mineral spirits do — thin paint, clean, and degrease. The key difference, though, is that turpentine does not leave oil residues.
It is important to remember that mineral spirits, paint thinner and turpentine have flammable properties and it is important to practice caution when using any of these products.
Related Posts:
What are Mineral Spirits Used For?
Mineral spirits are used in a wide range of applications. Although it is mostly known as a paint thinner, mineral spirits have a lot to offer when it comes to usage.
1. Thin paint
The most common use of mineral spirits is to thin oil based paint. Mix mineral spirits with your paint to achieve your desired consistency. Many people use mineral spirits as paint thinner over turpentine because mineral spirits are less toxic and odorous.
2. Remove paint spills
You can remove any paint spills from almost all kinds of surfaces by wetting a rag with mineral spirits and then wiping the paint spill.
3. Cleaning agent
Mineral spirits do a fantastic job as a cleaning agent, especially for tools and machinery. This is a powerful chemical that strips away built-up dirt, grime and rust on any metal objects.
4. Degreaser and lubricant
Mineral spirits can effectively remove grease on auto parts by simply wiping them down with the solvent and scrubbing on the leftover grime.
5. Clean your paint brushes and rollers
You can clean your paint brushes and rollers after painting by dipping them in mineral spirits.
6. Clean wood furniture
Mineral spirits are safe to use on wood, so you can just wipe the surfaces of your furniture to remove traces of dirt and grime, making your wood furniture look clean and shiny.
Are Mineral Spirits Flammable? Are They Combustible?
Yes, mineral spirits are flammable.
Mineral spirits have a low flashpoint of around 105 F degrees, making this solvent catch fire quite easily.
Additionally, mineral spirits are combustible. When mineral spirits are exposed to a specific temperature, then auto-ignition could occur. While it takes at least 473 F degrees for mineral spirits to combust, it's just wise to know just so you can take caution while working with this solvent.
At What Temperature Do Mineral Spirits Ignite or Catch Fire?
We have already pointed out that the flashpoint of mineral spirits plays around 100 F degrees.
According to OSHA, the flashpoint for flammable liquids is less than 199.4 F degrees. This means that it only takes around 100 F degrees for mineral spirits to ignite and catch fire.
Are all mineral spirits the same?
While all mineral spirits or white spirits are 100% petroleum-based with zero additives, mineral spirits have different grades. There are the low flash, regular, and high flash grades. The "grade" here refers to the crude oil used and the conditions of the distillation process.
Can mineral spirits start a fire?
Yes, mineral spirits can start a fire, if there is a heat source Users are advised to work with mineral spirits in a well-ventilated and away from a heat or flame source. It is also best to store the products away from direct sunlight.
Can rags with mineral spirits combust?
You are most likely going to use a rag if you are using mineral spirits to clean grease, dirt and grime or as a varnish.
Residues of mineral spirits remain in the rag even after use, so these rags may spontaneously combust. According to theNational Fire Protection Association (NFPA), 900 out of 1700 cases of fires caused by spontaneous are due to oily rags.
This happens when the heat from the rags used with oil-based solvents builds up and starts a fire. So if you are going to use rags with such flammable products, then it's crucial to dispose of them properly to avoid accidents.
What are the dangers of mineral spirits?
Mineral spirits are both flammable and combustible, so they're a fire hazard if not used, stored, or disposed of properly.
Apart from that, solvents like mineral spirits can be a health risk if you ingest or breathe in the fumes.
Mineral spirits have a poisonous ingredient known as hydrocarbons. If you ingest or inhale the fumes, you could experience mineral spirits poisoning. The symptoms of this condition include difficulty breathing, swelling of the throat, burning or painful feeling around the eyes, nose, ears, and lips, as well as vision loss.
The patient may also experience vomiting, severe abdominal pain, dizziness, low blood pressure, numbness in the limbs, and more. If you or someone experiences these symptoms after exposure to solvents, seek medical help right away.
Safety tips in using, storing, and disposing of mineral spirits
Given that mineral spirits are flammable and combustible, it is wise to follow these safety tips when using, storing, and disposing of such solvents.
Clean your working space or area and remove any type of heat or fire source
Wear protective equipment while working with solvents, such as gloves, eye goggles and a mask to prevent any skin contact or inhaling the fumes
Keep the remaining products in their original packaging, tightly sealed, and store them in a cool, dry place
Keep mineral spirits away from children's reach
Collect all the rags you have used with mineral spirits and bring them to your hazardous waste facility
If you do not have a hazardous waste facility, you could put the rags soaked with mineral spirits and bring them outside. Place them in a metal bucket, fill it with water, and place a weighted object (such as a big stone) to submerge the rocks completely with water. Seal the bucket with a lid.
Never hang the rags you've used outside. Do not throw them in your trash can either, even if they are dry.
Do not flush solvents in your drain because it is toxic to the soil and the environment.
Conclusion
Mineral spirits are refined petroleum-based solvents that are often used to thin paints, clean materials, get rid of grease and rust as well as varnish wood. With such extensive use, many people find mineral spirits a handy product to have around the home.
But mineral spirits are flammable. They have a low flashpoint, so exposure to a heat or ignition source could start a fire. Additionally, rags that have been used with mineral spirits may spontaneously combust and catch fire.
With that said, it is essential to use mineral spirits carefully and properly, store them away from heat sources and open flames and avoid exposure to direct sunlight. It is also best to properly dispose of the materials you used (such as rags) to keep your family safe from potential fires.