Vegetable oil is a kitchen staple in so many homes. But have you ever asked yourself this: is vegetable oil flammable? And does it catch fire? well, you're about to find out.
It's hard to imagine a kitchen without cooking oil. Cooking oil is used in cooking and preparing different types of dishes. And one of the most commonly used cooking oil is vegetable oil.
Vegetable oil is used in frying and dressing salads. It is also deemed a healthier type of oil. But does that mean that vegetable oils are perfectly safe to use in the kitchen? Are they flammable?
Vegetable oil is not flammable from a technical standpoint. Vegetable oil has a very high flash point, allowing it to tolerate high temperatures without igniting. However, different vegetable oils have varying levels of flammability. So if you want to know just how hot vegetable oil could get before it becomes a dangerously flammable liquid, then read on.
This post contains affiliate links. I may earn a small commission at NO extra cost to you for purchases made through these links. Disclosure.
What is Vegetable Oil Made Of?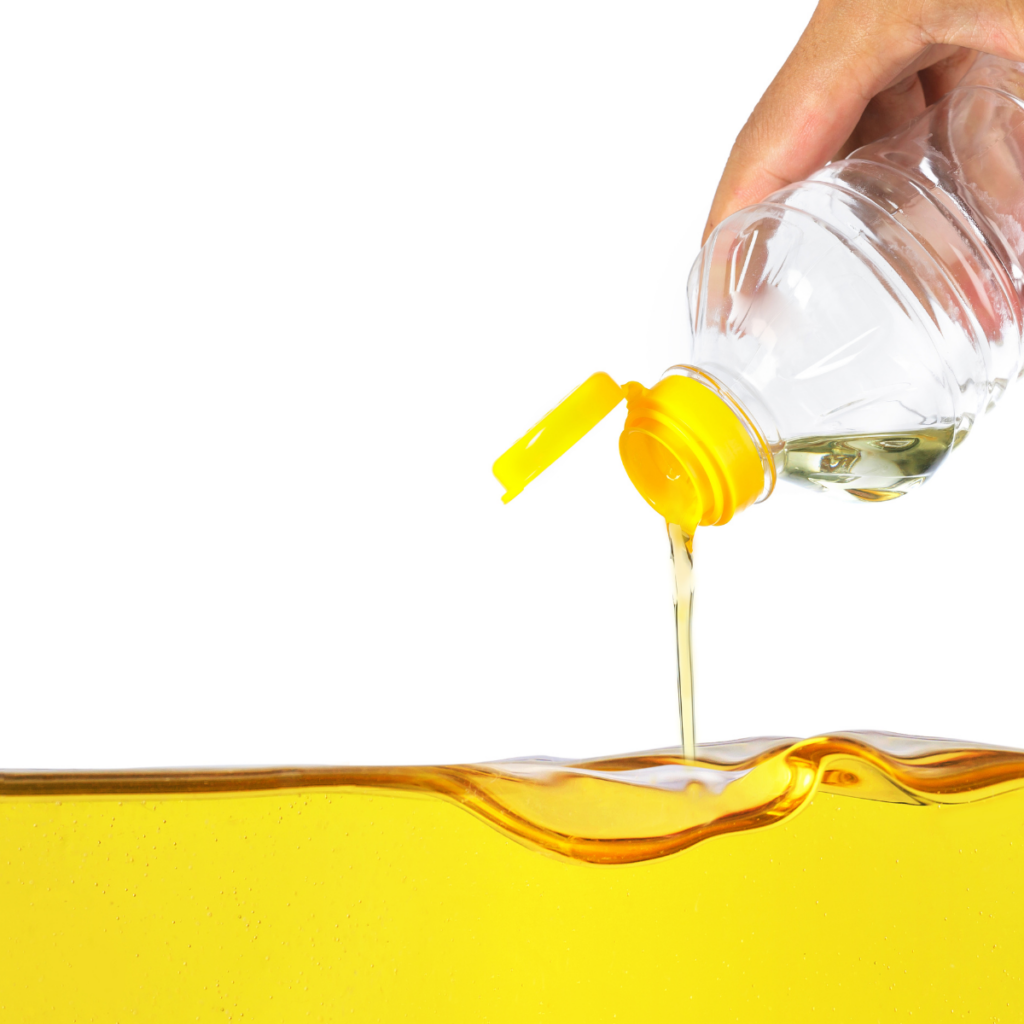 Vegetable oil is a generic term for cooking oils derived from a part of a plant or fruit. Olive oil is one of the oldest types of vegetable oils used for culinary purposes. Additionally, the ancient people learned to use vegetable oil as fuel for their lamps, making it one of the most essential illumination sources.
There are different types of vegetable oils, and their characteristics (such as flash point, boiling point, smoke point, and ignition point) and culinary purposes differ from each other. Some of the common types of vegetable oil are the following:
Canola oil
Peanut oil
Sunflower oil
Soybean oil
Coconut oil
Olive oil
RELATED POSTS
What is the Flash Point of Vegetable Oil?
The best way to distinguish flammable liquids from those that are not is by looking at their flash points.
According to the Occupational Safety And Health Administration or OSHA, flash point refers to the lowest temperature a material starts to give off vapor in enough amounts that it can ignite in the air. The standard for flammable liquids is 93 degrees Celcius or 199.4 degrees Fahrenheit or lower.
Vegetable oils have a flash point of 600 degrees Fahrenheit, but there may be differences depending on the type of vegetable oil.
Compared to OSHA's standards for flammable liquids, we can see that vegetable oils have high flash points. This means that it takes high temperatures for them to ignite and catch fire, making them the most suitable cooking oil for frying.
It's also important to remember that vegetable oils produce fumes easily, and these fumes are combustible when exposed to an ignition source like an open flame or spark.
What is the Smoke Point of Vegetable Oil?
The smoke point is another important consideration when looking at the flammability and overall safety of cooking oil.
You see, smoke point is the temperature at which fats start producing smoke.
Why is this important, you ask? Well, all kinds of fats have their own smoke points. And when there's smoke, that's a warning sign that your vegetable oil is exposed to so much heat that it is so close to catching fire. Leaving the oil at that high-temperature means it might ignite at any moment.
But not only that, heating oil past its smoke point has other risks too. High temperatures cause fats to disintegrate, releasing free radicals that give food its burnt taste and smell.
Vegetable oils have different smoke points, which you should look into when shopping and choosing your oil of choice. Soybean oil, peanut oil, and corn oil have smoke points of 450 degrees Fahrenheit. Canola oil's smoke point is 400 degrees Fahrenheit, and coconut oil is 350 degrees Fahrenheit. Extra virgin olive oil has the lowest smoke point of around 325 degrees Fahrenheit.
Since olive oil has a lower smoke point, it is unsuitable for high-heat cooking and is best used as a salad dressing. Vegetable oils with higher smoke points are more flexible since you can use them for different cooking methods and higher temperatures.
What is the Ignition Point of Vegetable Oil?
Heating vegetable oil beyond its is not the only way that it becomes a fire hazard. Vegetable oil also has an auto-ignition point or the temperature at which it catches fire without the presence of any spark or flame.
It's tough to pinpoint the exact ignition point of vegetable oil, but the approximate is between 400 to 435 degrees Fahrenheit. This is a scorching temperature in the kitchen and letting cooking oils get this hot (unattended or forgotten) is the top cause of kitchen fires.
Another way cooking oils can self-combust is when they're left on rags and are left out to oxidize. Cooking oils when absorbed by rags and wipes, do not change their chemical composition. They are still flammable.
So when those rags are left out under the hot sun, it can reach a point when those rags catch fire by themselves. It is best to consider rags and clothes that were used to wipe vegetable oil as dangerous and at risk of spontaneous combustion.
What is the Boiling Point of Vegetable Oil?
The final warning sign that vegetable oil is reaching dangerous temperatures is when it approaches its boiling point. If you see your cooking oils close to the boiling point, you should dial back on the gas flame and let it cool down a bit.
Is Vegetable Oil Flammable?
If we are going to base the answer on OSHA's standards for flammable liquids, then we can definitely say that vegetable oil is not flammable. The flash points of vegetable oil are significantly higher than the flash point of OSHA's classification of flammable liquid. Hence, it would take higher temperatures for vegetable oil to catch fire.
But does vegetable oil burn? Can it be ignited?
Yes, vegetable oil can burn and be ignited. When vegetable oil is heated far beyond its smoke point and flash point, then it releases enough vapor to catch fire, especially when in contact with an open flame or spark.
Technically speaking, vegetable oil is not a flammable liquid. But, it can burn and ignite, and even become a fire hazard when exposed to extremely high heat or temperature.
Does Vegetable Oil Cause Grease Fires?
Yes, vegetable oil can cause grease fires. Whether you're using canola oil, sunflower oil, peanut oil, soybean oil, coconut oil, or any other cooking oil for that matter, there is always the risk of grease fire simply because cooking oil is flammable.
Vegetable oil becomes flammable when it reaches its flash point of 600 degrees Fahrenheit. This is very hot and it often happens when you forget or neglect your cooking.
Sadly, home cooking fires, including those caused by cooking oils, cause 48% of home fires and 45% of injuries. The US fire departments also report 471 home cooking fires each day in 2015-16. The number of these fire incidents tends to escalate during Thanksgiving and Christmas.
How Do You Deal with Grease Fire?
Knowing that vegetable oil can catch fire when it reaches its flash point, it is crucial to know how to deal with grease fires when you're faced with one.
Turn off the heat source without trying to move the pot or pan (or you might accidentally knock it off and splash burning oil on yourself).
Put the lid on the pot or pan.
If it is a small fire, you can sprinkle baking soda to douse the flames.
Use a class B fire extinguisher to kill the fire.
Call your fire service department if you can't put the fire under control. Evacuate from the site immediately.
Remember not to hold or move the pan so you don't accidentally burn yourself with super hot oil.
Do not use water to douse the flames, or the oils will only splash around and spread.
Conclusion
Going back to the question "is vegetable oil flammable?", the answer is no, it is not flammable, technically speaking. That is because the flash point of vegetable oil is too high to be considered flammable. It takes a considerable amount of heat before vegetable oil catches fire.
But as with almost all materials, vegetable oil can burn when exposed to high enough temperatures. That's why you don't want to neglect your kitchen duties and leave your cooking unattended because vegetable oil can heat up quickly.
Once it produces smoke, that's your cue that it's about to get dangerous and that you should bring down the temperature before the oil reaches its point of self-combustion.