Given that we've been using aluminum foil in cooking and packing food for over a century now, we still can't help but wonder if tin foil burns. Can it really withstand extremely high temperatures without affecting our food? Does it cause a fire? Let's find out right now.
We are all familiar with the aluminum foil, that shiny thin, highly flexible sheet we use to wrap sandwiches with. Since it's present in our daily lives and has become quite a staple in our kitchens, many of us probably haven't given the aluminum foil much thought.
but come to think of it: is this very object we use to wrap our food with perfectly safe to use? Does it burn when you use it over a grill, in a microwave, or on electric coil cooktops? Do we have to worry about tin foil being a fire hazard?
What is Aluminum Foil?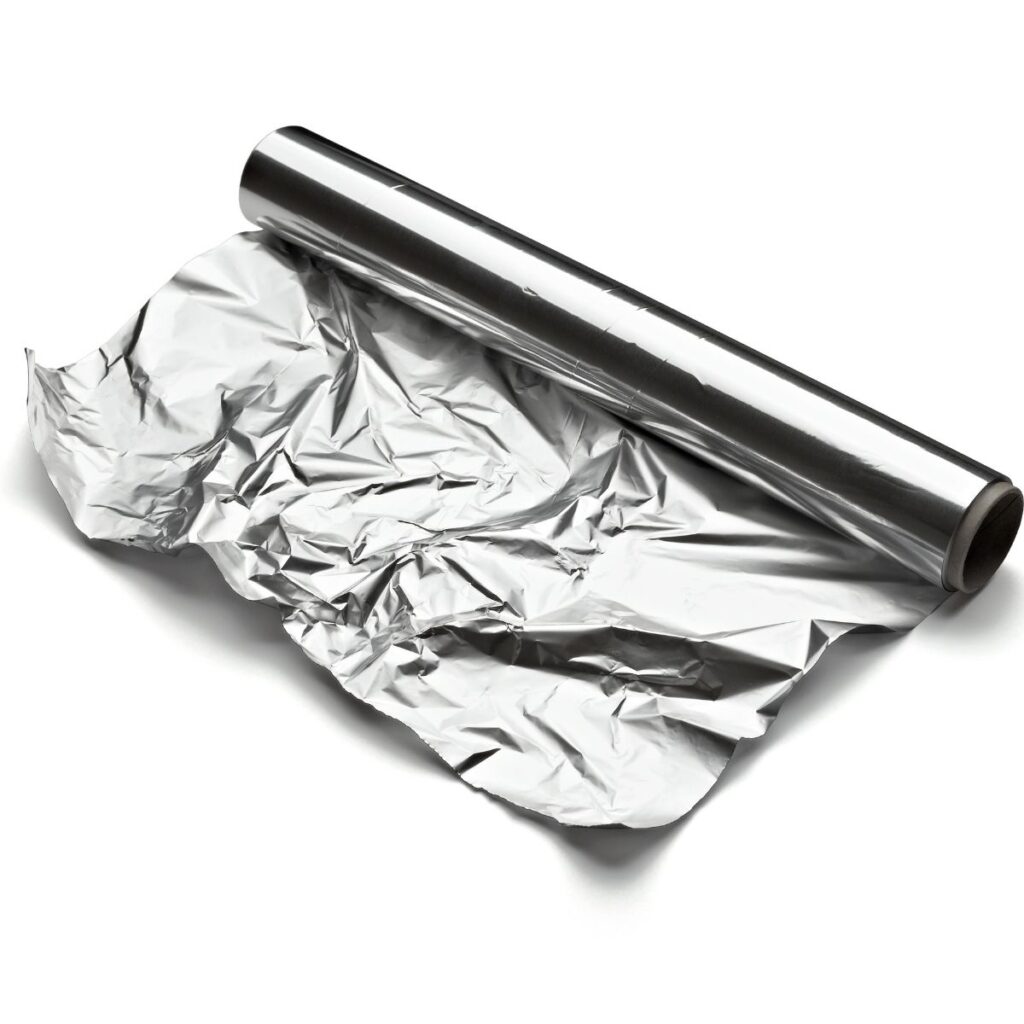 Also called aluminum foil or tin foil by some people, aluminum foil is simply a thin sheet of rolled aluminum. The standard thinness of aluminum foil is no more than 0.2 mm, but the ones we often used at home are less than 0.16 mm.
Before aluminum foil, as we know it, arrived on the market in the 1920s, tin foil was more popular in the late nineteenth century. And as the term implies, it was foil made of rolled tin. The word tin foil just kind of survived over the century, and most people just use the terms aluminum foil and tin foil to mean the same thing.
The aluminum foil is so pliant and malleable that it can be used in a wide range of industries. However, aluminum foil is most popularly used in the food industry, whether for cooking food or packing food.
What makes the aluminum foil pretty special in the industrial setting is that it is resistant to moisture and vapor, thus helping the food stay fresh and extending its shelf life. It is also very flexible, requires lesser storage space, and is even recyclable.
Given all these good characteristics of aluminum foil, there is still one question that needs to be answered: does aluminum foil burn?
This post contains affiliate links. I may earn a small commission at NO extra cost to you for purchases made through these links. See our Disclosure Page.
Is Aluminum Foil Flammable?
The answer is no, aluminum foil is not flammable.
The aluminum foil has an incredibly high flash point or the temperature at which something catches fire. In the case of aluminum foil, its flash point is 660 degrees Celcius or 1220 degrees Fahrenheit.
Now consider this: most domestic ovens could only go as high as 550 degrees Fahrenheit. This is only half of the temperature required for aluminum foil to burn. Therefore, when you're using foil in cooking food in the kitchen, it is very unlikely to burn as you cannot, under normal circumstances, recreate such temperature in the kitchen.
Suffice to say, aluminum foil is not flammable not burn, and will not catch fire if you are to use it in a daily setting.
What Happens If You Burn Aluminum Foil?
But that's not to say that nothing can ever burn aluminum foil. If you apply extremely high temperatures to aluminum foil, then it will burn. Anything, when exposed to a high enough temperature, can catch fire.
For instance, a butane torch with a maximum temperature of 2500 degrees Fahrenheit can effectively melt a lot of metals, including aluminum and copper. But as I said, aluminum foil will not burn easily.
Also, when you burn aluminum foil, you'll notice some dark discolorations on its surface, giving you the impression of it being "burnt." But that discoloration is just aluminum oxide, and you can easily wipe it off to reveal the same state that the aluminium foil was it before heating it.
Is It Safe to Use Aluminum Foil?
The debate about using aluminum foil often stems from a health perspective, rather than it being flammable or not.
For example, some people are worried about using aluminum foil and its link to Alzheimer's disease and dementia. But according to research, there is no strong evidence to support this claim. You can still safely use aluminum foil in cooking and food packing as long as you use it properly.
Is Aluminum Foil a Fire Hazard?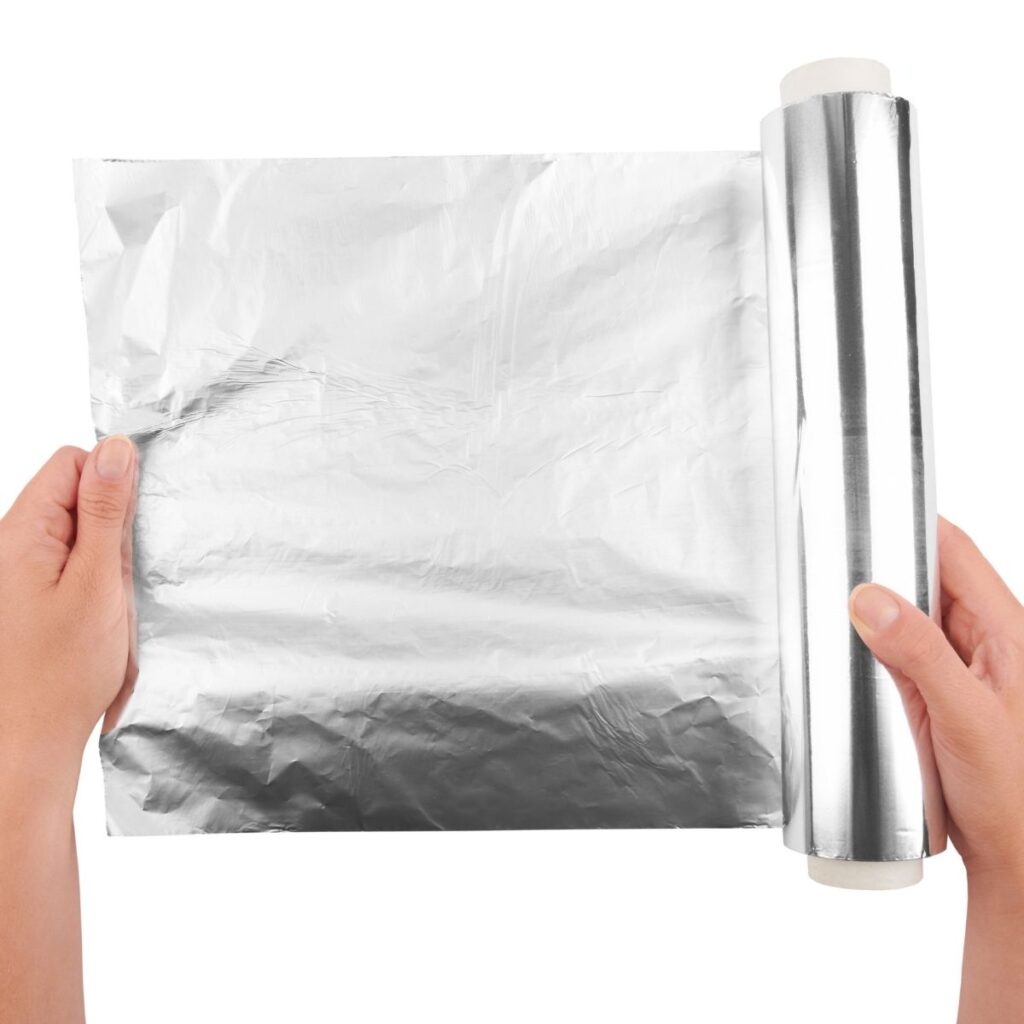 Although aluminum foil will not catch fire under normal circumstances, it does not guarantee that it will not start a fire, especially if used improperly.
Electric oven
First, do not use aluminum foil as a liner in electric ovens. Tin foil has high thermal conductivity, so it tends to up the intensity of heat inside the oven. It can lead to food not being cooked properly and risk damaging your electric oven.
Microwave
It is typical for many people to heat food in the microwave, but is using foil in the microwave safe?
No, because the microwave uses electromagnetic waves to cook your food. As the walls of your microwave are already made up of metal, putting another metal inside will only cause heat to bounce back. Your food may not cook evenly, or worse, an electric current could run through the foil and cause a spark. When this happens, a fire could break out and you'd be calling fire service before you know it.
Electric Radiant Cooktops
It is also best to avoid using aluminum foil on electric radiant cooktops. The heat will result in aluminum foil being fused to the glass surface of the cooktop.
Gas Stove or Gas Cooktops
Do not use aluminum foil to line your gas stove or gas cooktops. Not only will aluminum foil cause the surface to overheat, but it can also lead to carbon monoxide poisoning.
Related Posts:
Safety Tips in Using Aluminum Foil
Do not use aluminum foil to wrap and cover food if you are cooking it inside the oven or microwave.
Do not use aluminum foil as an oven liner when you are baking. It is best to use food-safe oven liners instead, like a parchment or silicone liner.
Do not use it for acidic foods, like tomatoes and lemons. The acid in these foods can erode the foil.
Conclusion
You can use aluminum foil to cover food, for instance, when you are wrapping that delicious sandwich to bring to work. But improper use of aluminum foil, especially when you are cooking or heating, can potentially be a fire hazard.
While aluminum foil is not flammable under normal standards, using it in electric appliances, such as the microwave and electric oven can cause short circuits, leading to a fire. You should also not use foil to line the bottom of your electric oven or place foil on the surface of your cooktop to avoid carbon monoxide poisoning.
Most importantly, observe the safety tips mentioned above when it comes to using the aluminum foil. When you stay on the safe side, you'll have much more fun cooking and won't have to worry about unintentionally setting your kitchen on fire.