You can make the most of your campfire cooking when you have the right mechanism. We understand that there are a lot of campfire grill grates out there, and the options can be quite confusing and overwhelming. So, we've rounded up the best portable campfire grills just for you.
One of the charms of outdoor cooking is that you can cook food on an open fire. There's just something so rustic about grilling meat and cooking sausages when you're outdoors with your family and friends. The warmth of the fire pit is inviting and the smoky aroma from the barbecue is simply delectable to the senses.
Nothing gets campfire cooking done as perfectly and conveniently as having a campfire grill grate on your outdoor adventure. But given the many options when it comes to design and construction, surface area, quality of material, weight, and portability, you might find choosing the right campfire grill grate a little too tough.
So, we've rounded up the best campfire grill grates on the market, picked them based on their best features, and stated their weaknesses and drawbacks. Plus, we've put together criteria for the selection process which could double as a buying guide for you too.
What is a Campfire Grill Grate?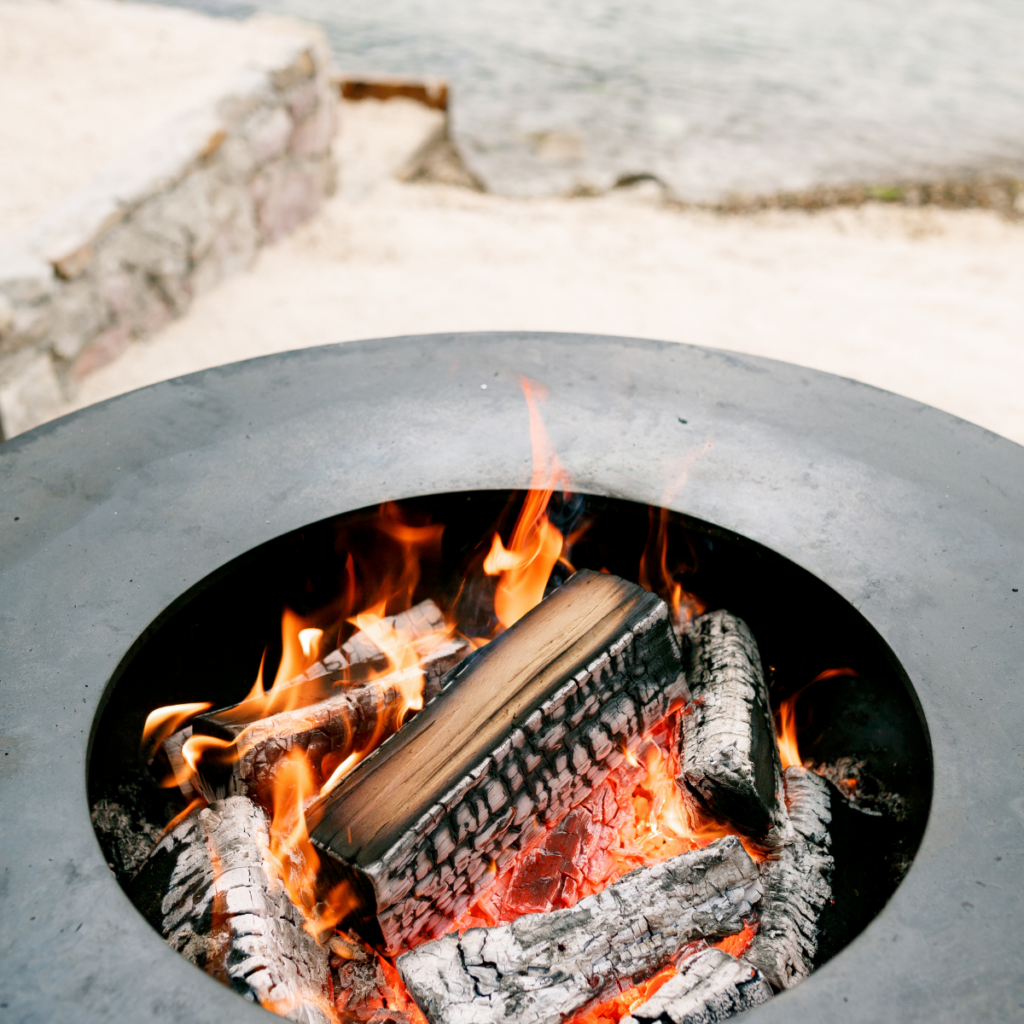 A campfire grill is a grill grate that sits on top of a fire pit or an open flame. It provides you with a cooking surface, whether you're directly grilling meat, cooking food in a skillet, or heating water in a kettle.
Bringing a campfire grill when you go outdoors is a good way to enjoy food without the hassle of putting them into sticks or skewers or fear that they might fall directly into the fire! Campfire grill grates are often portable, so you can just pack and set them up when you get to the campground.
Why Use a Campfire Grill Grate?
If you enjoy camping, chances are, you also take great pleasure in outdoor cooking. You are away from the conveniences of a modern kitchen, so your best bet to having a delicious and enjoyable camp feast is to have a grill grate.
Many campgrounds have fire pits where you can cook your food. But not all of them are equipped with a grill grate. That's why having a portable campfire grill grate is an excellent addition to your camping arsenal.
Here are more reasons why you should use a campfire grill grate:
Most of today's grill grates have excellent heat retention, allowing you to cook food evenly.
You can cook food simultaneously on a grill grate (as long as they fit on your cooking surface).
Many grill grates are durable, which makes them an excellent one-time investment for your camping trips.
Portable grill grates are easy to set-up and pack up nicely. They can fit in the trunk of your car, while others are small and lightweight that you can carry them comfortably in your backpack.
How to Choose the Best Campfire Grill Grate?
Picking a campfire grill is not always easy, especially if you're buying one for the first time. There are several campfire grill grates to choose from, ranging in type and construction, cooking surface area, and price tag.
If you're in the market for a campfire grill that you'd want to bring to your next adventure, then let us present to you our criteria for selecting the best campfire grill.
Types of Campfire Grills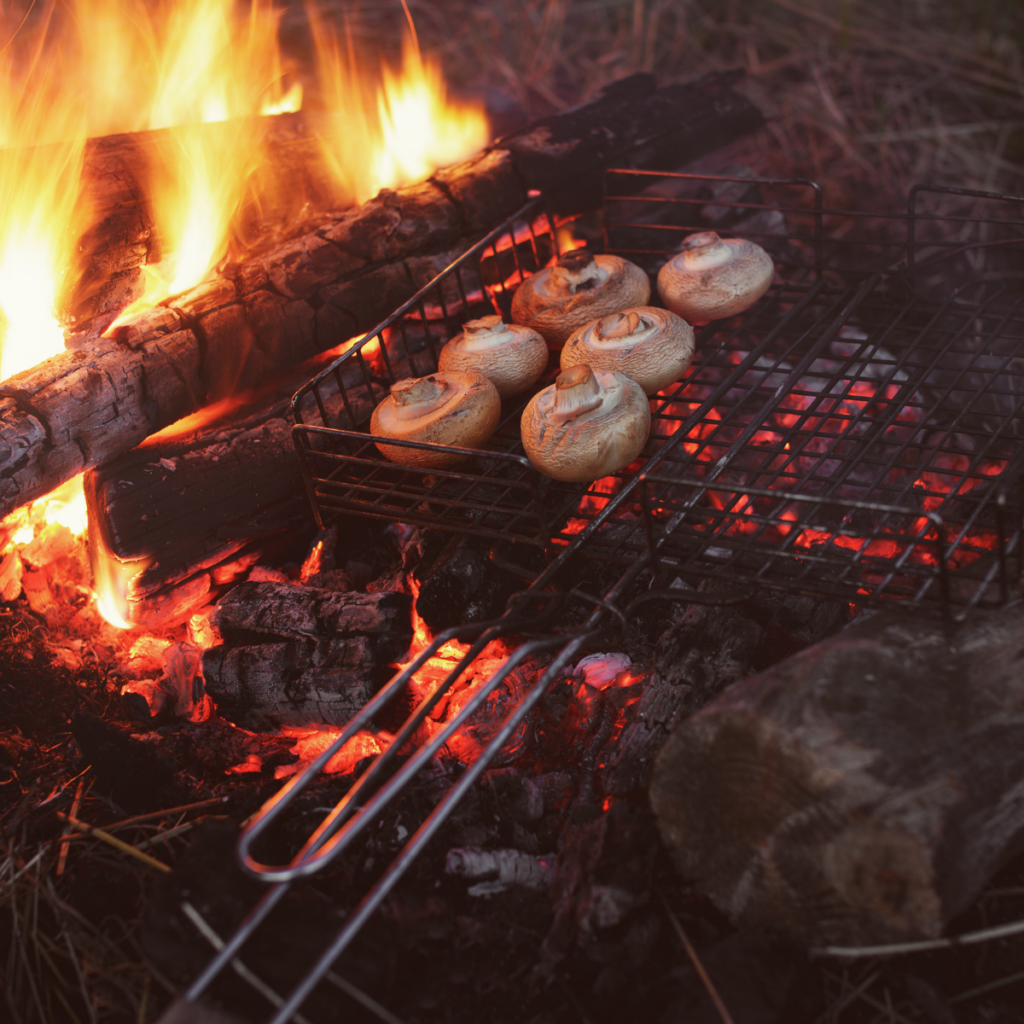 One of the first things you need to know about campfire grills is that they come in different types. We've listed below the three common types of campfire grills and their features.
Swivel grill
The swivel grill is staked on the ground and the grill grate is then slipped on the stake. This grill grate type allows you to adjust the proximity of your food over the fire, allowing you to cook almost anything, from marshmallows, and meats to hotdogs.
You can rotate the grate at any angle, so you can control how much heat the food gets. So if you are looking for something that's more flexible, then the swivel grill is an excellent option.
Tripod grill
This campfire grill stands on three legs, hence its name, tripod grill. A chain dangles from the very top of the tripod, holding the grill grate over the fire pit. You can adjust the nearness of the grate by adjusting the chains.
The tripod grill is good for high-impact cooking, but it tends to be less portable and a paid to pack up and set up. Also, the grill grate dangles when you touch it, say when you flip your burgers or put on a pan, and the three legs just tend to get in the way of cooking.
Flat grill grate
When it comes to design, this one is the simplest. Just imagine putting a plain rectangular table with two supporting legs over the fire, and that's already your cooking surface. It is downright easy to use, it offers more stability, and the folding types make it a lot more portable. It's also cheaper than the other types of campfire grills.
The obvious downside to this type of campfire grill is that you won't be able to adjust the grill's distance from the fire.
Materials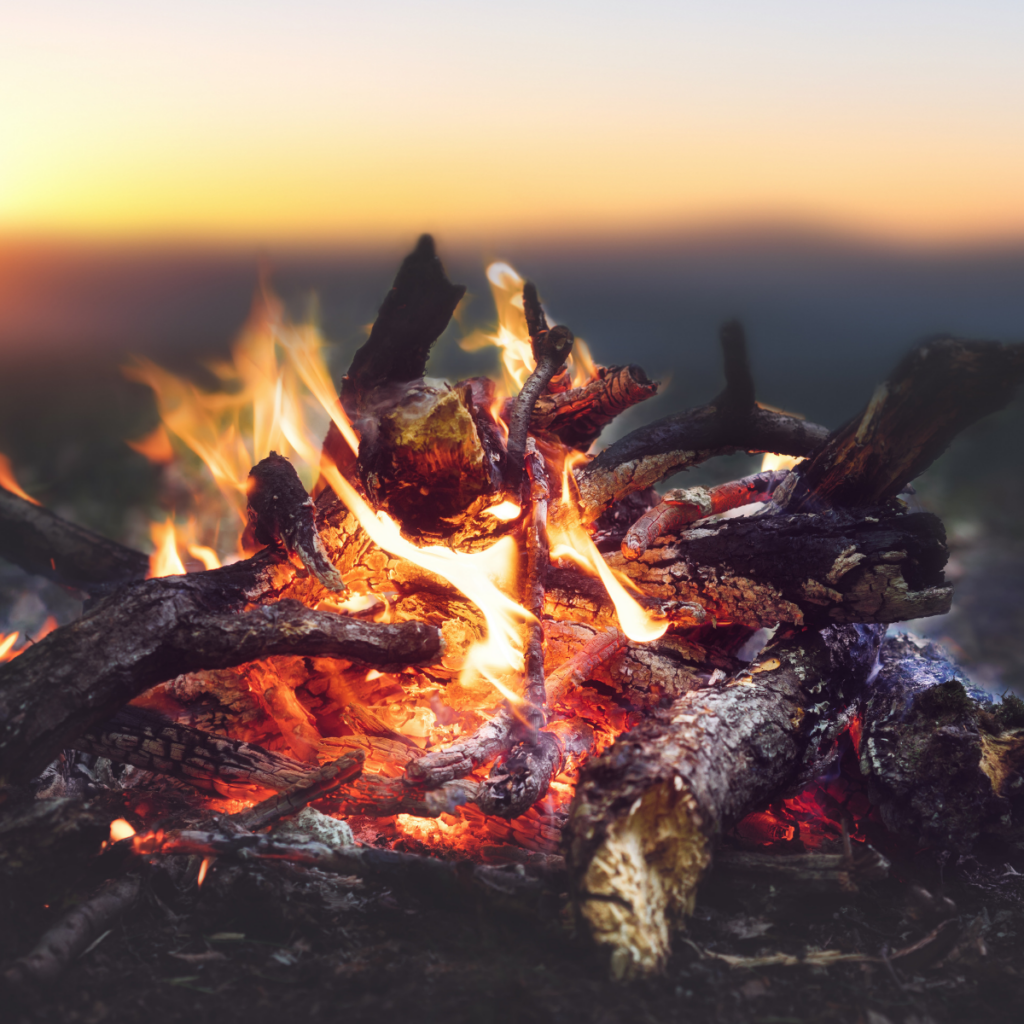 A lot of campfire grills nowadays are made of two kinds of materials: cast iron and stainless steel.
Stainless steel construction tends to be lighter and resistant to rust. It is also easier to maintain. Stainless steel grates also tend to heat up quickly and don't get corroded so easily.
Cast iron grill grates are a lot more durable and heavy duty. They retain heat very well and transfer directly, so they're excellent if you're after a really good sear on your steaks. The downside is that cast iron grills are heavier than stainless steel and require more effort in terms of cleaning and maintenance.
Size
Another important factor to consider is the grilling or cooking surface area. If you are cooking for a large number of people, you'd want to go for a grill grate that offers more dimension. The same is true if you want to cook a variety of food simultaneously.
Price point
Now, you have to know how much you're willing to spend on your camping grill. These grill grates come in different price points, so when you look them up, you can easily find one at $20 and another at $100. The mounting style, surface area, and other features tend to affect the overall cost of the grill. The important thing is, to find a grill grate that meets your needs and your budget.
Related Posts:
Our Top Picks For The Best Portable Campfire Grill Grates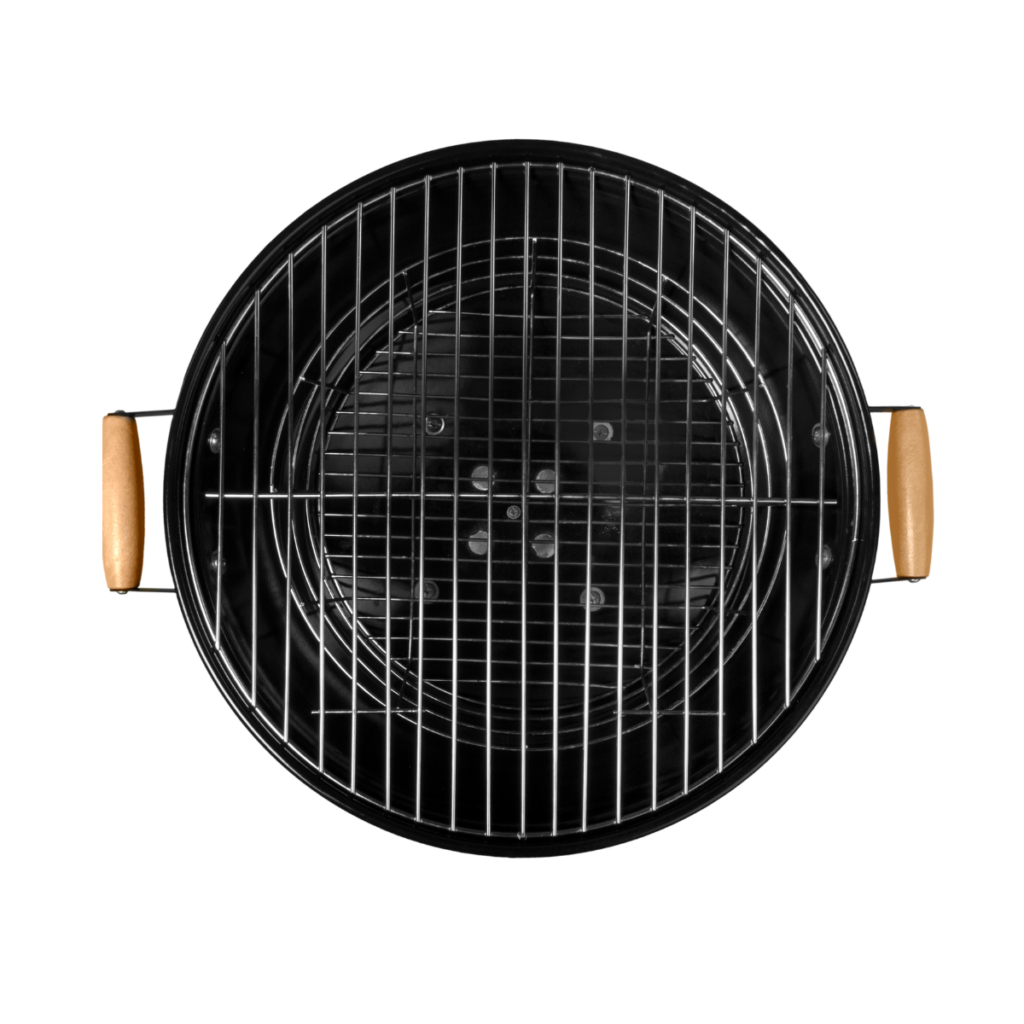 Campfire grills do the same thing: to let you cook food outdoors over a fire. But campfire grills aren't created equal. Some are straightforward flatbed grates that you just place over a fire pit, while others come with all sorts of bells and whistles.
We don't want you to get too overwhelmed by numerous options, so we've rounded up the 10 best campfire grills for you to choose from.
1. Texsport Heavy Duty Over Fire Camp Grill
The Texsport Heavy Duty Over Fire Camp Grill is so easy and straightforward to use, that it's great for people who don't want to be bothered by a meticulous setup.
This grate comes with a grilling surface that measures 24 x 16 inches for the large size, and 16 x 12 inches for the medium size. This grill grate is sturdy, thanks to its heavy duty welded steel construction. It also has two foldable legs so you can just prop it up over the fire pit and fold the legs back up for easy storage.
PROS:
The legs are sturdy and stable.
It is strong enough to support heavy skillet pans.
Foldable legs make it easier to set up and pack up.
CONS:
There's a strong burning paint odor during the first few uses.
You can't adjust the height of the grill.
2. Amazon Basics Portable Outdoor Folding Campfire Grill
If you're looking for a sturdy folding campfire grill, then this grill fits the bill perfectly. It is made of welded metal alloy and stainless steel and comes with a metal mesh on the cooking surface. You just need to spread the legs out over the fire, and then fold them right up at the end of your camping.
This is a reasonably-sized campfire grill, measuring 17 x 6.6 inches. Don't expect it to be lightweight, though, so think twice before bringing it for a long hike.
PROS:
Durable metal construction.
Folding design makes it easier and more convenient to set up.
It comes with a 1-year warranty. C
CONS:
It is not intended for direct cooking.
The cooking surface might not be enough to cook for a large number of people.
It is not rust-resistant.
3. Charcoal Grill Camp Grill Mini Grill Folding Campfire Grill Portable Grill 
This folding campfire grill is an excellent option for backpackers as it is light, portable, and fits in one carrying bag. The durable camping grill is fashioned out of high quality stainless steel, making it non-toxic and rust-proof.
You can use the mini grill together with its charcoal basket allowing you to adjust the height of the grill from the fire. Or, you could use it as a standalone grill and place it over the fire pit. Everything folds and packs nicely into a carrying bag, making it easy to carry even for an impromptu outdoor cooking adventure.
PROS:
Small, light, and compact, perfect for outdoor cooking.
Can be used two ways: with the charcoal basket to keep the place clean, or alone as a grill over the fire.
CONS:
The thin metal material makes it less durable enough for the regular camper.
The charcoal basket is too far from the grilling surface, so it takes longer to cook food.
4. Texsport Heavy Duty Adjustable Outdoor Camping Rotisserie Grill and Spit
This campfire grill is equipped with everything you would ever need for outdoor cooking, whether you want to cook with your favorite pots and pans or put your meat in the rotisserie grill for that delicious smoky, roasted flavor.
This grill is height adjustable for up to four levels, ensuring that you can cook your food just the way you want it. You can adjust the height manually without any tools as well.
As for the construction, the Texsport heavy duty adjustable campfire grill is made of tough welded material and has a cooking surface area of 24 x 16 inches.
PROS:
Adjustable height for a more flexible cooking experience.
Comes with side arms for keeping the kettle warm.
Comes with a rotisserie grill and spit so you can roast chicken and meat.
CONS:
It is not as lightweight and portable as the other campfire grills.
The grilling surface is not recommended for direct cooking.
5. REDCAMP Folding Campfire Grill Heavy Duty Steel Grate
If you're looking for a campfire grill that's not compact and sturdy, then this Redcamp folding campfire grill heavy duty steel grate is a wonderful option. Made of heavy duty iron and designed with folding legs, this grill grate allows you to easily set up, cook, and pack when it's time to leave the campground.
The Redcamp folding campfire grill comes in two sizes: the small one is 13 x 12 x 7 inches, while the large one is 16 x 16 x 7 inches. The cooking surface area is made of a diamond mesh that allows heat to easily flow through from the fire, and into your food.
PROS:
This is a sturdy and compact camping grill that folds and unfolds as needed.
Made of durable iron for better longevity.
It is robustly built to support multiple pans and pots while cooking.
CONS:
It is not designed for direct grilling.
It is a little short and you cannot adjust the height.
6. Texsport Heavy Duty Swivel Grill
The Texsport heavy duty swivel grill makes it to this list of best campfire grills for a couple of reasons. First, it has a solid heavy duty metal construction. It also comes with a large cooking or grilling surface slipped into a pole which acts as a support stake.
The entire grill is staked on the ground, its height adjustable up to 17 inches, and it swivels 360 degrees so you can conveniently regulate how much heat your food receives.
PROS:
This swivel grill is made with strong and solid high quality steel.
The cooking grate is quite large and can accommodate a couple of pots and pans cooking simultaneously.
It swivels 360 degrees so that you control how your food is cooked.
CONS:
The material is not resistant to rust.
The coating peels during the initial use.
7. The Perfect Campfire Grill
The Perfect Campfire Grill, manufactured by Pioneer, is a simple yet handy campfire cooking grate that allows you to enjoy the pleasures of outdoor cooking. It comes with a cooking grate that measures 18 inches, which is big enough to handle meals of any size. But perhaps its best feature is the raised edge of the cooking grate which prevents food from spilling into the fire.
It is pretty easy to assemble, even for newbie campers. Just put the stake on the ground, secure the cooking grate and get ready to cook with an open fire. You can adjust the height of the grate if needed, and swivel the grill towards or away from the fire.
Plus, it comes with its own carry bag so that you can put everything there together and pack up easily at the end of your camping trip.
PROS:
Comes with all the accessories for an easy set-up.
The size of the cooking grate is large enough to cook food for the entire family.
The swivel grill allows you to push the grate away from the fire when it's done cooking.
The raised edge of the cooking grate prevents food from spilling or falling.
It includes a bag so you can conveniently pack up the grill and its accessories.
CONS:
It can be difficult to adjust the height of the grill when the stake is already hot.
This is a unique campfire grill as it comes with two types of cooking surfaces: a skillet and a cooking grill. This means that you can cook a lot more variety of food in lesser time and make the most of your camping trip.
GameMaker Open Fire Cooking Grill & Skillet Combo is a durable campfire grill as it is made of heavy duty metal. It is also pretty easy to use. Simply drive the support stake into the ground and start cooking over an open campfire. You can adjust the grill and skillet to the desired height and even swivel them away or towards the fire as necessary.
Once everything is set up, you'll find that the GameMaker Open Fire Cooking Grill & Skillet Combo is solid and stable.
PROS:
The unique grill and skillet setup allows for more flexibility in cooking food.
The adjustable height and swivel mechanism ensure that you can cook food easily and conveniently.
You can set it up easily without needing other tools.
CONS:
It's pricier than the other campfire grills on this list.
The paint came off the grate and skillet and some customers are worried about peeled paint mixing with their food.
The Adjust a Grill Camping Grill is one of the easiest grills to manipulate. Simply drive the 24-inch stake into the ground, slide the cooking grate, and lock it in place.
We love cooking grates with good dimensions as you can cook a lot more food on them. This one comes with a 16 x 16 inches grilling surface, which is quite a generous space to cook for the family. It also swivels so you can position the grate over or away from the fire.
The grill looks and feels sturdy. It is also compact and everything is stored in a carry bag, perfect for backpackers who are always on the go.
PROS:
Easy to set up for camping or outdoor cooking.
The stake holds the cooking grate sturdily.
There is plenty of space for cooking food simultaneously.
You can pack everything in its carry bag.
Allows for direct grilling as well as cooking food in pots and pans.
CONS:
Some consumers say that the stake is too short for most campfire pits.
This folding campfire grill is made of heavy duty welded metal that's made to be rust and corrosion-proof. It is able to withstand high heat, allowing you to cook all sorts of food.
We love how compact and portable this one is. The legs fold underneath the mesh cooking grate so you can store it in your car without taking a lot of space. When ready to use, simply spread out the legs, place over a fire pit, and start cooking.
The surface area is reasonably-sized enough for cooking small batches of food.
PROS:
Made of high-quality alloy steel which means no rusting and corrosion, and food won't stick on the grate.
The grate feels sturdy and stable once the legs are spread out.
It has great heat retention.
It is also lightweight and its folding design allows you to save more space.
CONS:
It is not height adjustable.
It doesn't have enough cooking space for a lot of food.
Best Campfire Grills Frequently Asked Questions
Can you grill on a fire pit?
Yes, you can grill on a fire pit. By using the appropriate grill grate, you can cook meat, seafood, maize, vegetables, sausages and other kinds of food on a fire pit.
Conclusion
Whether you're an occasional camper or a seasoned one, knowing the best campfire grills helps you find the right cooking tool for your outdoor adventures. Given the variety of choices, we understand that choosing the best campfire grill is not always easy.
There's not even a "best campfire grill" for everyone. While we have different needs and preferences, it's important to keep these features in mind: type of grill grate (tripod, swivel, or flat grill), materials used in its construction, size, and price point. Other things to look out for are adjustability, stability, durability, and ease of maintenance.