If you want to protect your jewelry against fire, water damage, and theft, then you should invest in the right security safe. There are tons of jewelry safes to choose from, so we've rounded up the best ones for you.
To many people, jewelry is some of their most prized possessions. You may invest in jewelry as part of your style, keep them as family heirlooms, or treat them as a hedge against inflation. Whatever the case is, it can't be denied that jewelry is so valuable that you need to keep them in a safe place.
It's not enough to keep your jewelry in a jewelry box. They could get stolen, or get damaged by fire and floods. You need to place your jewelry where you can have easy access to them, but not other people. 
You also need to choose a safe-keeping place where your jewelry is safe against fire and water damage. And in so saying, you need to get the right jewelry safe.
Why Do You Need a Jewelry Safe?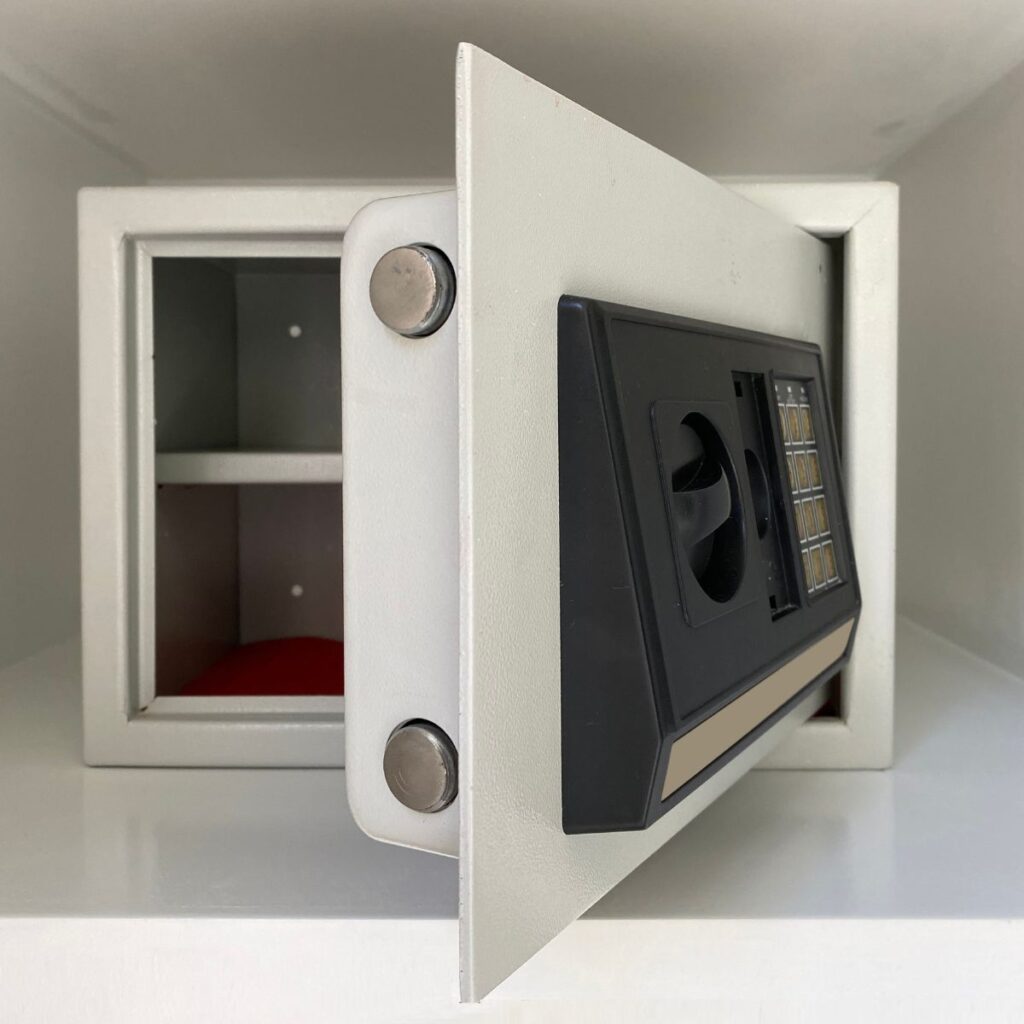 Whether you're just starting out to build your jewelry collection or already have a huge stash that you've amassed over the years, you'll start to realize that you need to protect your jewelry the best way you can.
Keeping them in a jewelry box is not enough. It gives other people easy access to your precious valuables. And what about in case of a fire or flood? A mere box won't give you peace of mind.
A sturdier, more reliable place to keep your jewelry is in a jewelry safe. Here are reasons why you need to start looking and investing in a jewelry safe today:
1. Secure Your Jewelry
Of course, the main function of a jewelry safe is to safe-keep your precious jewelry. A jewelry safe will not only keep nosy guests or curious kids from your valuables, but it will also provide strong housing against fires and floods. You should know that a lot of jewelry safes nowadays are designed to be fire-resistant and waterproof.
2. Easily Organize Pieces of Jewelry
Numerous jewelry safes come with adjustable drawers so you can easily put and arrange your jewelry in their proper places, especially if you are not using them daily. Jewelry safes with a lined interior and extra shelves and compartments ensure that your pieces of jewelry do not scratch against each other.
3. Limit Environmental Exposure
Putting your jewelry out in the open not only makes them more prone to theft but they could also get exposed to environmental elements that could damage them. For example, prolonged exposure to direct sunlight could give a bleaching effect to certain gold jewelry, causing some surface damage. Additionally, too much moisture in the air could cause your jewelry to tarnish.
Related Post: 
Fire Blanket Use: When and How to Use It
Criteria for Choosing Jewelry Safes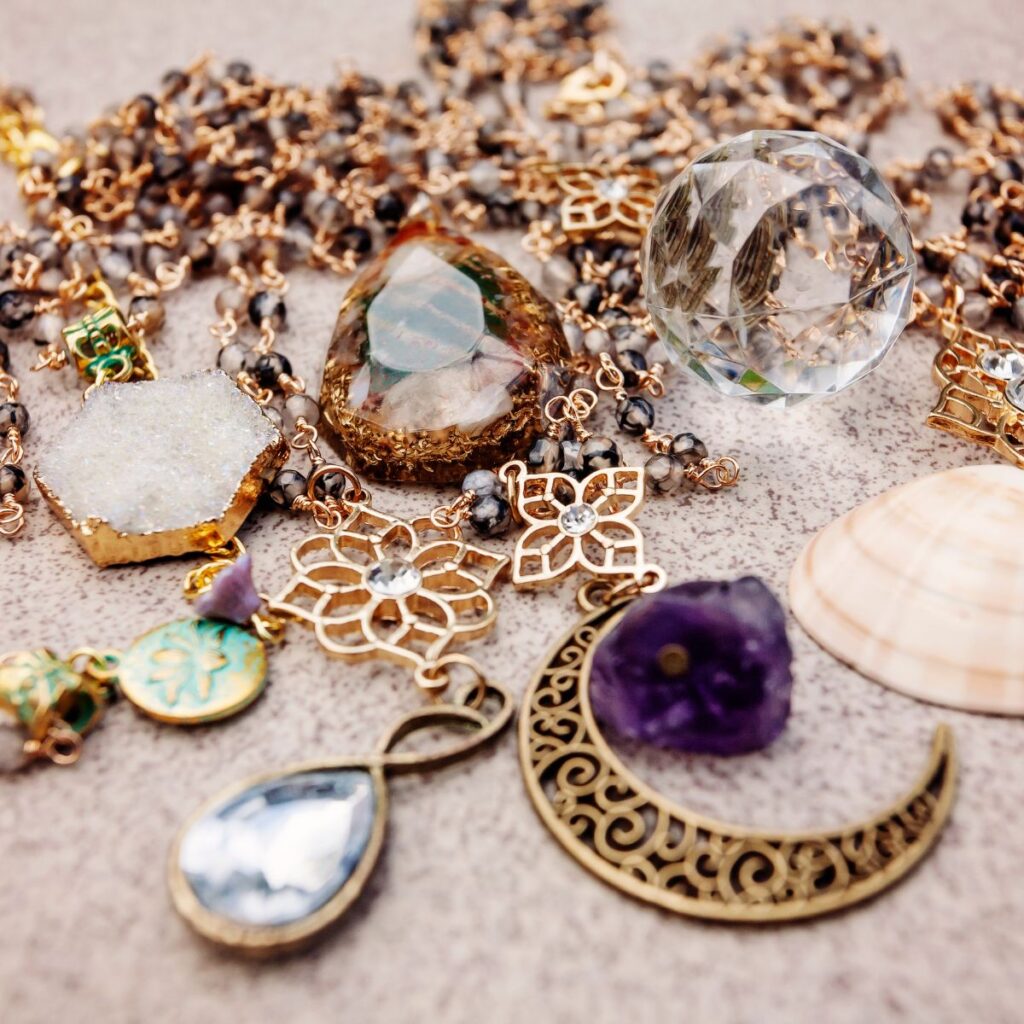 There are numerous options when it comes to jewelry safes, each with its own features to boot. So how do you choose the right jewelry safe, you might ask. We've rounded the top things you should consider when shopping for jewelry safes so you know you get the best value for your money.
Quality of Material and Construction
How well the jewelry safe was built speaks volumes of its security. You'd want to invest in a jewelry safe that's made with premium and durable materials, such as solid steel and alloy. Also look at how it was constructed, particularly if it's pry resistant to deter thieves. Additionally, the insulation materials used can impact how fire-resistant and waterproof a jewelry safe is.
Size
It is also important to look at the size and dimensions of a safe. If you have a sizable collection of valuables, then you'd want to get a jewelry safe that's big enough to house all of them. But if you only have a couple of pieces, then a smaller safe might be wiser.
Also, the size of the safe matters depending on where you want to put it. Compact jewelry safes can easily be hidden under the bed or inside your wardrobe, putting them away from the prying eyes of nosy guests. Meanwhile, it is more difficult to hide a larger jewelry safe, is less portable, but also more difficult for thieves to attempt to steal.
Fireproof Rating
If you want to keep your jewelry safe against fire damage, then you should look at its level of fire protection. Most fireproof jewelry safes indicate their UL rating so you know how fireproof it is for a period of time. You could find fire protection ratings like fire resistance for 1 hour at 1700 F degrees.
Waterproof Rating
A fireproof jewelry safe should only be waterproof. Your jewelry could sustain damages if the safe is doused with water or chemical fire extinguishers if it's unable to keep its contents safe. Additionally, water could penetrate the interior of the safe in case of a flood.
Locking Mechanism
Different people have different preferences when it comes to a jewelry safe's locking mechanism. You might prefer manual keys if you're bad at remembering passwords. You may also find a digital keypad better if you find it a hassle to keep keys. Also, you could share the digital passcode with people you trust. Finally, there are biometric safes if you hate keeping manual keys or remembering digital passcodes.
Extra Features
There are a few more features you'd want to look into in a jewelry safe. For example, you'd want it to have an LED light so you can grab your jewelry even in the dark. Alarm sensors are also useful when someone attempts to enter the wrong passcode or lifts the safe. A lined interior, drawers, and shelves are also great to help you organize your jewelry properly.
Related Post: 
8 Best Fireproof Document Bags and Envelopes in 2022 
This post contains affiliate links. I may earn a small commission at NO extra cost to you for purchases made through these links. Disclosure.
Best Fireproof Jewelry Safes
Now that you know why you need a jewelry safe and what to look for in one, let us now examine the best fireproof jewelry safes in the market and see how they stack against one another.
1. SentrySafe SFW123GDC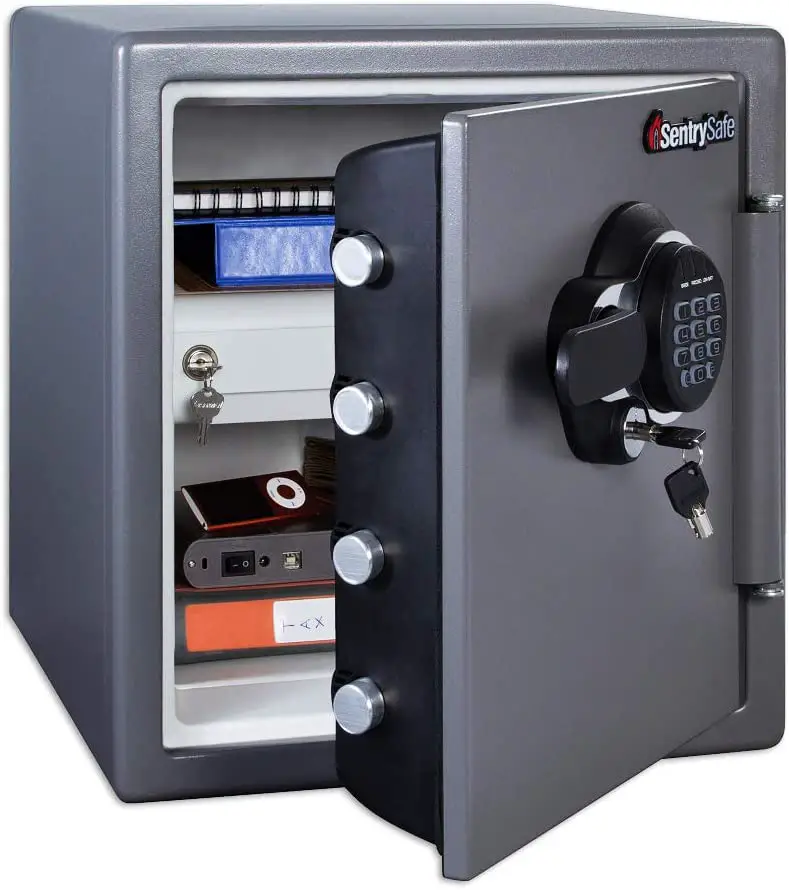 Sentrysafe is one of the most reputable brands for jewelry safe. The SentrySafe SFW123GDC is one of their products, given that it is both fireproof and waterproof jewelry safe. It is rated to endure fire for 1 hour at 1700 f degrees. Also, it is also able to withstand an impact after a 15-feet fall.
This is quite a roomy safe at 1.23 cubic feet so it is best for a decent-sized collection. It is made with solid steel and comes with a pry-resistant hinge bar to deter break-in attempts, as well as 4 large locking bolts for added security.
As for the locking mechanism, this specific safe model is a digital combination safe. You can set your own 5-digit passcode. You could also disable the digital keypad and use the locking key instead, especially if suspicious people have gotten ahold of your passcode.
Pros
It is UL classified with a fire protection rating of 1700 F degrees for one hour.
It can keep the contents safe against water damage in case of a flood for 24 hours up to 8 inches.
It comes with a digital keypad and a secondary locking key.
There's also an interior locking drawer if you want to keep specific jewelry from the rest of your collection.
You have the option to mount it to the floor to keep thieves from stealing the safe itself.
Cons
You need high-quality batteries to maintain the operation of its digital keypad.
This is quite a heavy safe, so it is not as portable as you might expect.
Lacks a lined interior.
2. SEKAM Steel Small Money Safe Box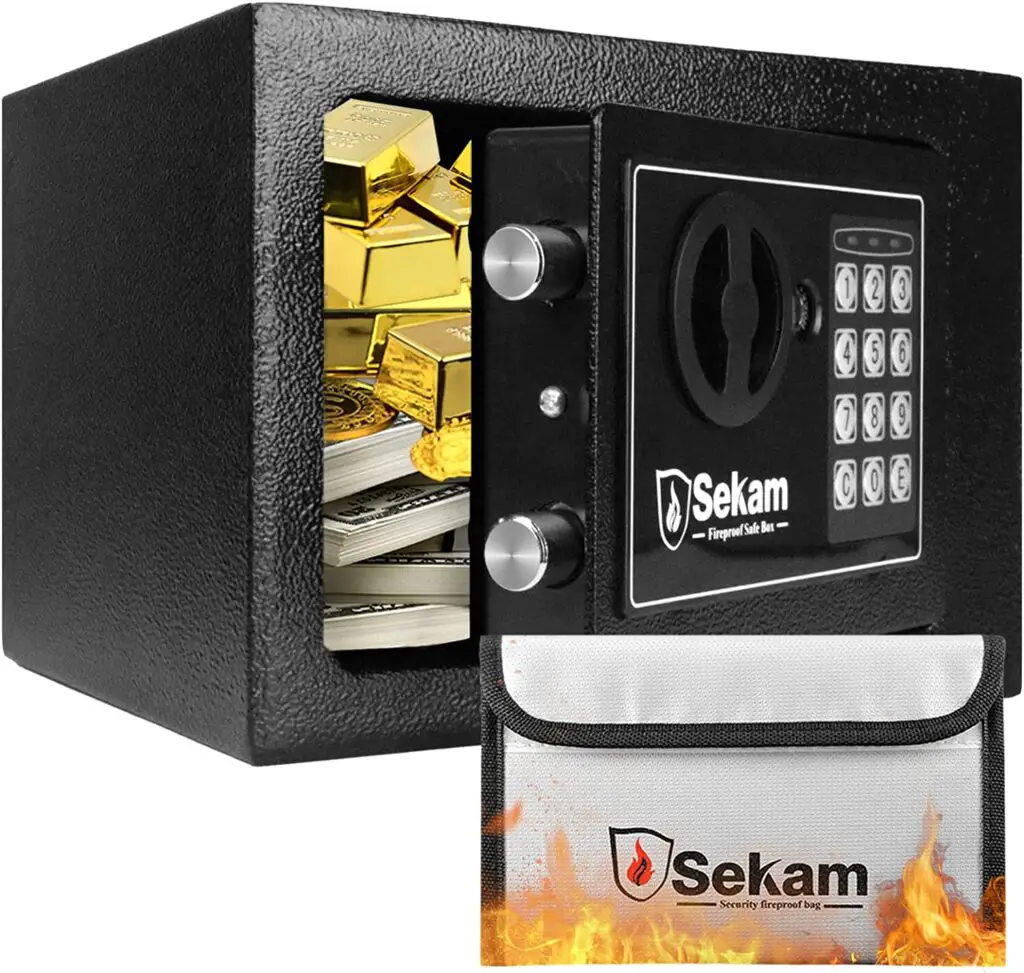 If you are looking for a smaller and more portable jewelry safe, then this SEKAM Steel Small Money Safe Box does the job.
This safe is pretty compact as its interior capacity is only 0.23 cubic feet, but what it lacks in size it more than makes up for with its outstanding features.
Sekam is a solid steel hopeless design jewelry safe. It is designed to protect small valuables like jewelry. It comes with an extra money fireproof bag to double up its fireproof protection.
It was constructed to endure hit and drop. The pry-resistant hinges, durable recessed door, and locking bolts also make this jewelry safe a lot more secure. Plus, the carpeted interior serves as a cushion to prevent jewelry from scratching.
What we love about small safes like Sekam is that they are easier to hide than big ones. It can fit into your closet, drawers, or under the bed, making it less conspicuous to other people.
You can lock and open the safe with a digital keypad which comes with override keys in case you forgot your passcode.
Pros
It is quite durable for a small safe.
Its small size makes it easy to hide.
It comes with a secured digital lock and override keys.
The fireproof envelope provides extra protection.
Portable and easy to bring anywhere.
Cons
This is not best safe if you have a massive collection of jewelry.
There's no option for mounting the safe.
It does not come with shelves and drawers.
3. ISLANDSAFE Digital Fireproof Small Safe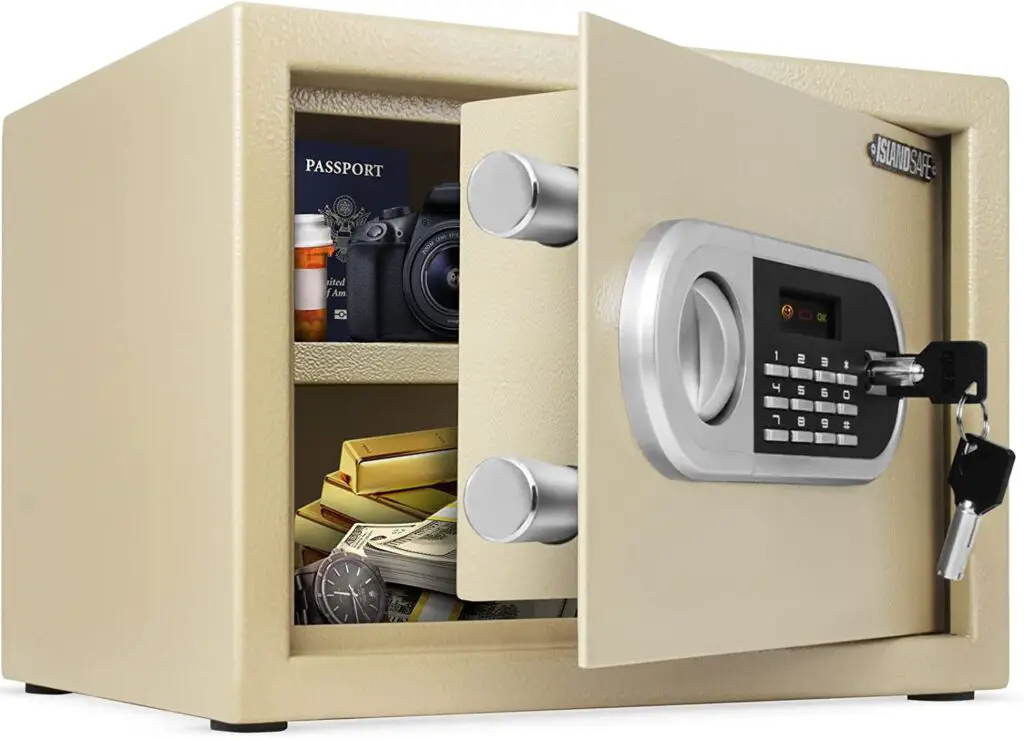 The ISLANDSAFE Digital Fireproof Small is also on the smaller side with a 0.5 cubic feet storage capacity, but it surprisingly has almost everything you'd need from a jewelry safe.
First, it is made with 100% heavy-duty steel, a super thick door, and pry-resistant bolts. It has a removable shelf so you can organize your watches and pieces of jewelry however you like. The floor comes with a carpeted lining to prevent your valuables from scratching.
There are three ways to open this jewelry safe. First is by using the digital keypad. But if you forgot your passcode or the batteries die, you can use the override key. As a last resort, you could open it using the emergency battery box.
Pros
The safe is made with strong, solid steel.
It has a removable shelf for easier organization of valuables.
Three ways to open the safe.
Size is great for hiding the safe in smaller spaces.
Comes with a mounting kit.
It has an alarm sensor that activates with 3 to 6 false entries.
Cons
Its waterproof and fireproof protection is not UL-rated.
4. ETE ETMATE Fireproof Security Safe Box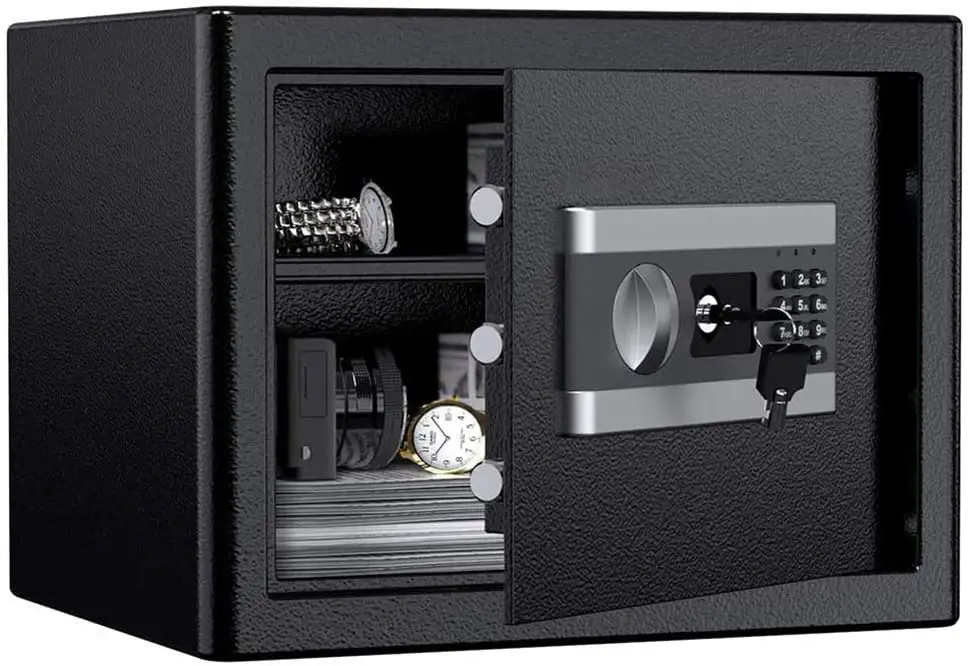 The ETE ETMATE Fireproof Security Safe Box comes from a brand that's known to manufacture sturdy and reliable jewelry safes. This particular model of security safe is a great one to house your jewelry collection.
There are many things to like about this jewelry safe. First, it is made with a waterproof and fireproof material to protect your valuables in case of flood or fire. This security safe also has solid locking bolts to protect your jewelry and watches against thieves.
This jewelry safe also opens with a digital combination. But if you forget the passcode or the batteries are dead, you can use the override keys instead. You can also reset the passcode anytime you like.
ETE ETMATE Fireproof Security Safe Box is compact, so it's easier to hide it in the drawers of your bedroom or office.
Pros
Solid steel construction and durable locking bolts heighten the security features of the safe.
You can access the safe via the digital lock or manual keys.
It is compact enough to hide under the bed or in a drawer.
Cons
It does not have an alarm feature for false entries.
You need to regularly check the batteries to keep using the digital lock.
There's no option of mounting it to the floor.
5. First Alert 2087F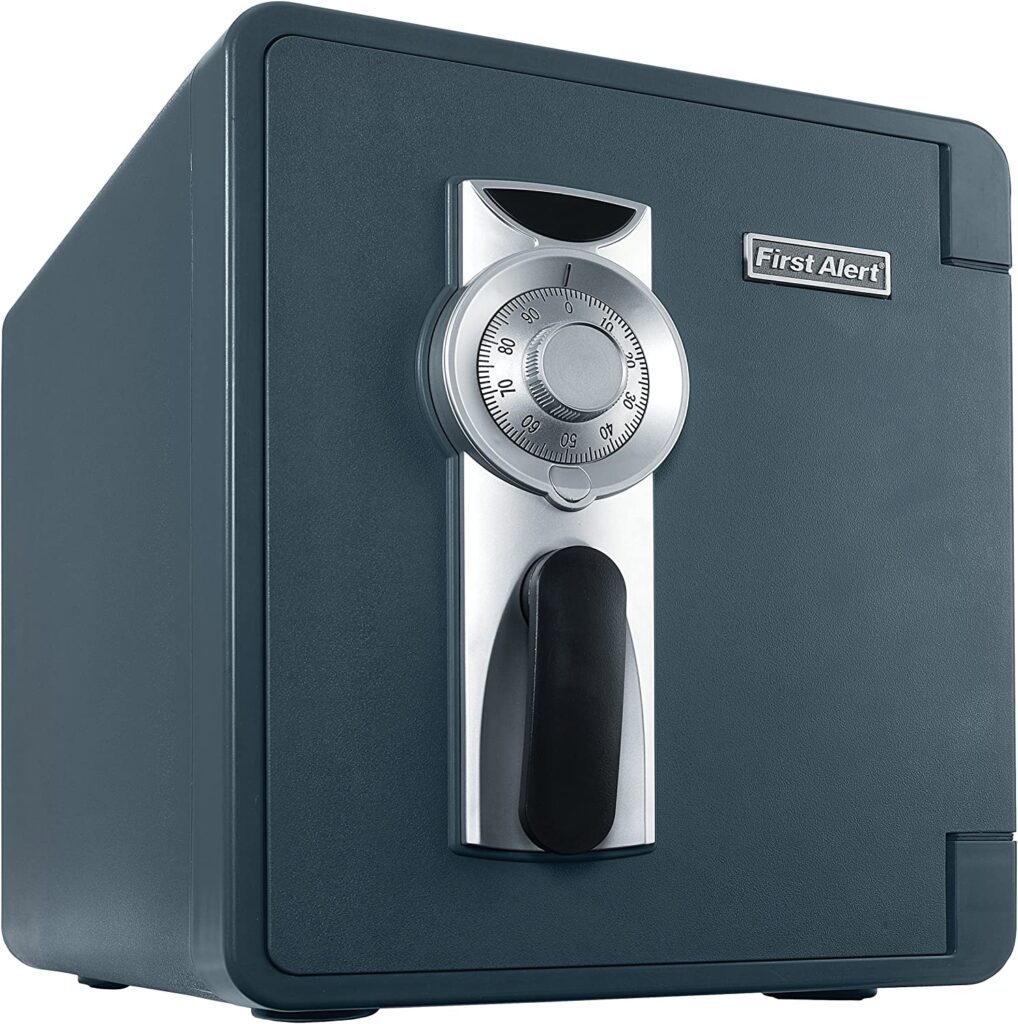 The First Alert 2087F is also an excellent option to safe-keep your irreplaceable valuables, jewelry, and watches.
This home safe also makes excellent jewelry safe for a number of reasons. First, it is fireproof. It can withstand fires for up to 1 hour at 1700 F degrees. It also has an insulated seal to keep contents dry in the event of a flood, even with submerged.
The safe's design also deters theft. The pry-resistant concealed hinges thwart crowbar entry, plus live locking bolts levels up its security.
It comes with an adjustable shelf too, so you can easily organize the items inside.
Pros
This safe is UL-rated fireproof and waterproof.
It easily opens with a combination lock and extra access using override keys.
It comes with mounting hardware so you can mount it to the floor for extra security.
Cons
This safe is heavy so don't expect it to be portable.
6. BARSKA Digital Biometric Fireproof Security Safe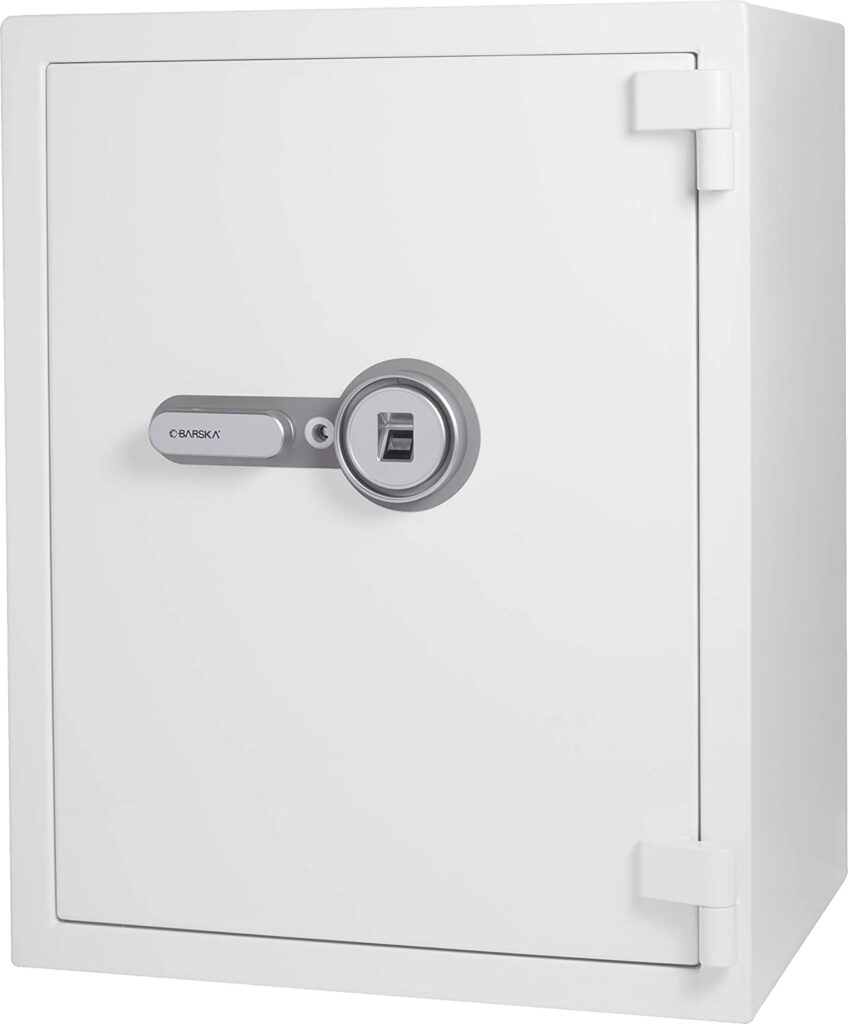 If you want a safe that gives you easy access (only for you), and not for thieves, then you should consider one that has a biometric lock, such as this one from Barksa.
Barska has a few safes with biometric locks, but this one is on the larger side with a 4.48 cubic feet capacity. It's perfect for storing a lot of jewelry along with other valuables.
So its main feature is the biometric lock which you can register with 100 fingerprints. This gives you easy access to your jewelry especially if you use them quite regularly. But if you want more traditional access, you can use the manual keys instead.
This jewelry safe has the feel of luxury. The carpeted interiors keep your precious metals from scratching its solid steel construction. It also comes with removable drawers so you can organize your jewelry with more flexibility.
Even better, this Barska Biometric Safe is rated to withstand fires for up to 1200 F degrees for 30 minutes.
Pros
It has a fireproof rating of 1200 F degrees for 30 minutes.
The biometric feature allows you to easily access the contents of the safe.
The carpeted lining gives the safe a more luxurious feel and look.
The removable drawers allow you to easily organize the contents of the safe.
Cons
This safe is quite large and heavy, so it's not portable.
Frequently Asked Questions
What is a jewelry safe?
A jewelry safe is a security safe where you can store your jewelry. Unlike jewelry boxes that you can open easily, a jewelry safe often comes with a more stringent locking system, such as a digital lock, biometric features, and combination lock to keep other people from getting access to your valuables.
Where should you keep jewelry safe?
It depends on how you intend to use the safe. If you like to have easy access to your jewelry because you use them regularly, then it's good to put it somewhere easy to reach, such as on a shelf. But if you just want to store your valuables, then you could hide the safe in a locked drawer or inside your closet.
Is a home safe a good idea?
Yes, storing your valuables inside a home safe, such as jewelry, is always a good idea. You could also put cash, documents, passports, and other important items inside a home safe.
Related Post: 
10 Best Portable Campfire Grills to Have in 2022 
The Verdict
Although all the jewelry safes mentioned in this review are great options, we love the safe, secure, and durable features of the SentrySafe SFW123GDC. It has a high fire protection rating, it is waterproof, and is impact resistant. It is decent-sized so you can put it almost anywhere you like, and even comes with a mounting feature to even deter theft. It has all the qualities we look for in fireproof jewelry safes and comes at a decent price point, too.