It is important to equip ourselves with fire safety knowledge and tools to protect ourselves in case of fires. Placing fire blankets in strategic locations inside the house can mean a huge deal to everyone's safety. But when and how do you use a fire blanket? Find out now.
There are different ways in extinguishing fires, including using fire blankets. Using a fire blanket in the right situations can help keep fires in control without creating a huge mess. Fire blankets may even save the life of a person whose clothes are caught on fire.
This article discusses fire blankets use, how to choose a fire blanket, and the appropriate situations when fire blankets are more suitable for killing flames than fire extinguishers.
What is a Fire Blanket?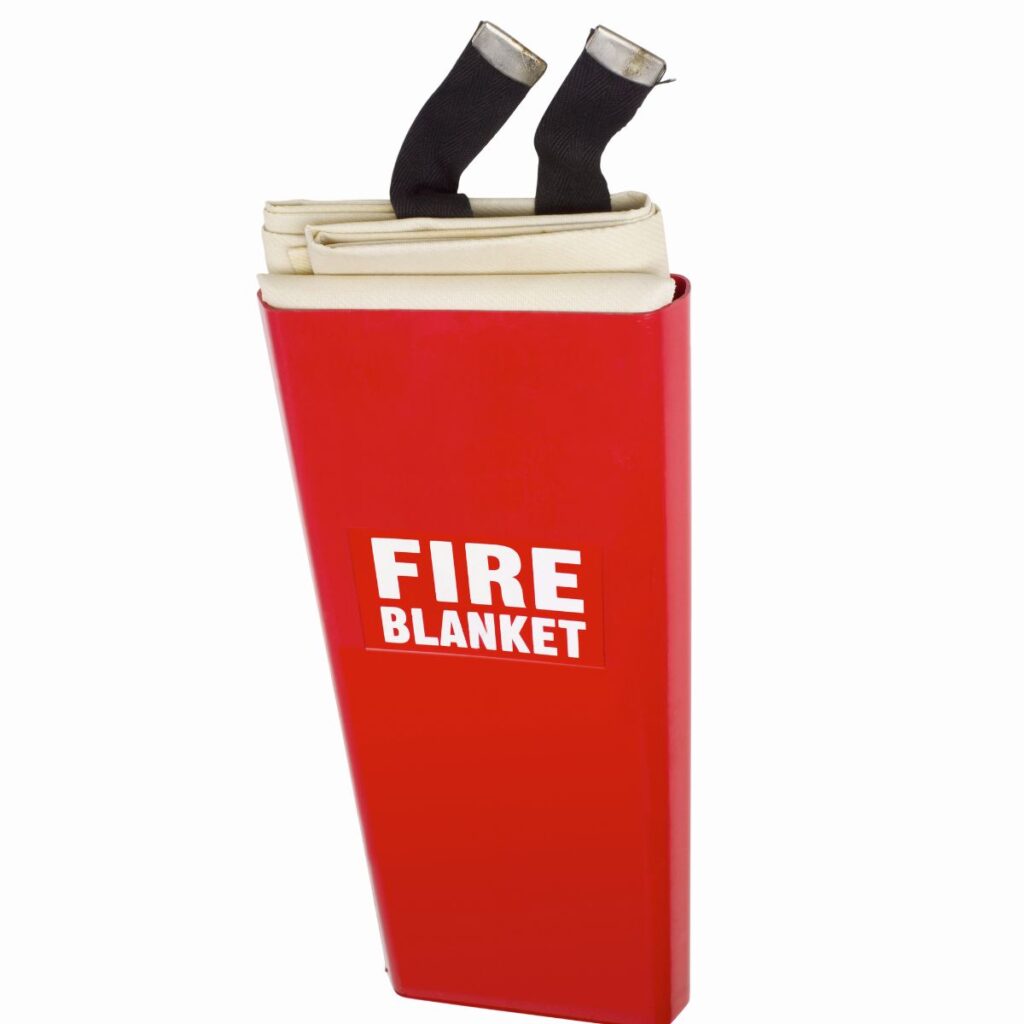 A fire blanket is a blanket made of fire-resistant materials, typically woven fiberglass, that is used in extinguishing small fires, especially in the kitchen.
A fire blanket may also be wrapped around a person whose clothes are caught on fire. Fire blankets work by smothering the fire's oxygen supply, therefore extinguishing the flames.
It is always good to have easy access to a fire blanket inside or near the kitchen. Kitchen fires are more common than we think. According to Red Cross, cooking fires are the primary cause of house fires and fire-related injuries.
But you cannot just pour water into a burning pan or kill the fire with a general extinguisher because grease may just splash and spread the flames around. However, you could drape a fire blanket over the fire and effectively kill the flames.
This post contains affiliate links. I may earn a small commission at NO extra cost to you for purchases made through these links. Disclosure.
How to Choose a Fire Blanket?
Now that you know that having a fire blanket is a great way to tackle grease fires in the kitchen, you're probably already considering getting one for your own home. Here are the things you have to keep in mind when choosing a fire blanket:
1. Size
Most of the fire blankets you see in the market nowadays are around one square meter in size, and this is good enough to cover a burning stove. It is also lightweight enough for one person to use. But you can also find bigger-sized fire blankets. This may be more appropriate to use in larger commercial kitchens and welding workshops. A bigger fire blanket may also be used to cover a person whose clothing is caught on fire.
2.Material
Fire blankets are made of fire-resistant material, allowing them to smother off oxygen supply when placed over flames. Fiberglass is soft and lightweight, so it's easy to put a fire blanket over the fire. However, fiberglass is also a material that's often itchy and irritating when it comes into contact with your skin.
3. Price
The prices of fire blankets are usually based on their sizes, so you might find a smaller fire blanket a little cheaper than bigger ones. You can find fire blankets being sold between $10 t0 $60.
Also, you'll find a lot of these blankets sold in multiple packs, allowing you to place the blanket in key areas like the kitchen, your car, your boat, or when you go camping.
An added feature you'd want to look for when buying fire blankets is if they come with a pair of gloves. Handling this blanket with bare hands can be highly irritating, so some manufacturers supplement their fire blankets with a pair of gloves. Wearing gloves when using it can protect your hands from irritation and potential burns.
How to Use a Fire Blanket on a Kitchen Fire
Having a fire blanket strengthens the overall fire safety of your home. In addition to having fire extinguishers, a fire-resistant safe, and a fire exit plan, a fire blanket will surely come in handy in case of small kitchen fires.
Fortunately, using a fire blanket is a lot easier than using fire extinguishers, and a lot less messy too. Here's how you use it in case a grease fire breaks out in your kitchen:
When a small kitchen fire breaks out, quickly locate the fire blanket. Find the two tabs hanging from the bag and pull them out to release the blanket.
Wear gloves. You need to wear gloves to protect your hands from the flames as we all as prevent skin irritation. The material that fire blankets are made with is usually fiberglass which can be itchy when it comes into contact with skin.
Now very gently lay the fire blanket over the fire starting from the nearest portion to you. Do not throw the blanket haphazardly over the fire.
Turn off the heat source, if you haven't already.
Keep the fire blanket covered over the flame for at least 15 minutes to totally extinguish the fire. You might notice some smoke coming through the blanket, and this is normal. The fire blanket is still smothering the flames.
Do not touch the fire blanket and let it cool down.
If you think the fire blanket is inadequate, then you should use a fire extinguisher. Make sure to equip the kitchen that's appropriate for cooking fires. It's also wise to call the fire department if you have trouble putting the fire out yourself.
Dispose of the fire blanket properly. Fire blankets are designed for single-use, so don't attempt to reuse the fire blanket you've already used in extinguishing a fire.
How to Use a Fire Blanket on a Person Whose Clothes are Burning
Another benefit of keeping a fire blanket accessible is that it could also be used to extinguish when a person whose clothing is caught on fire.
In this type of emergency, it is important that the person whose clothes are on fire remain calm so that rescuer can wrap the blanket around him properly.
Here's how to use the fire blanket on a person with burning clothing:
First, make sure to wear gloves and release the blanket from its pouch or container.
Have the person stay still and hold the blanket like a shield between you and the person.
Wrap the blanket around the person until he is completely covered.
The person must now stop, drop and roll. This is a safety technique wherein the person stops doing anything, drops to the ground, and rolls. This is the best way to put out the fire on his clothes.
When the fire has been completely put out, call medical help immediately to have the person's burns evaluated immediately.
Related Posts:
Where Do You Need a Fire Blanket?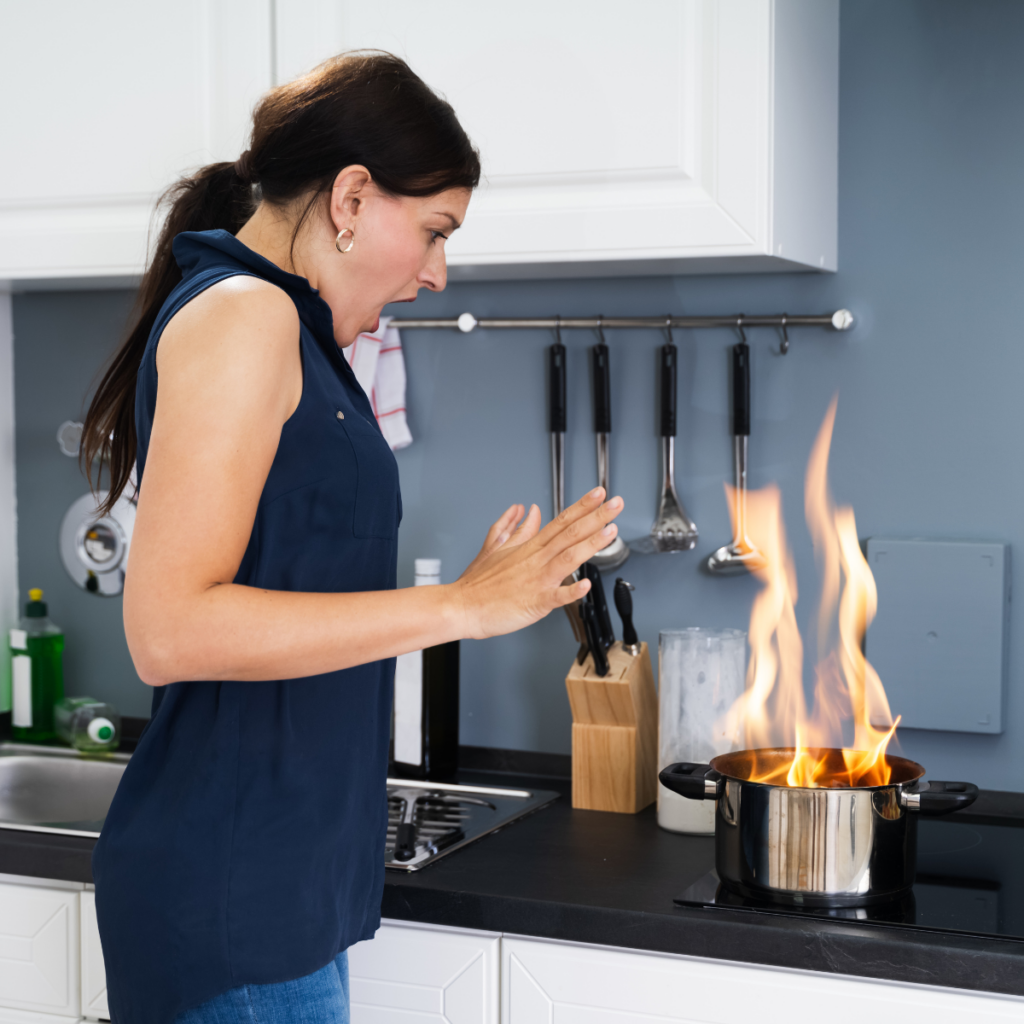 Fire blankets are essential fire safety equipment that provides protection against fires. Specifically, fire blankets are good-to-have in these locations and scenarios:
Kitchen
Since most of the household fires begin in the kitchen, it is good to place blankets in or near the kitchen. But do not place the blankets near the stovetop or any other heat source. Otherwise, you won't be able to access the fire blanket at all during a fire.
It is best to place a fire blanket near a doorway for easy access so that you could easily exit the location if you aren't able to put the flame under control.
Vehicle or Boat
You should also place a spare fire blanket in your car or boat so you can have something to use in case of an emergency.
Fire blankets are particularly very useful in boats in containing small fires when calling your fire safety department is not an option.
Workshop
It is also best to have a fire blanket accessible in your workshop, especially if the task involves a flame, heat source, or high temperatures.
Apart from small fires, fire blankets can also be used in putting out fires caused by electrical faults or short circuits.
When Should You Use a Fire Blanket Instead of a Fire Extinguisher?
You shouldn't think that you can replace fire extinguishers with a fire blanket, or vice versa. At this point, it is important to learn the appropriate situations when you should decide between using a fire extinguisher or a fire blanket.
A fire blanket is most useful in extinguishing small kitchen fires. If you can get close enough to the fire without the risk of getting burned, then a fire blanket is the best choice.
But if the fire is huge, then you should go for fire extinguishers. If you are dealing with kitchen fires, then you should have a wet chemical fire extinguisher handy. This type of fire extinguisher is used for Class F fires or fires caused by grease, fat, or cooking. You can use this equipment to kill the fire even without going near it.
The downside of using fire extinguishers in cooking fires is that the end result can get messy. So, expect to do some extra clean-up once the fire is out.
Also, you would have doused your food with the chemicals from the fire extinguisher as well.
Should You Reuse a Fire Blanket?
Another common question surrounding fire blankets is that if they are reusable.
Unfortunately, fire blankets should not be reused.
Once a fire blanket has been used to extinguish a fire, it must be disposed of properly. Do not be tempted to roll it up back to its container and hope that it will still be effective the next time around. Doing so will only jeopardize your safety.
A common rule among fire safety experts is to leave the fire blanket covering the fire for at least 15 minutes to let it smother the flames completely.
Fire blankets work by cutting off the oxygen supply from the fire, so taking the blanket out prematurely does not give you an assurance that the flame is put out completely.
You must remember to replace your used fire blankets immediately.
Related Questions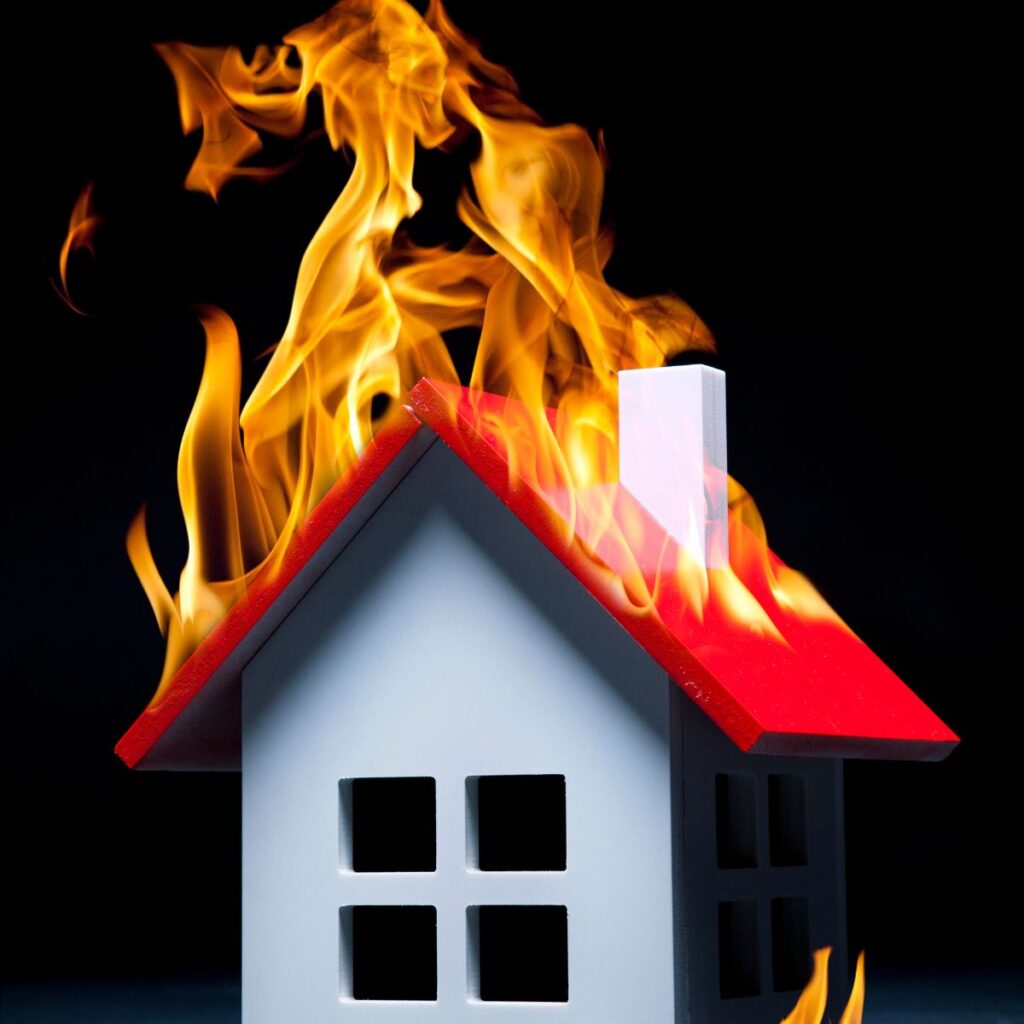 Should you have a fire blanket?
Yes, if you want to maintain a high standard of safety inside your home, car, boat, or commercial kitchen, then you definitely must invest in a fire blanket.
A fire blanket is a useful tool in putting out cooking fires when generic fire extinguishers are not a suitable option for killing the fire.
What are the disadvantages of using a fire blanket?
Although fire blankets are useful fire safety equipment, they are not always the ultimate solution for every type of fire. Fire blankets are most useful for kitchen fires, but only for a size of fire that can be managed by the size of your fire blanket. You should not use fire blankets on bigger fires. In which case, fire extinguishers must be used and you should call the fire department immediately.
Also, you cannot reuse a fire blanket. It is therefore important to get proper training in using fire blankets. This is to ensure that you can effectively kill the fire in one attempt. If you use the fire blanket and failed, you shouldn't anymore roll it up back to its container.
How do you extinguish a fire with a blanket?
You just need to pull on the tabs to release the fire blanket from its container. Then, spread the blanket out by holding it with both hands.
Next, you put the fire blanket gently over the fire and let it sit there for a couple of minutes until you have completely doused the flame. You could turn off the heat source then, evaluate the situation and call your fire service if needed.
Conclusion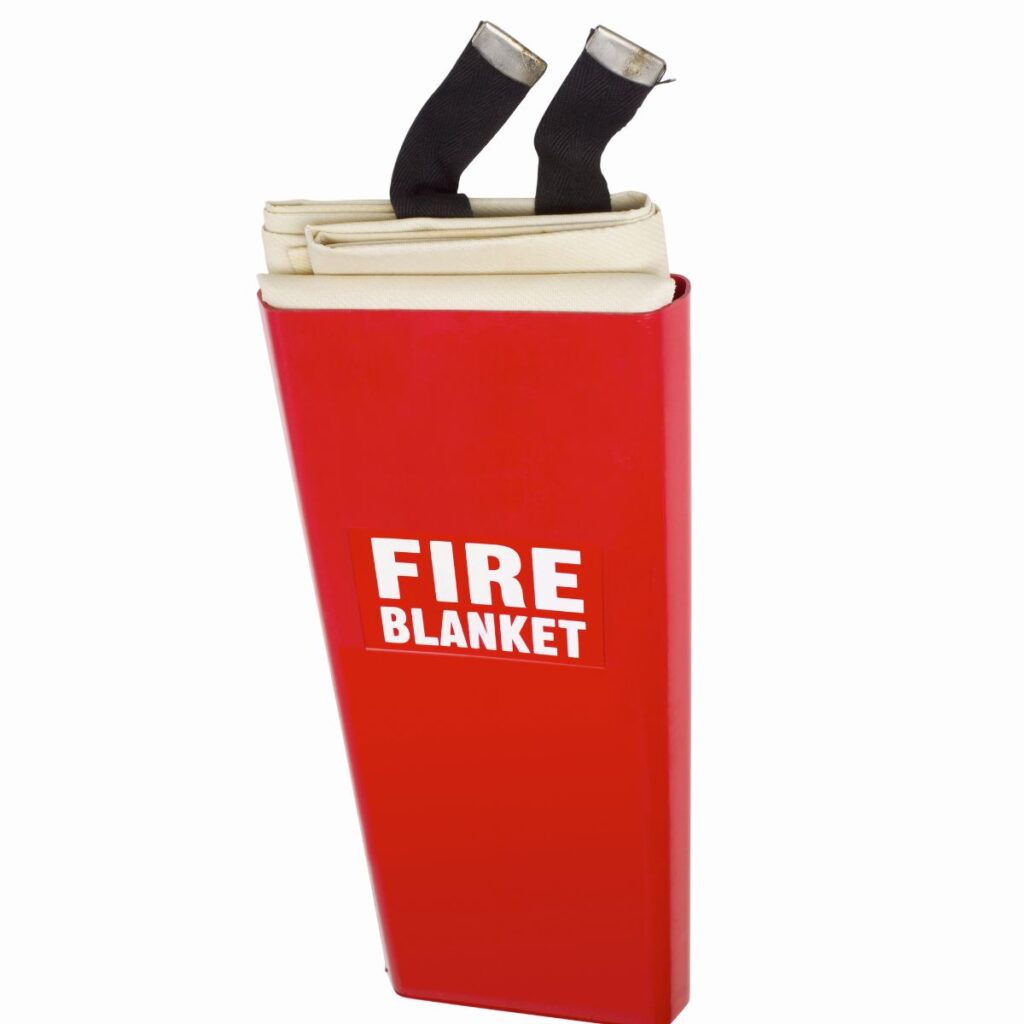 You cannot predict when a fire emergency could occur. So it is wise to protect yourself, your family, and your property in the best way possible. In addition to fire extinguishers, smoke alarms and detectors, and a fire exit plan, putting fire blankets in strategic places can bring protection to the next level.
Remember to put fire blankets inaccessible areas, and use them in the right situations. It is also great to have some training on how to properly use a fire blanket.
Remember not to throw the blanket over the fire. Put it down gently until all the flames are covered. 
But depending on the size and type of fire, it may be best to use fire extinguishers instead or flee the area and call your fire department immediately. Also, call for medical help if someone has been injured in the accident.