Equipping your car with an efficient and high-quality car fire extinguisher can save you and your passengers in the event of a fire. But how do you choose automotive fire extinguishers? Find out now.
There are several hazards when you're driving your car on the road, such as collisions. But it is less often that car owners think of car fires as a potential risk that could happen anytime.
According to the US Fire Administration, there had been a recorded 171,500 incidents of highway vehicle fires from 2014 to 2016. These car fires resulted in 1,300 injuries and 345 fatalities.
Some of the most common causes of car fires include poor maintenance, fluid leaks due to an accident, electrical issues, mechanical failures, fuel leaks, defective batteries, and overheating. It becomes even more dangerous when the flames crawl towards the fuel tank or engine bay because an explosion becomes a real possibility by then.
It's hard to imagine your car catching fire while on the road, but hey, these things happen. The best that you can do is to prepare the necessary safety equipment for fire protection. You could use automotive fire extinguishers to control the flames at least until emergency services come to your rescue.
Having an accessible fire extinguisher inside your car gives you a fighting chance to combat small automobile fires to save yourself and your passengers first and your car next.
This post contains affiliate links. I may earn a small commission at NO extra cost to you for purchases made through these links. Disclosure.
How to Choose a Vehicle Fire Extinguisher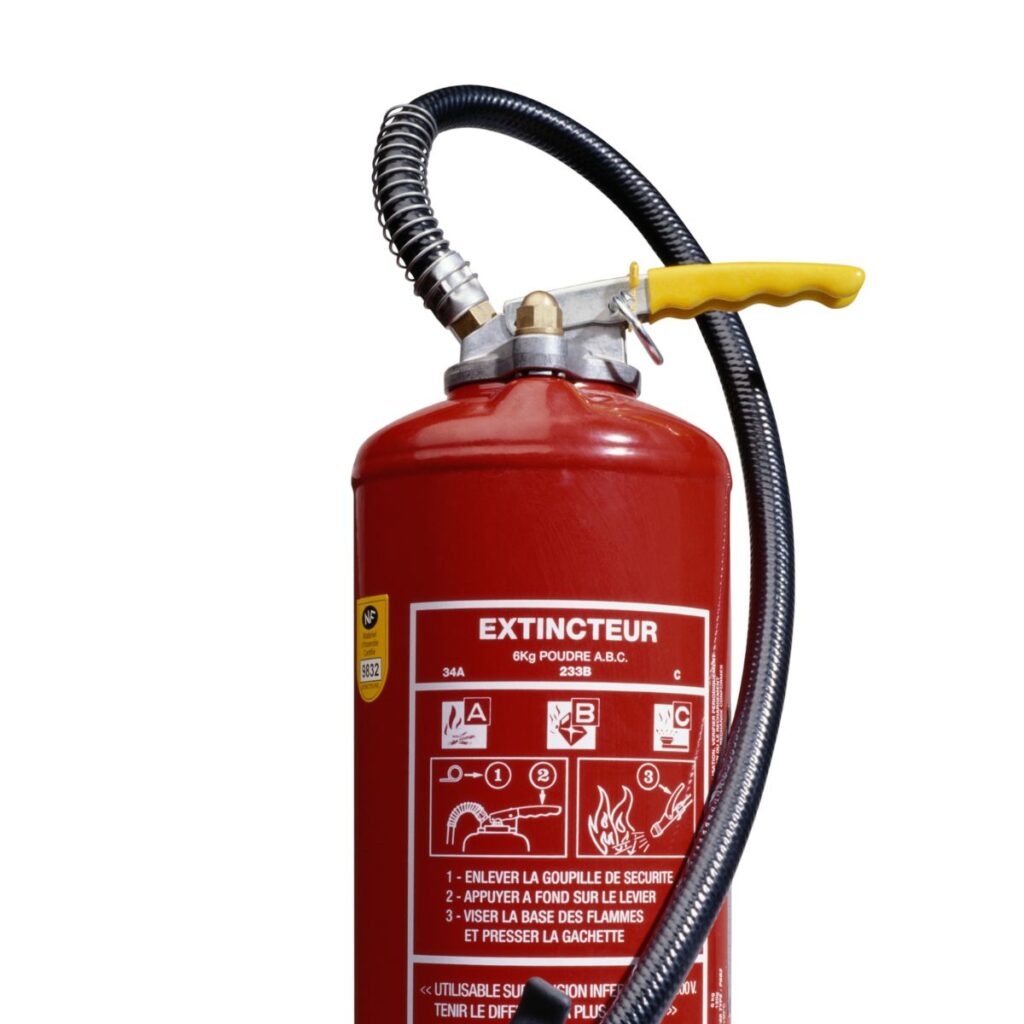 There are indeed plenty of car fire extinguishers to choose from, and the options can get overwhelming. So, we've put together this car fire extinguisher buying guide so you can narrow down your options for automotive fire extinguishers and ultimately buy the one that best fits your needs.
Here are the top considerations when choosing a car fire extinguisher:
1. Type of Fire Extinguisher
Fire extinguishers are not created equally. They are distinguished into different classes, and each class aims to extinguish a certain type of fire. Some fire extinguishers can kill fires caused by flammable liquids, while others by electrical issues, and some by common combustibles. 
Using the right type of fire extinguisher for specifically-caused car fires gives you more chances of totally killing the flames, keeping everyone safe, and minimizing damage to your vehicle. In most cases, an ABC fire extinguisher is the recommended type for automotive fire extinguishers.
We shall discuss the different types of fire extinguishers in the next section.
2. Weight
The weight of the car fire extinguishers is also an essential deciding factor. When a car fire breaks out, do you think you could easily grab and use a heavy fire extinguisher? It is for this reason that you should use a small size fire extinguisher for your car.
A compact and lightweight fire extinguisher are easier to store in your car and easy to grab and use in case of automotive fires. More so if you think you aren't as physically fit to handle a massive and heavy extinguisher. 
If you are driving a commercial vehicle or a bigger-sized car, it's best to go for a bigger car extinguisher.
3. Material Quality and Construction
It is also essential to choose a car fire extinguisher of durable construction. We recommend going for one of those vehicle fire extinguishers made of aluminum as it is corrosion-resistant, durable, and lightweight. Additionally, you want to find a fire extinguisher that comes with a trigger for controlled discharge.
4. Mounting Mechanism
While you can keep your extinguisher anywhere in your car, a mounting mechanism allows you to put it somewhere accessible and safe from accidental discharge. Fortunately, most vehicle extinguishers nowadays come with their own mounting kits. Alternatively, you could buy a separate vehicle bracket if you're unsatisfied with the one that came with your purchase.
5. Refillability
A car fire extinguisher can either be disposable or refillable. Disposable fire extinguishers are cheaper upfront, but buying them can cost you even more if you encounter several small fires over a few months. It's also going to be useless in the event of an accidental discharge.
Refillable fire extinguishers, on the other hand, may cost more, but they are more cost-effective. They come with metal valve construction so they can be serviced or refilled during a monthly inspection with a fire expert. In the US, a fire extinguisher can be recharged for at least $20, depending on the size.
Classes of Fires and the Best Fire Extinguishers to Use
It is important to understand the four classes of fires because you'll need to use the appropriate fire extinguisher to kill the fire's fuel source.
Class A Fires
These are commonly caused by ordinary combustibles like paper, dry wood, cloth, and plastics. These fires commonly occur in homes and structures but may also cause automobile fires (such as fires starting from the car's upholstery). The best fire extinguisher for a class A fire uses mono ammonium phosphate to kill the flames.
Class B Fires
A Class B fire is caused by flammable liquids like gasoline and diesel. The best fire extinguisher for Class B fires uses sodium bicarbonate or mono ammonium phosphate.
Class C Fires
These are classified as electrical fires as they are caused by faulty wirings, overheating or overloading of devices, and short circuits. These fires can be dealt with by fire extinguishers that do not contain agents that conduct electricity.
Class D Fires
These fires are caused by combustible metals such as magnesium and titanium. The best fire extinguisher to use for class D fires are those that contain a dry chemical.
Car fires are often caused by ordinary combustibles, flammable liquid, and electrical fires. For this reason, the best fire extinguishers to equip your car are ABC extinguishers. An ABC dry chemical fire extinguisher is often good enough to extinguish almost all types of automobile fires. Some people also recommend fire extinguishers designed for B and C fires.
How to Use a Car Fire Extinguisher
Car fire extinguishers are a lot like insurance policies — you want to have them, but you don't want to use them. It's always good to have a fire extinguisher, whether at home, your place of work or business,s or inside your vehicle because fires could erupt at any moment for various reasons.
The main goal of having and using a fire extinguisher is to save lives first and property second. That being said, you need to know how to use a car fire extinguisher to ensure your safety and for the investment to pay off (let's face it, some of these extinguishers aren't exactly cheap).
Here's what you should do if your car catches fire:
Pull over immediately at the slightest hint of a fire. Oxygen feeds off even if the car is in slow motion, and the flames could crawl towards the engine bay, making an explosion a real possibility.
Take out the fire extinguisher. From a safe distance, pull out the safety pin and aim the extinguisher towards the base of the fire and not on the flames.
If the fire is coming out of the car's hood, just prop the hood open, but do not raise it. Aim the extinguisher on the gap and spray.
Now squeeze the extinguisher to release the extinguishing agent. Keep doing so until you have successfully killed the fire.
Fire extinguishers always have easy-to-follow instructions printed on their cylinders, but reading them during a real-life event could be the last thing on your mind.
You have to be prepared, so you need to familiarize these steps as soon as you get your car fire extinguisher. Also, check the extinguisher periodically to ensure that it is fully charged. Accidental discharges can happen, and you don't want to get caught up with a nearly empty extinguisher just when you needed it.
9 Best Car Fire Extinguishers
1. Kidde FA110 Multi Purpose Fire Extinguisher 1A10BC
Kidde FA110 is a robust option that combats class A, B, and C fires. It comes with a UL rating 1-A:10-B:C, making it suitable to use for almost all classes of fires that may take place in a vehicle.
This 2.5 lbs. Kidde FA110 is equipped with numerous handy features, so it's definitely one of the best fire extinguishers on the market today. First, it comes with a metal pull pin, valve, and lever. Its body is constructed with high-quality lightweight aluminum plus a nylon valve assembly to ensure that it stays rust and corrosion-resistant.
You can readily see the pressure gauge if the fire extinguisher is running out of juice and needs to be recharged, while the easy-to-pull safety pin allows even those with weak and arthritic fingers to use this extinguisher without any problems.
Pros
A multipurpose fire extinguisher that can fight class a, b, and c fires
The pressure gauge lets you know if it is ready to use or if it needs to be recharged
Mounting bracket included
Cons
Some customers complain that the mounting bracket did not feel sturdy
2. First Alert Car Fire Extinguisher AUTO5
Coming from the most distinguished brands for home safety, the First Alert Car Fire Extinguisher would most likely tick all the boxes for a reliable car fire extinguisher.
This is a 2.7-pound fire extinguisher that's small and compact enough to store inside the car. It is rated to fight class b and c fires. It is fairly easy to use and also comes with an instructional guide that's chemical resistant and waterproof that will not get damaged over time.
As for construction quality, we like that it is supremely built with corrosion-resistant metal. It also comes safety seal that helps to prevent accidental discharge. Remember that you must drill holes to mount this properly into your car.
This First Alert car fire extinguisher is an excellent investment if you want something lightweight, portable, and durable, and it is efficient enough with its promise of fire protection.
Pros
Rated to fight class b and c fires
Comes with a mounting bracket
A readable pressure gauge provides precise measurement
Compact and easy to store inside any vehicle
Cons
It is not rechargeable
It does not kill class a fires
3. H3R Performance MaxOut Dry Chemical Car Fire Extinguisher MX250C
This specific fire extinguisher uses a dry chemical agent (mono ammonium phosphate), which is rated to extinguish class a, b, and c fires.
This H3R Performance fire extinguisher is well-built with its chrome elongated cylinder body and all-metal valve. Weighing only 2.5 pounds, this fire extinguisher is compact and easy to mount and use, so it should be convenient for anyone who isn't as strong or physically fit.
Additionally, we like that H3R Performance is rechargeable. While it is a little pricier than others, refilling it proves to be cheaper down the road.
Pros
Its UL rating indicates that it can fight class ABC fires
It comes with its mounting mechanism
Compact and lightweight
It is super easy to use
Cons
It is a little costlier than other fire extinguishers
RELATED POSTS
4. Amerex Dry Chemical Fire Extinguisher B417T
The Amerex B417T is a dry chemical fire extinguisher that combats A, B, and C fires. Its fire-killing agent is mono-ammonium phosphate.
We like that the Amerex looks and feels sturdy, thanks to its anodized aluminum construction. This fire extinguisher has a 10-second discharge time and range of 9-15 feet and works great for both personal and commercial vehicles.
It is lightweight at only 2.5 pounds and is compact enough to hide under the passenger seat. If mounting it is your personal preference, then you can easily do so as it readily comes with a wall vehicle bracket.
Pros
UL rated to fight class ABC fires
Compact and lightweight
Steel and aluminum construction makes it rust and corrosion resistant
Cons
The pin is a little tough to pull
It's slightly more expensive than other extinguishers
5. Buckeye 25614 ABC Multipurpose Fire Extinguisher
This Buckeye dry chemical fire extinguisher is multipurpose, so it can be used in your home or place of business, and have one inside your vehicle too.
As a vehicle fire extinguisher, Buckeye is a reliable fire extinguisher that fights class ABC fires, which are the most common causes of vehicle fires.
It looks remarkably solid, thanks to its industrial-grade steel and aluminum construction. The cylinder is powder-coated to lend it long-term use. It has a 14-second discharge time and a discharge range of 12-18 feet.
Pros
UL-rated to withstand ABC fires
Comes with a vehicle bracket
solid material and construction quality
serviceable
Cons
Weighing 5 lbs, it is a bit heavier than most extinguishers, so it might be tricky to handle for some people
Some customers complained about receiving a different mounting kit than what was advertised
6. Amerex A384T, 1.4lb Halotron
The Amerex A384T is a rugged one-pound fire extinguisher that uses a clean agent for extinguishing fires. This extinguisher is commendable for a number of reasons.
First, it is solidly built with all-metal construction and aluminum valve, lending it a sturdy look and feel and giving an impression of long-term reliability.
This fire extinguisher is rated to kill class B and c fires. But what really sets it apart from other extinguishers is that it uses a "clean agent," which means that it has minimal impact on the ozone layer and does not contribute to global warming.
Pros
It is rated to fight against class B and class C fires
solid build and material quality
Weighing only 1 pound, it is small and compact enough to store inside most vehicles
Vehicle bracket included in your purchase
Does not leave any residue
Cons
It is not designed to combat class A fires
7. H3R Performance MaxOut Dry Chemical Car Fire Extinguisher MX100C
The H3R Performance MX100C Dry Chemical Fire Extinguisher might be a little lighter than the H3R Performance mx250c, but it's just as good in all aspects, earning a spot here in our list of best vehicle fire extinguishers.
The H3R Performance MX100C weighs only one pound, so it's an even more lightweight and compact option for a vehicle fire extinguisher. It uses a Purple K chemical extinguishing agent that combats class b and c fires — basically two of the most common causes of automotive fire.
This is a rechargeable fire extinguisher with a discharge range of 5 to 8 feet. We love that the cylinder looks and feels solid and that the valve is all metal, a telltale sign that the manufacturer put a lot of thought into its durability and reliability.
This is only 10 inches in height, so it's easy to store anywhere in your car. It also comes with a vehicle bracket so that you can mount it into the roll bars.
Pros
It is incredibly compact and lightweight, so it's easy to store and use
UL-rated to kill B and C fires
High-quality construction and material
Cons
It does not kill class c fires
Some customers feel it's too pricey for its size
8. Kidde Pro 210
Kidde always comes to mind when fire protection is at stake. One of its best extinguishers, the Kidde Pro 210, is indeed a powerful one.
The Kidde Pro 210 is a rechargeable fire extinguisher housed in a solid, high-quality cylinder. It is powder-coated to prevent rust and corrosion. It also comes with a pressure gauge that tells you right away if it's already time to recharge.
This ABC fire extinguisher fights ordinary combustibles, highly flammable liquids, and electrical fires. It has a discharge time of 13-15 seconds and a discharge range of 10-15 feet.
Pros
UL-rated to fight ABC fires
Metal and aluminum construction makes it longer lasting, durable, and resistant to corrosion
Rechargeable
Comes with its own mounting kit and is easy to install
Cons
This is a four-pound extinguisher, and some people may find it too heavy to use
9. H3R Performance HalGuard Clean Agent Car Fire Extinguisher HG100C
If you drive a show car or a vintage vehicle, then equipping it with a clean agent fire extinguisher like this rechargeable H3R Performance Halguard HG100C is a fantastic idea.
This H3R Performance fire extinguisher uses a clean agent that does not affect your vision and does not leave any residue after use. It also does not cause thermal shocks to the car's electronics while its clear liquified gas effectively extinguishes flames even in hard-to-reach places.
This is a lightweight fire extinguisher at only 1.4 pounds, but its a powerful and reliable fire extinguisher. As an added point, we love how its chrome finish makes the car look a lot cooler, even if the extinguisher is placed somewhere easily visible.
Pros
UL-rated to kill class B and C fires
Its clean agent does not leave messy residue after use
Does not damage the car's electronics
Compact, lightweight, and easy to mount (comes with a mounting kit)
Cons
It is too pricey for its size
The Verdict
Do not think of vehicle fire extinguishers as an extra expense. Equipping your car with this fire protection device gives you the peace of mind that you are well-prepared for a car fire.
Now among the options listed above, our vote for the best fire extinguisher goes to Kidde FA110 Multi Purpose Fire Extinguisher 1A10BC.
We love that this fire extinguisher can kill class ABC fires, which are the leading reasons why a car would catch fire. We also like that it is of decent size and weight – 2.5 lbs., giving you enough juice to kill a not-so-small car fire, but not as heavy as the one you'd use in your home or building. Anyway, opting for a smaller, more compact fire extinguisher is always a matter of personal preference.
Finally, you'd want a fire extinguisher of top quality, and this product ticks all the boxes when it comes to material and construction. It is also rechargeable, so you won't have to spend for a new extinguisher after each use.