Vinegar has so many uses, from cooking, and cleaning to preserving food. And we can't help but wonder: is vinegar flammable? Does it catch fire? What happens when you heat vinegar? Read on to learn more.
What is Vinegar?
Vinegar is an acidic liquid often used as seasoning used in the kitchen. Its distinctly sharp taste adds more flavor to food. You can use it for cooking, as well as in food preparations, such as pickling and marinating.
But vinegar is not just used in food. You can also use it as a cleaning agent. It can clean tiles, and the insides of the microwave and dishwasher, and even remove stains from clothes.
But what is vinegar made of?
Well, vinegar is acetic acid diluted in water. It comes from natural products, such as grapes and apples (as in the case of apple cider vinegar), rice, malt, oat, barley, sugar, beer, and many others.
The raw material, grapes, for instance, go through a process of fermentation. Yeast converts the sugar into ethanol. And then ethanol is oxidized to create acetic acid.
But vinegar is not purely acetic acid. Instead, only a small portion of it, around 5% to 20% is acetic acid and the rest is water.
Is Acetic Acid in Vinegar Flammable?
Acetic acid or ethanoic acid is what gives vinegar its distinctive taste and aroma. Even though acetic acid is only just a small part of the vinegar, it is still powerful enough for us to recognize the smell and taste of vinegar even with our eyes closed.
According to the CDC, acetic acid is a clear and colorless liquid with a strong taste that's similar to vinegar. It has a boiling point of 118 degrees Celcius and a melting point of 16.7 degrees Celcius.
Additionally, acetic acid is assigned a flammability rating of 2, which means it is a moderate fire hazard. This makes acetic acid flammable.
As a potent chemical compound, acetic acid is also used in several other applications concerning acetate products. It is used in polyvinyl acetate which is commonly found in wood glue. Acetic acid is also used to make cellulose acetate in film photography.
Is Vinegar Flammable?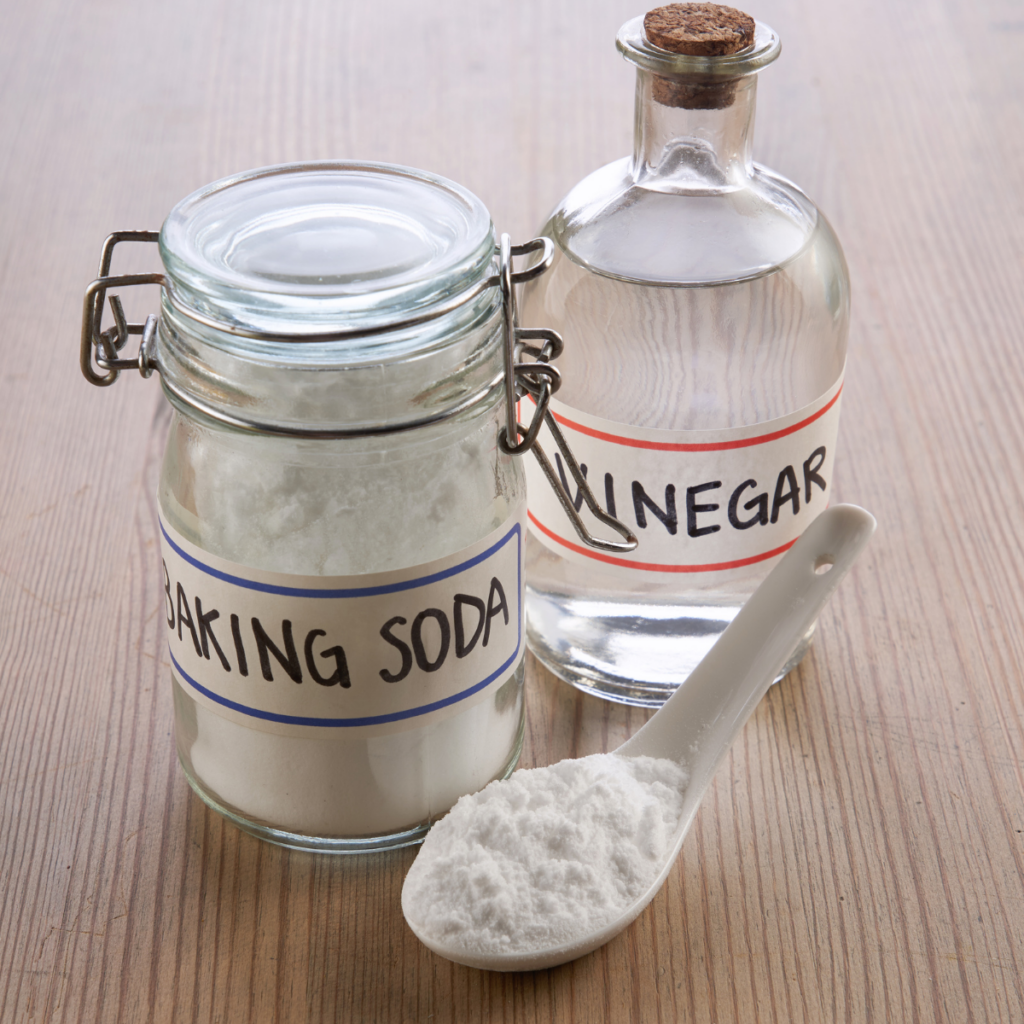 So if the acetic acid in vinegar is flammable, does that mean that vinegar is a flammable compound as well?
Well, the answer is no, vinegar is not flammable.
Even though vinegar has highly flammable acetic acid, it doesn't make vinegar flammable. That's because the amount of acetic acid in vinegar flammable is too small, and is further diluted with water. Therefore, vinegar is not flammable.
If you were to try to intentionally make vinegar flammable, then you'd have to heat it up to extreme temperatures and in very controlled environments so that it breaks down its basic composition. However, this is not an easy feat, so it's nearly impossible to make vinegar flammable.
Types of Vinegar
There are several types of vinegar, and it's good to know each of them, as well as their characteristics and uses.
Apple Cider Vinegar
Apple cider vinegar is quite popular because of its many health benefits in weight loss and skincare. It is often used in dressings and sauces.
Cleaning Vinegar
Unlike your regular household vinegar or white vinegar that contains 5%, cleaning vinegar consists of more acetic acid — 6%. Although that's just one percent of the difference, cleaning vinegar is 20x stronger than regular white vinegar.
White Vinegar
This is the regular cooking vinegar used in many households. It typically contains 5% acetic acid and 95% water. Many people refer to white vinegar as household vinegar. Some people also refer to white vinegar as spirit vinegar.
Distilled Vinegar
Distilled vinegar flammable has been purified regardless of the raw material that was used (grapes, apple, rice, oat, barley, etc). It contains 5% to 8% of acetic acid. You can use distilled vinegar for cooking and food preparations, as well as in laboratory and medical settings.
White Distilled Vinegar
Some people call this "alcohol vinegar" as it's made from a grain-alcohol mixture. In some Asian countries, white distilled vinegar is used for marinades and sauces, but in the US, it is mostly used as a cleaning agent. Its concentrated acetic acid is around 5% to 20%.
Related Posts
Uses of Vinegar
Vinegar is a very useful liquid, both in cooking and in our daily lives. Here are some of the most remarkable uses of vinegar:
Adds flavor to food
It is used to preserve food, such as in pickling
Removes clothing stains
Cleans and treats wounds
Removes grease inside your oven
Breaks up drain clog
Kills weeds
You can use it to clean surfaces
It can also be used to clean your dog's ears.
A word of warning though, do not use vinegar to clean stone countertops, such as granite and marble. The acid in vinegar can damage the surfaces of your countertops. Also, do not use vinegar to clean hardwood floors, and use a commercial wood cleaner instead.
Finally, some people do use vinegar to clean stainless steel and metal surfaces, but there are safer options as this acidic liquid can cause corrosion
Is Boiling Vinegar Safe?
You can boil vinegar as you would boil water, and just expect it to naturally evaporate into a gas. Therefore, boiling vinegar is generally safe. However, you should make sure not to inhale vinegar fumes. Also, do not boil vinegar at high temperatures or use metal or aluminum pots for boiling vinegar as the acid in vinegar can cause damage and corrosion.
Does Vinegar Catch Fire?
No, vinegar won't catch fire. the acetic acid is the only flammable ingredient in vinegar, and it does not have enough acetic acid to make the vinegar catch fire. Vinegar is mostly water, and the most likely thing to happen when vinegar is exposed to heat is that it will evaporate into gas.
Does Vinegar Become Flammable in an Oven or Microwave?
No, vinegar is not flammable inside an oven or microwave. Let's always remember that vinegar is mostly water and most vinegar contain very little acetic acid to make it flammable. Some people even place vinegar diluted in water inside a heated oven to break down grease and grime.
What Happens When You Heat Vinegar?
You can heat vinegar safely on a stovetop if you want to remove nasty odors inside your house. However, you don't want to heat or boil vinegar over coal because coal contains carbon monoxide. This combination can cause deadly carbon monoxide poisoning.
Is Vinegar Toxic? It is Hazardous?
Generally, vinegar is non-toxic whether you use it for cooking or cleaning. If handled properly, vinegar should be more beneficial than it is harmful.
However, vinegar does come with some risks. For instance, vinegar with high ph levels can erode tooth enamel. Ingesting too much vinegar can be minimally toxic as it can cause stomach upset. Some of the expected symptoms are diarrhea, nausea, and acid reflux.
Now, the most important thing to remember, especially when you're cooking with vinegar is to never inhale vinegar fumes. Inhaling acetic acid in vinegar, especially in high concentrations, can irritate your skin, eyes, nose, and throat.
Can You Mix Vinegar and Baking Soda?
Some people do use vinegar and baking soda together as they make an excellent cleaning agent. Combining these two ingredients result in the formation of carbon dioxide.
You can expect a somewhat explosive (but harmless) reaction because they go through two chemical processes: acid-base reaction and decomposition reaction. This is often used in science experiments to demonstrate the explosion of a volcano.
The combination of baking soda and vinegar is not flammable.
Conclusion
Vinegar is a staple in many households around the world because it is an excellent cooking ingredient and cleaning agent. Vinegar is made of naturally-based materials, such as grapes, apples, oranges, rice, oats, and barley, and fermented for a long time by acetic acid bacteria.
Acetic acid on its own is flammable, but vinegar won't readily catch fire. That's because there is not enough acetic acid to make it flammable as a whole. Generally speaking, the kinds of vinegar we use on a daily basis is only around 5% to 8% and the rest is water. Whether you heat vinegar, boil it on a stovetop or put it inside an oven or microwave, there is very little chance for vinegar to become flammable.
However, you'd still have to take caution when using vinegar. Do not inhale vinegar fumes as they can be irritating to the skin, eyes, and nose, as well as produce chest discomfort. Also, make to keep vinegar away from children's reach because ingesting vinegar can cause tooth damage and digestive issues.