Antifreeze or coolant is an essential substance for vehicle engines. But do you also wonder if antifreeze is a flammable liquid? Does catch fire or cause one?
If you own a car or consider yourself a car enthusiast, chances are, you've used antifreeze or coolant, especially during winter.
Antifreeze is a liquid mixed with water that helps with the car's cooling system. This water based fluid regulates the temperature in a car's engine, preventing it from overheating or freezing.
But if you'd like to know whether antifreeze is a flammable liquid, then here's the answer.
Yes, antifreeze is flammable. Despite the fact that it is mixed with water, ethylene glycol and propylene glycol based antifreeze are flammable. The flammability of these coolants depends on their flashpoint, but generally speaking, antifreeze is indeed flammable and may catch fire when exposed to high enough temperatures.
This post contains affiliate links. I may earn a small commission at NO extra cost to you for purchases made through these links. Disclosure.
What is Antifreeze?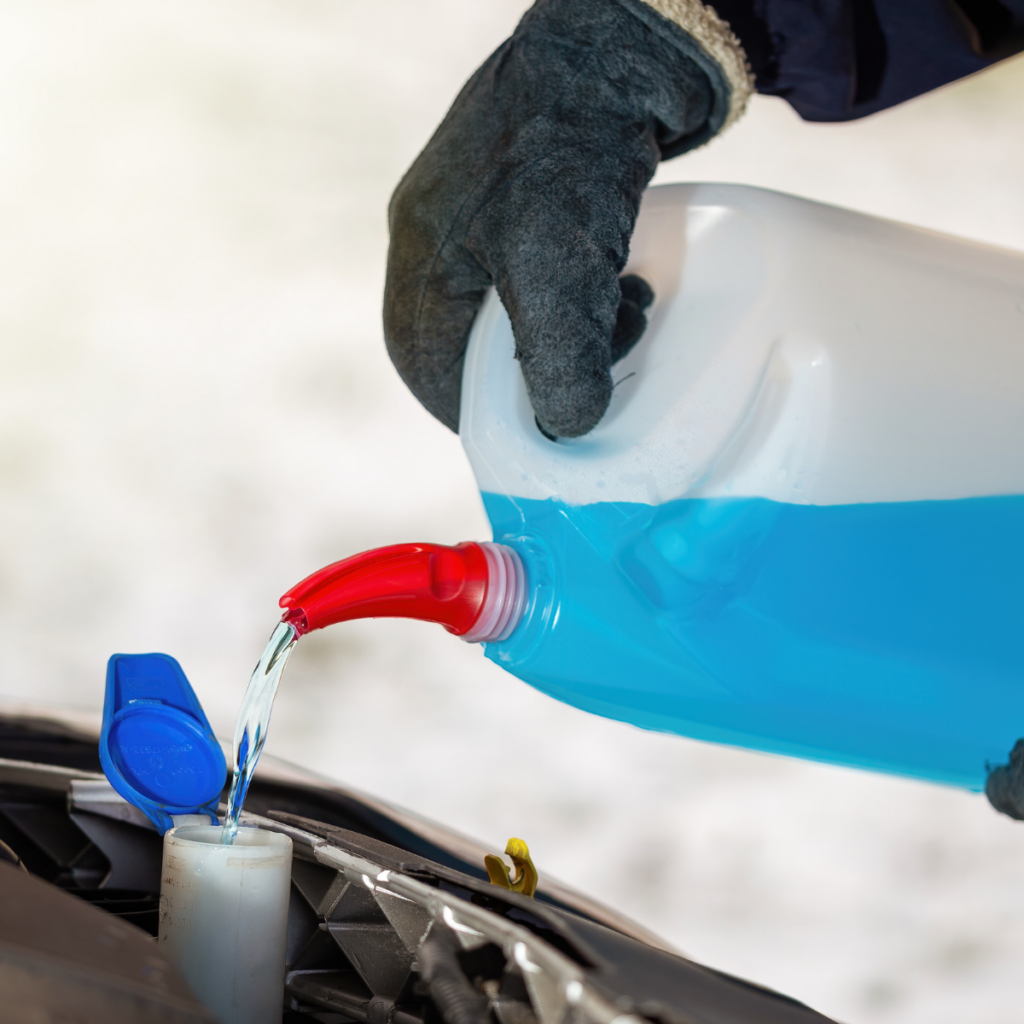 Antifreeze, otherwise known as a coolant, is a substance that when mixed with water, causes a decrease in the freezing point and increase in the boiling point of the new mixture.
The freezing point of water is 0 degrees. But when ethylene glycol is mixed with water to create antifreeze, the mixture's new freezing point is -36 degrees. Another type of antifreeze uses propylene glycol which has a freezing point of -59 degrees.
Both ethylene glycol and propylene glycol based antifreeze are used dominantly used in the automotive industry.
But antifreeze is also used as an additive to cement, in sprinkler systems, and in air conditioning.
Why is Antifreeze Important for Vehicle Engines?
Antifreeze coolant is an essential liquid for the performance of your car.
You see, antifreeze is a fluid that regulates the temperature of an engine.
During the warm seasons, antifreeze keeps the cooling system cool by increasing the boiling point. Antifreeze allows the engine to operate even up to 275 degrees Celsius and prevents the car from overheating.
In the winter, antifreeze is needed because it decreases the freezing point in the engine by below zero degrees. This prevents the fluid in the engine from freezing resulting in an expansion, blockage, and cracking which could be truly damaging to the car's engine.
Antifreeze is not just important to your vehicle during the hotter and colder months, but all year-round. Antifreeze also acts as a lubricant which reduces friction in the engine, allowing it to operate even more smoothly.
Additionally, antifreeze also prevents corrosion within the engine. Without antifreeze, the aluminum cylinder head could easily accumulate rust and lime build-up, which are also damaging to the engine.
What is the Flashpoint of Antifreeze?
Before we answer this question: is antifreeze flammable? Let us first tackle one important concept related to the flammability of liquids: the flashpoint.
Flashpoint refers to the minimum temperature wherein a liquid gives off sufficient vapor to initiate ignition. According to OSHA, a flammable liquid has a flashpoint below 93 degrees Celcius or 199.4 degrees Fahrenheit.
The flashpoint of antifreeze is 232 degrees Fahrenheit or 111 degrees Celcius.
What is the Auto Ignition Point of Antifreeze?
Another important thing to consider is the auto ignition point of antifreeze or the temperature at which a material self-ignites spontaneously and creates a hot flame without an ignition source.
As for antifreeze, its auto ignition point is between 650 to 750 degrees Fahrenheit.
Is Antifreeze Flammable?
Yes, antifreeze is flammable, and that applies to antifreeze that contains ethylene glycol based and propylene glycol.
But, here's the thing: antifreeze is flammable under certain circumstances.
According to the CDC, ethylene glycol has a flashpoint of 111 degrees Celcius. It is a clear, odorless, and viscous liquid with low vapor pressure. It is a flammable liquid when exposed to high temperatures.
Meanwhile, propylene glycol has a flashpoint of 100 degrees Celcius and is combustible when placed near sources of open flames.
But let us remember that antifreeze contains a mixture of water and antifreeze agents, often at a ratio of 50:50 or 60:40. The water component in antifreeze makes it less susceptible to self-ignition. It may auto ignite when it reaches between 650 to 750 degrees Fahrenheit, but this temperature is not easily achieved under normal circumstances.
When you compare the flammability of antifreeze to other fluids, such as gasoline, you could see that it is less likely to catch fire. Gasoline catches fire at around -50 degrees Fahrenheit, so it will almost instantly ignite when exposed to a heat source.
Antifreeze, on the other hand, only becomes flammable when it reaches its flashpoint and starts to catch fire when it reaches its ignition point. This means that you don't need to panic when handling antifreeze. As long as you observe safety measures, then you should be able to handle antifreeze without fear of starting a fire.
Related Posts:
What Makes Antifreeze or Coolant Flammable?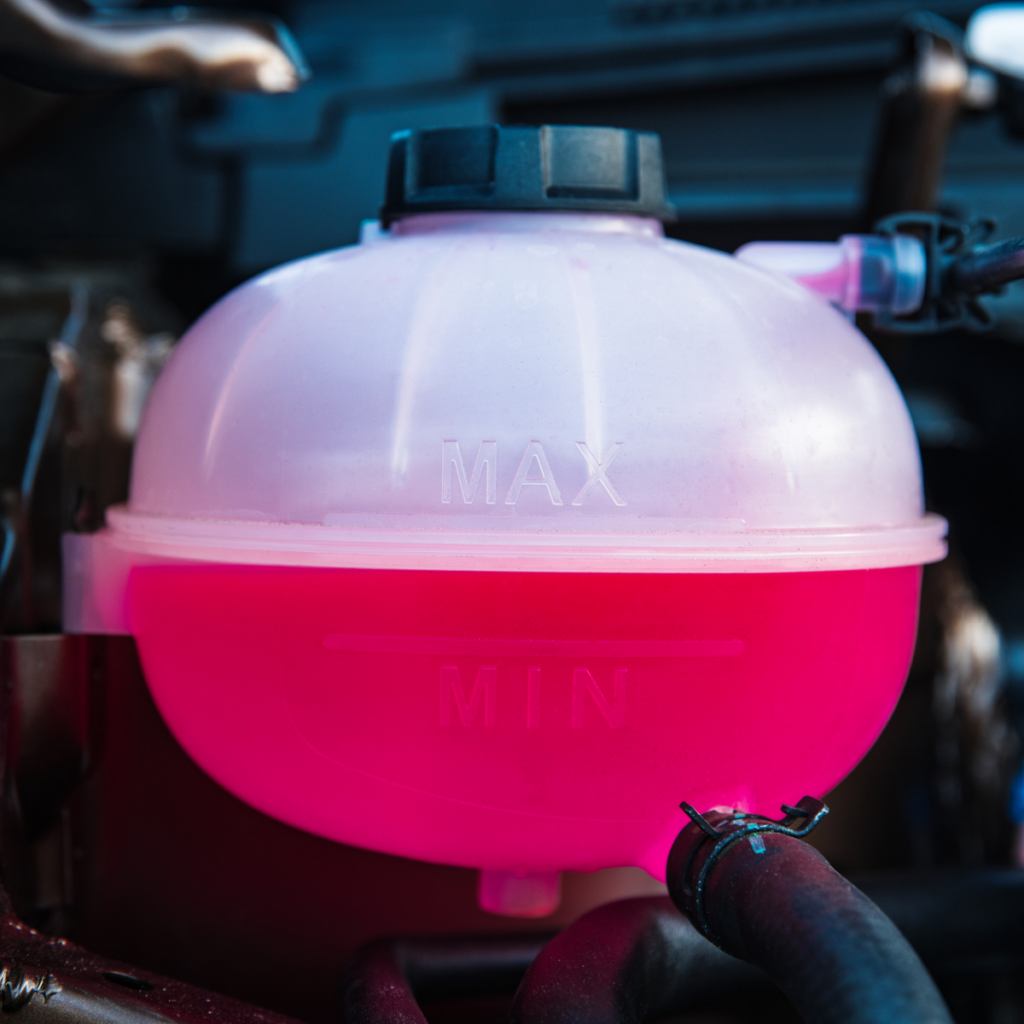 Even water based antifreeze is flammable. But if half of its component is water, what makes antifreeze flammable then?
When exposed to high temperatures, most of the water based component of antifreeze turns to vapor. At this point, most of its glycol components remain, and this is what causes an ignition.
Glycol could catch fire if there are coolant leaks or a broken plug in your car. That is why it is important to have your car checked and maintained to ensure the safety of the driver and passengers.
Does Antifreeze Catch Fire?
Yes, antifreeze can catch fire, but this does not normally happen. It can cause fire and burn when it is exposed to high enough temperatures that it starts to self-ignite.
Do Antifreeze Leaks Cause Fires?
Yes, coolant leaks can cause car fires. According to a case study, the leaks in your car's cooling system can catch fire if exposed to high heat or electrical sparks.
It would take some time for coolant to reach a high enough temperature to cause a fire, but still, for everyone's safety, it is best to have the vehicle checked.
Is Antifreeze Toxic?
According to the CDC, exposure to a small amount of propylene glycol is not that harmful. Frequent skin contact can lead to irritation, though.
Meanwhile, exposure to ethylene glycol can be life-threatening. When ingested, it can cause headache, nausea, and vomiting, among other symptoms. Over the next 24 hours, the body breaks down antifreeze and it can lead to organ damage.
It is important to store antifreeze properly and prevent ingestion. In case that happens, seek medical help immediately.
How to Handle Antifreeze Safely
Now that you know that antifreeze or engine coolant is flammable when exposed to high temperatures, it is in your best interest to learn how to handle antifreeze safely. So, these are the safety measures that you need to observe and practice when handling antifreeze.
Never check coolant while the car is hot. If your vehicle is warm, naturally the coolant inside is hot as well. You could get burned if you check the coolant right after turning your car off. It is best to wait at least six hours before doing so.
Do not add coolant to a hot vehicle. Adding coolants in a hot car could burn your skin, as well as damage your car's cooling system.
Keep it in its original packaging. This is to prevent others from using the coolant by mistake.
Keep out from children and pets. Antifreeze is usually a colored liquid with a sweet smell, so kids or pets might ingest anti freeze unknowingly. Refer to the product's original label in case of ingestion.
Store away from fire and direct sunlight. Coolants should be stored away from an open flame to prevent it from igniting.
Avoid skin contact. The chemicals in anti-freeze can cause irritation, so handle it carefully.
Dispose of antifreeze properly. Antifreeze is toxic, so make sure that you dispose of the product and its container properly. Place the empty container in a bin for hazardous materials. You could also bring the antifreeze fluid to your mechanic who can recycle or dispose of it for you.
Conclusion
To recap, yes antifreeze is flammable, but not as volatile as other fluids like gasoline or diesel.
The flammability of antifreeze depends on the type of agent used and its concentration.
Pure glycol is flammable and combustible. But since antifreeze is water based, it only becomes flammable and will ignite when exposed to a high enough temperature of at least 650 degrees Fahrenheit.
Also keep in mind that antifreeze is toxic, and can be fatal when ingested. Avoid skin contact, do not ingest, and carefully store antifreeze to prevent any accident.