Polyester is one of the most popular materials for clothing. But, is polyester flammable or is it safe against flames? What happens when polyester burns?
One of the most widely used synthetic fibers is polyester. Polyester clothing can come in jackets, hats, shirts, and trousers. Some bedsheets and shower curtains are also made of polyester or polyester-cotton blends.
Polyester fibers are known to be durable, moisture-resistant, and can keep shaping excellently. But one of the burning questions we get involving this synthetic fabric is this: is polyester flammable? Is it flame-resistant or flame-retardant? Does it catch fire? What happens to polyester when it is exposed to high heat and temperatures?
The short answer is this: polyester is flame resistant. It is not as highly flammable as natural fibers. It may catch fire, but it does not burn easily. When it burns, it burns slowly. At extremely high temperatures, polyester will melt. But if you remove the fire source, it stops burning and may self-extinguish.
Two Types of Fibers: Natural and Synthetic Fibers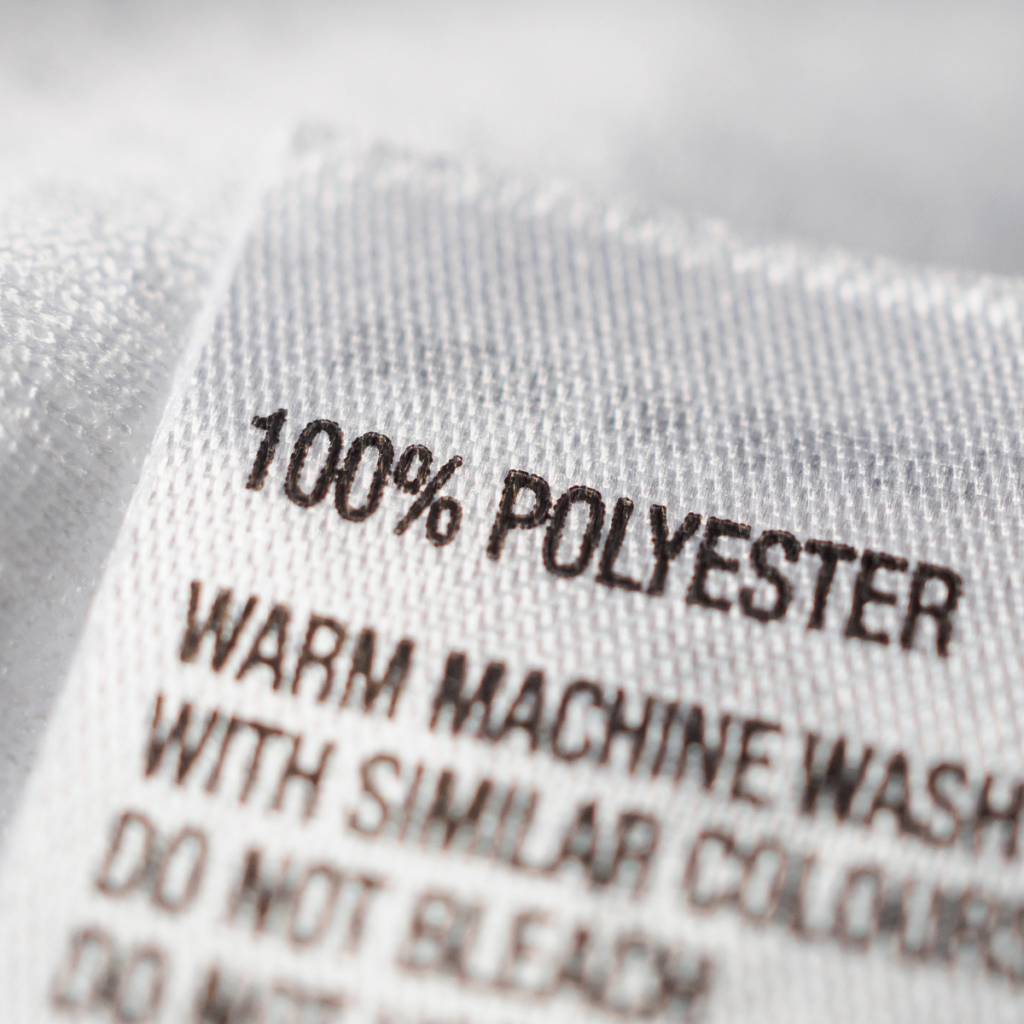 Fabrics are classified into two main types: natural and synthetic fibers.
Natural fibers are gathered from natural sources, such as plants and animals. The most common examples of natural fibers include cotton, flax, silk, and wool.
Synthetic fibers, on the other hand, are man-made. Most synthetic fabrics are engineered to provide excellent physical and chemical properties. The most common synthetic fibers include polyester, nylon, acrylic, microfiber, and acetate.
In this article, we will focus more on polyester and its flammability properties.
What is Polyester? What are the Characteristics of Polyester Fibers?
Polyester is an umbrella term that covers fabrics that are made of polyester fibers. Polyester fibers are cheap and durable synthetic woven materials. It is made of petroleum-derived materials and is mostly composed of plastic.
Unlike natural fabrics, polyester fibers are incredibly strong and durable. It is also moisture-resistant and is the preferred material for clothing manufacturers who produce outerwear and sportswear.
On the downside, polyester fibers can feel coarse against the skin. It is also typically non-biodegradable, so improper disposal of polyester can clog up landfills.
Is Polyester Flammable?
Polyester is not flammable. Since polyester fibers can resist ignition, then polyester clothing is less likely to burn.
But while polyester is not flammable, it doesn't mean it is safe to wear polyester around high heat and extreme temperatures. When exposed to high temperatures, polyester will melt.
Polyester has a melting point of 260 degrees Celcius. Once it reaches that point, polyester could melt into your skin. This is a hazardous situation that could cause severe burns to your skin.
Another thing to consider is that polyester is blended with other synthetic fabrics and natural fibers in most cases. These blends give polyester a more desirable texture and physical appeal. But that also diminishes polyester's flame resistance. For instance, cotton blend fabrics can easily catch fire. Also, fabrics with loose weave tend to ignite easily because oxygen moves freely between the weave. In this case, polyester and poly-blend fabric become more flammable.
Related Posts
Is Polyester Flame Retardant or Flame Resistant?
Two of the terms that get thrown around loosely when it comes to describing fabric are flame retardant and flame resistant. But really, what is the difference between the two? And where does polyester fall into?
Flame-resistant fabric refers to a material that is inherently flame resistant. Flame-resistant fibers can resist ignition. Inherently flame-resistant fibers like polyester do not catch fire when exposed to an ignition source but will eventually melt instead.
Flame retardant fabrics are materials with added chemical flame retardants. These chemicals coat the material so that it burns slowly when exposed to an ignition source. There are three classifications for flame retardant fabric: 1). flame retardant 2). inherently flame retardant 3). durably flame retardant.
Many people also consider polyester as an inherently flame-retardant fabric.
Both flame-retardant and flame-resistant fabrics will probably catch fire at some point, but in most cases, they will only melt or burn slowly before that happens. Also, they will both self-extinguish when the flame source is removed.
At What Temperature Does It Melt?
Polyester is extremely flame resistant and will not burn easily. With that said, you should be wary of polyester's melting point to ensure safety.
Polyester's melting point is around 260 degrees Celcius. That is extremely hot, so you might think you'll never get caught wearing polyester and exposed to that high a temperature.
But a spark flying out of a bonfire when you go camping or being exposed to the stove burner could result in molten polyester. Also, the wrong temperature in your iron or heat press could melt polyester!
You must take extra care when dealing with molten polyester in your skin. After some time, the molten polyester will get cold and fuse with your skin. Don't try to rip it away, or you risk damaging healthy skin underneath. Instead, go to the nearest emergency hospital and have it taken care of by healthcare professionals.
Is Polyester More Flammable Than Cotton?
Cotton is highly flammable compared to polyester. Because cotton is sourced from an organic material, which means it has a lot of cellulose that you can find in firewood.
Compared to polyester, cotton is not a flame-resistant fabric. It burns at 210 degrees Celcius. Cotton also burns rapidly once it catches fire.
It is now common to see cotton-polyester blend fabrics, which make the material slightly fire-resistant. However, there are also risks of it melting and fusing into the skin if it burns.
What Fabric is Fire-Resistant? Which are the Most Flame Retardant?
Now you might be interested to know what are flame retardant fabrics. Well, among the natural fibers, wool has the most flame-retardant properties. Wool does not burn or catch fire easily. And unlike most natural fibers, it does not drip or melt when it burns.
Nomex and Kevlar are two of the most flame-resistant fabrics. These are the most fabrics for personal protective equipment, such as those worn by firefighters. These flame-resistant materials provide thermal support, do not melt or drip, and have incredibly high fire resistance. No wonder firemen can get into burning buildings without sustaining serious burns!
Is Polyester Toxic When Burned?
Since polyester is a synthetic fabric and is practically made of plastic, burning it results in toxic smoke and fumes. There are also concerns with phthalates, chemicals that are used in the production of plastic. Phthalates carry significant health risks, such as cancer and chronic diseases.
Will Polyester Melt in the Dryer?
One of the common concerns regarding polyester is if it melts in the dryer. Polyester is plastic, and there's a chance that it might melt in the dryer. Yes, that could happen. But what would most likely occur is that your polyester clothes will shrink or lose their form.
The best way to avoid this is to choose the lowest setting in your dryer. Or better yet, air dry your clothes outside under the sun.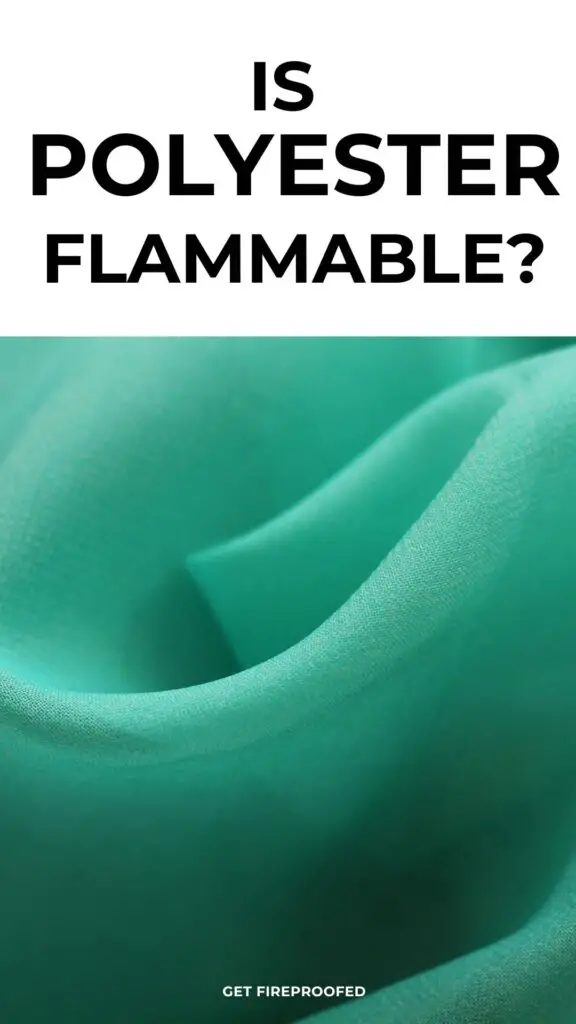 Conclusion
Chances are, you are wearing polyester or polyester blended with other fabrics right now. No need to panic, though, because polyester is not very flammable. Although all things are bound to catch fire and burn at some point, it would take extremely high temperatures for them to burn. Before that happens, polyester would have melted, which is more cause for concern.
Overall, polyester is generally regarded as safe to wear. Just be careful when putting it in the dryer or ironing it, ensuring that it does not reach its melting point.