Vodka is one of the most popular drinks in the world. There are different ways to enjoy drinking vodka, but one of the coolest is to turn it into flaming drinks. But is vodka flammable and is drinking flaming vodka dangerous? Find out now.
If you enjoy social drinking, chances are, you've been to a bar where drinks are light on fire. These drinks sport a blue flame for a couple of seconds before it dies down. Flair bartenders often use liquor with high alcohol concentration to create such flaming drinks, and the most popular base for these is vodka.
Now, you're probably also wondering: is vodka flammable? Why can you light vodka on fire?
Yes, vodka is flammable. Vodka is made of ethanol, a highly flammable liquid that's a by-product of fermentation. Ethanol, on its own, can catch fire. But since the ethanol in vodka has been diluted with water, the alcohol concentration decrease of the liquor goes down, and so does its flammability.
So if you want to see vodka light on fire, pick one that has a higher proof. But be warned: creating your own flaming vodka drinks at home is dangerous, so it's best to enjoy a shot of vodka safely by drinking it the conventional way.
What is vodka made of?
When it comes to alcoholic beverages, vodka is indeed one of the best-sellers. It is believed that vodka originated in Russia and Poland in the 8th and 9th centuries.
Vodka is made with rye and water. It is then fermented with yeast to break down the sugars and turn them into alcohol. Other ingredients can also be used to make vodka, including potatoes, wheat, corn, and some fruits.
The alcohol produced through fermentation is called ethanol, a highly flammable liquid.
Most vodkas do not have pure ethanol, though, because it is mixed down with water. Nowadays, most vodkas are made with 80 proof or 40% alcohol by volume (ABV).
Is vodka flammable?
Yes, vodka is a flammable liquid because it contains ethanol.
Also known as ethyl alcohol, the ethanol in vodka is a colorless liquid with a pungent taste. It is also the primary substance that causes alcohol intoxication.
Another essential characteristic of ethanol is that it is flammable. On its own, ethanol has a flashpoint of 55 degrees Fahrenheit. The flashpoint of flammable liquids is less than 93 degrees Celcius or 199.4 degrees Fahrenheit. Flashpoint refers to the minimum temperature a flammable liquid creates vapor and starts to ignite at room temperature.
Therefore, ethanol can burn and ignite when lit or exposed to an open flame because it has such a low flashpoint.
However, vodka, like other spirits is not just pure ethanol. It also contains water, so ethanol kind of gets diluted in the solution, therefore raising its flashpoint.
The more ethanol a beverage has, the more flammable it is. The level of alcohol concentration in alcoholic beverages is measured in proof or alcohol by volume (ABV). So if you want to check if a spirit or beverage is flammable, read the proof or ABV indicated on its bottle. If it is higher than 80 proof, then it is likely to burn and catch fire when lit.
Related Posts: 
Is Alcohol Flammable? The Truth About Flaming Alcohol
Is Wine Flammable? Does It Start a Fire?
How much alcohol content should vodka have to be considered flammable?
Vodkas are not created equal. Some have more alcohol concentration than others. But for vodka to be considered flammable, it should have at least 40% alcohol by volume or ABV of 80 proof.
But even with 80 proof vodka, you cannot expect to see a consistent flame. Sure, it can light on fire for a mere few seconds, but the flame wouldn't last long.
According to the Distillery of Modern Art, an alcoholic beverage with 100 proof or 50 ABV is the most flammable. With this much alcohol concentration, you can light vodka on fire and ignite blue flames.
Why do flaming vodka drinks burn?
In several bars, bartenders produce a flaming drink or cocktail by lighting shots filled with high proof vodka and other spirits. This process is called flair bartending, and it is designed to heighten your drinking experience by accompanying it with some dancing, juggling bottles, and lighting your glass on fire.
But why does the top of the glass burn and catch fire?
Flaming vodka drinks are lit on fire because they use alcohol with higher proof as an alcohol base. Vodkas with 80 proof to 100 proof such as Absolut and Smirnoff, are some of the best spirits to use when creating such cocktails.
Looking for a Fireproof Document Holder?
Check out our own fireproof envelopes for documents and cash, available at our shop!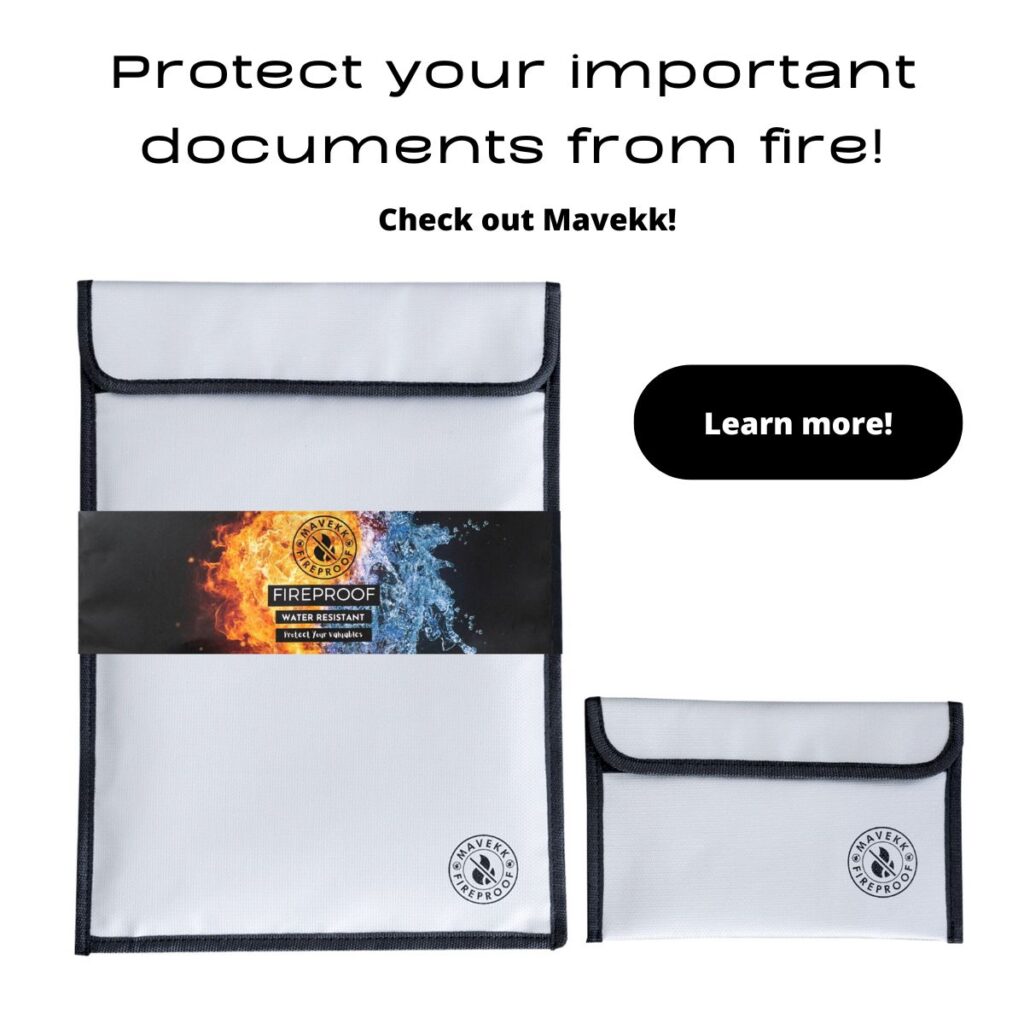 Is it safe to drink flaming vodka?
If you want to enjoy the coolness of having a flaming drink, you should first put safety in mind.
First, we are dealing with an open flame here. That blue flame on the top of your flaming drink sure looks awesome, but you want to let it die down first before you drink flaming spirit. Otherwise, you could burn your hand or hair, as well as your mouth, tongue, and throat.
Don't worry, those blue flames won't last long. Despite the fact that flaming drinks produce and catch fire, they are only good for a couple of seconds. When the flame has died down and your drink has gotten to room temperature, then it should be safe to drink your flaming cocktails.
Also, do not attempt to create your own flaming cocktails at home.
Lighting the shot on fire is not as easy as it looks. Bartenders are trained in such things, so we advise you against doing this at home. One wrong move and something could catch fire, and you'd have more trouble to deal with.
Is Smirnoff flammable?
Smirnoff vodka is one of the most popular brands of vodka.
The Smirnoff vodka is well-known for its smooth taste, making it the perfect base for different cocktails like Bloody Mary and the classic martini. And yes it is flammable, as there are Smirnoff vodkas that have 90 and 100 proof.
Is Grey Goose flammable?
The Grey Goose vodka is also one of the best brands of vodkas among drinkers. It is made of French ingredients and has a slightly sweeter taste. Like the Smirnoff vodka, Grey Goose is also very mixable. Most of the Grey Goose vodkas are 80 proof or 40% alcohol content, so they are considered flammable but can only produce a blue flame quite momentarily.
What other brands of vodka are flammable?
If you want to see a shot of vodka catch fire, then you should go for a higher-proof vodka. Some of the vodkas that have 100 proof are Absolut, Svedka, New Amsterdam, Spirytus, Pincer, and Balkan 176.
Apart from vodkas, there are other spirits that have a higher proof alcohol content, such as rum (Bacardi 151, Sunset, and Stroh) as well as whiskey (Bruichladdich X4 Quadrupled) and tequila (Sierra Silver). Most bartenders concoct a flaming cocktail by using different beverages with higher proofs to ignite a shot and achieve a consistent flame.
Conclusion
To recap, yes vodka is flammable because it has ethanol. However, the flammability depends on how much alcohol content it has. In most cases, a spirit can only light on fire if it has at least 80 proof. Even then, you fire you'll see will extinguish quickly.
But since your drink is on fire, you'd want to wait for the flames to extinguish before drinking. The fire you see on the top of your glass is merely for show and to give you an awesome drinking experience.