Whether you own one or two handguns or have a massive collection of firearms, you must protect them against fire by housing them in a fireproof gun safe. If you're in the market for the best fireproof gun safes, here are the best fire-resistant gun safes money could buy.
A ravaging fire can quickly turn your prized possessions into ashes, including your firearms. The rule is to secure yourself and your family first in case of a fire and then your possessions second. But what if I tell you that you could actually buy some time and protect your guns and rifles against the flames by putting them in the best fireproof gun safe?
Yes, a fireproof gun safe can be a total game-changer. They provide three-way protection against fire, water, and burglars.
As you know, guns and ammo are not exactly cheap. You've probably spent a lot of money to obtain those guns and rifles. Some of them may be vintage which costs a lot of money, and others may have sentimental value to you.
Investing in a fireproof resistant gun safe is one good way to keep your valuables safe, including your firearms. So if you still don't have a gun safe yet or are considering upgrading to a better one, here are the top fireproof gun safes that are worth the money.
This post contains affiliate links. I may earn a small commission at NO extra cost to you for purchases made through these links. Disclosure.
Do Fire-Resistant Gun Safes Really Work?
Yes, they work.
But let me just put it out there: nothing is ever fireproof. With enough time and high enough temperature, anything can burn down, your guns included.
But isn't fire protection the point of a fireproof gun safe? You ask.
That is true, and a solid, top-rated, and heavy-duty fireproof gun safe indeed can protect your valuables against fire. Once you've evacuated the area and called the fire service, your fire-resistant gun safe keeps your guns safe for a certain time and up to a certain temperature level.
If the firefighters get there before the fire crosses that threshold, then your guns remain safe. Imagine what would happen if they were just placed in that wooden drawer in your bedside table, or worse, on the floor under your bed? After dousing the area with foam or water, your guns would also have sustained considerable damage.
So putting your guns in a fireproof gun safe makes a huge difference in protecting your valuables. After spending money on those prized guns and rifles, gun owners' next best investments are fireproof gun safes.
How to Choose the Best Fireproof Gun Safes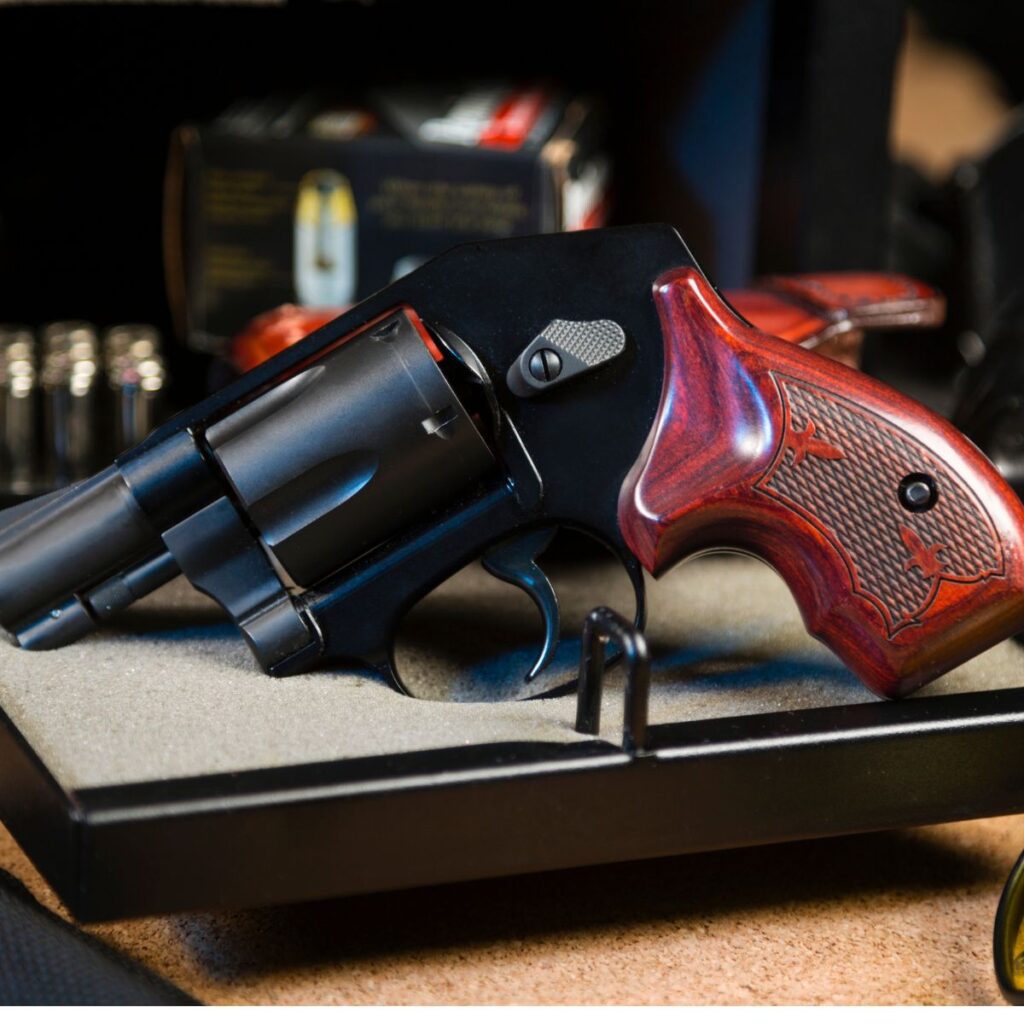 Type of Gun Safe
The first thing to consider in choosing a gun safe is to determine the types of gun you have. For instance, handguns are shorter and lighter and sit well in smaller fireproof portable gun safes (which look like a briefcase or safe boxes). Meanwhile, long guns need plenty of space, so they're better suited to store in modular fireproof gun safes.
Fireproof Rating
The best fireproof gun safe must be fire-resistant to a great degree. There are varying fire ratings among these gun safes, and it's best to purchase the highest fireproof rating that your budget allows.
Waterproof Rating
An excellent fireproof gun safe should also keep your valuables safe against water. A waterproof gun safe protects your guns against moisture should your place is doused with water or foam in case of fire or when your place gets flooded. As you know, exposure to moisture can result in rust and damage, so always consider both a fireproof and waterproof safe.
Durability and Security Features
Apart from fire and water, gun safes should be strong and durable enough to provide burglary protection. With that said, look for a gun safe that's made of solid and multiple layers of durable materials. The type and materials used for locking bolts, hard plates and other components of the gun safe contribute to its overall durability and security.
Storage Space
Storage space is an important factor, too, considering how many guns you have and whether you're looking to grow your collection. You can store long guns in larger gun safes, while smaller guns, handguns, and pistols can be housed in smaller, compact gun safes. You're also better off with a larger gun safe if you think you will amass more guns in the future instead of upgrading as your collection grows. Also, more storage space means you can keep other valuables safe in your gun, including important documents and jewelry.
Locking Mechanism
Finally, look into the gun safe's locking mechanism. You can choose between combination locks where you dial the correct combination to open the safe. This is a traditional option, but it could fail if your memory fails. Another option is an electronic keypad lock where you enter your code on a keypad. This is great as long as you don't run out of batteries. The biometric locking mechanism is also secure since it requires facial recognition or fingerprint to open the safe, but it's also not 100% perfect. For instance, you can't open the safe if your finger is dirty.
Manufacturers have figured out a way to overcome the imperfections of each of these mechanisms. At an extra cost, you can get a gun safe with multiple locking mechanisms. For example, you can opt for one that comes with backup keys so you can open the safe in case the batteries for the electronic lock runs out.
10 Best Fireproof Gun Safes
Are you ready to find out which secure fireproof gun safes have made it to our list? Read on to find out!
Related Posts
1. New and Improved Steelwater Heavy Duty Gun Safe SW592818
Source: Steelwater
One of the leading manufacturers of American-made gun safes is Steelwater. And one of its most notable products is this new, improved, heavy-duty Steelwater SW592818 gun safe.
This made it to our list of the best fireproof gun safes for a number of reasons. It has an incredible fire protection rating of 1875 degrees Fahrenheit for 60 minutes. Its thick door is smoke activated, meaning it expands up to eight times its thickness, then seals to protect your guns against smoke, fire, and water in the event of a fire.
Steelwater did not skimp on the design, durability, and security features of this gun safe. First, it features generous storage space to keep up to 16 long guns. It also has 12-gauge steel construction, extra thick doors, and double-layer fireboards. The safe has 10 steel locking bolts and a gear driver lock system that deters prying and drill attacks. It also comes with bolt-down hardware so you can secure it and not risk tipping or falling over anyone.
As for its locking mechanism, this fireproof safe is equipped with an electronic lock with 2 re-programmable codes, plus one bypass key. Its external battery compartment allows for battery replacement without opening the gun safe.
Some of its notable extra features include a door organizer, automatic LED lighting, and a fully upholstered interior.
Pros
Excellent fire rating of one hour up to 1850 degrees Fahrenheit
Solid, robust, and durable construction lends this gun safe to both fire protection and burglary protection
Generous storage space allows you to keep up to 16 long guns inside
Solid steel locking bolts make it even more secure
Cons
It is too heavy to lift or move alone
2. Stealth 23 Essential Gun Safe EGS23
Source: Amazon
If you're looking for an affordable fireproof gun safe with a decent fireproof rating, excellent functionality, durability, security, and customization features, then you should consider Stealth 23 Essential Gun Safe EGS23.
Gun owners who have this fire-resistant gun safe love it for its all-steel construction, featuring a thick 14-gauge steel door plus eight one-inch solid steel live locking bolts. It also has pre-drilled locking bolts, so you can secure this safe anywhere in your house. It is evidently a robust and reliable fireproof gun safe as it's been approved by the California DOJ as a firearm safety device.
Now let's talk about fire protection. This gun safe has a 30-minute fire rating at 1200 degrees Fahrenheit. It has a fire-expanding door to tightly seal the safe, ensuring that your valuables remain safe given this threshold.
Its locking mechanism is worth noting, too, as it comes with a UL-approved high-security electronic lock. The hardened steel plate and re-locker feature further enhance this gun safe's security. Even drills and punch attacks couldn't go through these plates!
As for storage space, you can put as many as 23 long guns inside this fireproof safe. But we also love that it has removable shelves, allowing you to store your guns any way you like. It also comes with a molle door organizer with a strap-and-snap system so you can place your pistol and ammo, even important documents, for quick and easy access.
Finally, the brand offers a lifetime warranty against fire, attempted break-ins, and break-ins, which is a nice touch to this safe's decent price point.
Pros
Fire rating of 1200 degrees Fahrenheit for 30 minutes
This gun safe is equipped with UL electronic lock for maximum protection and security
Its solid steel construction makes it a worthwhile long-time investment
Generous storage capacity for long guns, pistols, ammo, and other valuables
Comes with bolt-down hardware so it can be secured in place
Great lifetime warranty against fire and break-ins
Cons
It comes with a decent fire rating, but other fireproof gun safes provide higher fire resistance
3. Fortress 24 Gun Fire Resistant Safe with Electronic lock
Source: Amazon 
The Fortress gun fireproof safe is also one of the best fireproof safes worth investing in. And like the Stealth gun safe, Fortress is an affordable fireproof safe with the excellent features you would look for in the best fireproof gun safe.
Let us first look at its fire rating. The Fortress gun fireproof safe has a fire resistance of 1200 degrees Fahrenheit for 30 minutes. This is a decent fire rating for an affordable fire-resistant gun safe.
This fireproof safe is made of solid steel. It is equipped with sturdy three locking bolts and a patented notched bolt to deter any type of break-in. It also has a pry-resistant hinge bar that opens the door up to 180 degrees, allowing you to easily retrieve any firearm.
This fireproof safe is equipped with an electronic lock, and you can come up with your own 3-8 digit combination code to open the safe. The Alarm U function is also a nice touch. It alerts you for unauthorized access (or when kids try to play with the electronic lock). Whatever the case, this added feature is always great to have.
Forgot the code, or did batteries run out of juice? You can use the backup key to open this high-quality gun safe.
Now let's talk about the interiors. The Fortress fireproof safe comes with a luxurious, carpeted finish. There are four adjustable shelves so you can move things around and arrange your firearms to your liking. This fire-resistant gun safe holds up to 24 guns, so it's really roomy, perfect if you intend to grow your collection.
Pros
Great fire rating at 1200 degrees Fahrenheit for 30 minutes
sturdy all-steel construction
Roomy storage capacity (can hold up to 24 guns)
Reasonably-priced gun safe
Alarm feature against unauthorized access
Cons
Does not come with interior lighting
4. SentrySafe Digital Fire and Water Safe SFW205GQC
Source: SentrySafe
SentrySafe has always been one of the most trusted makers of fireproof safes, so it's no surprise to see its name on this list. The SentrySafe Digital Fire and Water Safe is one of the best options for safekeeping your guns, thanks to its incredible fire resistance, secure and durable built.
This UL-classfied gun safe can withstand fire up to 1700 degrees Fahrenheit for one hour. This is also a waterproof safe in up to eight inches of water for 24 hours. So whether you're facing a fire or a flood, you can be rest assured that you're keeping your valuables safe in this fireproof and waterproof gun safe.
This is also one of the best fireproof gun safes because it offers maximum protection for your guns. It is equipped with live locking bolts and pry resistant hinge bar to deter any type of forced entry. It is made with solid steel overall, so you rest assured that this fire-resistant gun safe will keep your guns and valuables safe from water, fire, and theft.
The SentrySafe SFW205GQC comes with a digital lock where you can set a programmable 1-8 digit combination code. The interior comes with different types of organizers so you can arrange the contents to your liking. It also has interior lighting for excellent visibility even when you're accessing the safe in a dark room.
Pros
High fire rating and waterproof rating
Solid steel construction makes it solid, strong, and durable
Pre-drilled holes allow you to bolt down the safe to the ground for better security
Comes with a backup key
Cons
Not suitable for storing long guns and rifles
5. Barska New Fireproof Fire Vault Rifle Gun Safe
Source: Wayfair
If you have a massive collection of firearms, then you need a specialized gun vault to house them all. This Barksa New Fireproof Fire Vault Rifle Gun Safe is an excellent choice despite its higher price point compared to other fire-resistant gun safes mentioned above. So if you have the money to spend, then this gun vault is worth investing in.
The Barska gun vault is not exactly the cheapest on this list, but it boasts so many useful features that come with its hefty price tag. First, it has a fire resistance of up to 1200 degrees Fahrenheit for one hour. It is CA-DOJ approved too, which means this gun safe has been rigorously tested to prove its claims.
The body of the gun safe features an all-black, all-metal design. Its looks scream durability and dependability. Now add to that its thick, pry-resistant hinge bar that deters all kinds of attempted break-ins and forced entry and you get a gun safe that does its job.
It comes with an electronic keypad lock feature and a unique lock-out mode for when someone attempts to enter a wrong combination code too many times. It also has a silent access feature so that the safe deactivates its beeping sound when you open it. This is quite handy when you need to access your firearms without drawing the attention of burglars. You can also open the safe using a backup key.
Finally, this is a very spacious gun safe, and that's quite evident with its physical size. You can store as many as 45 guns here, so it's a great choice for firearm aficionados. The interiors of the safe come with removable shelves, so you can arrange your guns any way you want.
Pros
Fire resistance up to 1200 degrees for one hour
solid steel construction
can house up to 45 guns
silent feature disables beeping sound while opening the safe
CA-DOJ approved
Cons
Too heavy to move by one person
Expensive
6. NEW and IMPROVED E.M.P Proof Steelwater Heavy Duty Long Gun Safe
Source: Steelwater
Looking for even higher fireproof ratings? This new and improved E.M.P. Proof Steelwater Heavy Duty Long Gun Safe offers even higher fire protection for an even longer period of time.
This heavy-duty gun safe has a high fireproof rating of up to 2 hours (120 minutes) at 1875 degrees Fahrenheit. With this feature, you have the peace of mind that all your firearms and valuables you've kept in this safe are protected against a ravaging fire. It even exceeds CA-DOJ's standards for gun safes.
Sure, this gun safe is quite expensive, but the price is well-justified by its features. Apart from its amazing fire protection, the body of this massive gun safe is built to last. It is made with 9-gauge steel, four layers of fireboard, and 1/8 inches of fire barrier on the floor, walls, and doors. The doors are heat-activated, so they swell up to eight times their original size to protect the valuables against water, fire, and smoke.
Apart from that, there are 20 pieces of 1 1/2 inches of live locking bolts and 7 inactive bolts. Indeed, this gun safe is seriously made with security in mind, and it can withstand all sorts of trying and unauthorized access. It comes with a digital keypad plus a bitted bypass key so you can easily open the safe when you want to and never get locked out.
The interiors of the safe are fully-upholstered to protect the contents against damage and scratches. There's a two-section gun rack where you can place your long guns and removable shelves to customize storage to your liking. There's also an automatic LED lighting feature so you can access your stuff even with low lighting.
Pros
Durable, solid, and robust steel construction
Higher fire protection of up to 1875 degrees F for up to 2 hours
Great for storing a large number of firearms
Exceeds CA-DOJ's standards for gun safes
Cons
Expensive
Difficult to move without help
The Verdict
We have come to the end of our list of top fireproof safes for firearms, and each one on this list merits our vote of approval.
But if we're to choose that gun safe we would spend our money on, it would be the New and Improved Steelwater Heavy Duty Gun Safe SW592818. Apart from the fact it came the reputable Steelwater brand, this gun safe boasts everything you'd need but a more competitive price point.
It offers up to 1875 degrees Fahrenheit for 60 minutes of fire protection. It also protects your valuables against water and theft. You can house up to 16 guns withing its all-metal, super durable construction.
Of course, the right gun safe is one that meets your needs and budget. But if you start your search with the ones listed above, you'll probably find what you're looking for.